Envision's New Monthly Support Packages Await You!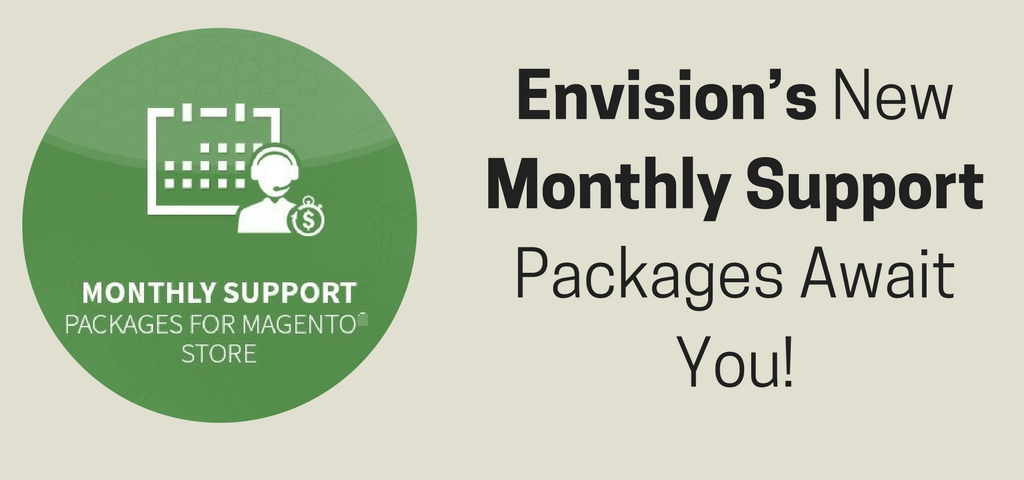 With one more service added to its gamut (just after our launch of Magento Custom Hourly Premium Support), Envision Ecommerce will now cater to your monthly hour support requirements, too. Yes, we are proud to announce our hot release, i.e. Monthly Support Package Services.
If your Magento store is performing slow, or down, or not running smoothly, our certified Magento coders are available to deliver the support & maintenance services on a monthly basis. This service package encompasses everything from your query to maintaining, updating, securing, improving Magento store's functionalities or features, installing new extensions, fixing bugs, updating security patches, building new Magento store, optimizing existing Magento store and much more.
In short, if you place a request for our monthly support packages, a team of certified Magento developers is always with you at every step of support & maintenance your store requires to run smoothly at all times. We assure you that our Magento professionals will react quickly whenever you place a request for this package. Any emergency or worst Magento case scenario is just like a cakewalk for our certified Magento developers. So, place a request today and keep your Magento store fit and healthy!
Have any query regarding this monthly support package and the services under it, you can ask us. Kindly shoot us an email at [email protected] or visit: https://envisionecommerce.com/category/ecommerce/envision-store/
Download Blog