How Does Shopify Plus Help in MultiChannel Selling?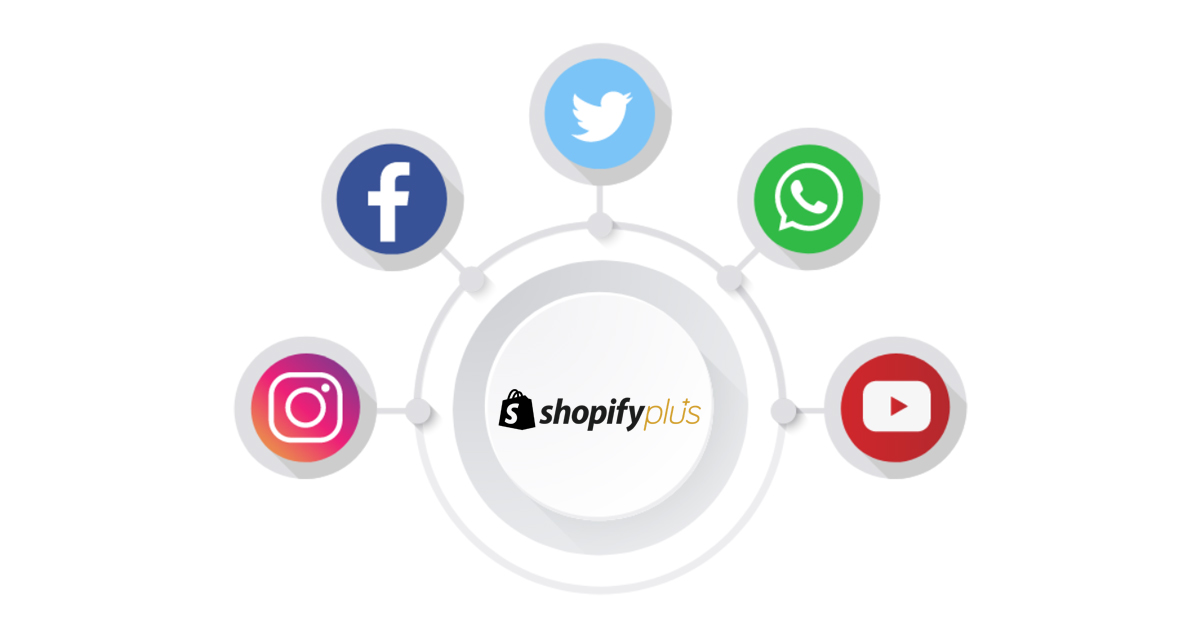 You deal with several challenges as an eCommerce business owner. You must worry about getting high-quality pictures, writing catchy product descriptions, maintaining your social presence, and doing much more.
However, the biggest challenge for you must be making sales.
Just like every other business owner, you must be willing to sell your products in bulk fast to make more money and grow your business. However, with more than 350 million products available on Amazon and 24 Million+ companies selling online, it will be tough for you to achieve your growth targets.
Now, how can you grow your business and close more sales? All of this starts with multichannel selling. This article will talk about everything about multichannel selling and how Shopify Plus can help you execute a killer multichannel eCommerce strategy. So, let's get started.
What is MultiChannel Selling?
Multichannel selling is the process of leveraging numerous channels to sell your products and services to consumers. A multichannel selling strategy will require a presence on a physical location, web, mobile, social channels, comparison portals, and online marketplaces like eBay, Amazon, or Etsy. Basically, it helps you make more profits by being available to your customers everywhere. Here are some of the benefits of multichannel selling for eCommerce brands: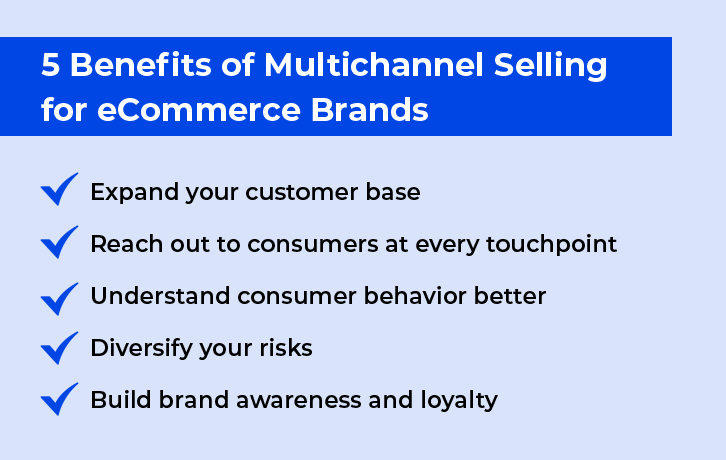 How Does Shopify Plus Make MultiChannel Selling Easier For Retailers?
Shopify Plus is a solution developed for startups who want to grow their businesses – fast. It helps you embrace business opportunities with the help of the latest technology. It doesn't matter if your goal is to find new consumers, improve your CX, or expand into international markets – Shopify Plus can help you do it all seamlessly. Here are some Shopify Plus features that can help you excel at multichannel commerce.
1. More Efficiency and Better Selling
In order to expand their offerings, business owners need to manage multiple storefronts under one brand these days, which can be tedious if you use the wrong eCommerce platform. However, you would love the unity that Shopify Plus provides to help you do it efficiently.
Anything from inventory data, and customer orders to product information and more, can be tracked from one dashboard. Here are some of the features of Shopify Plus that can help you:
Social Selling: An eCommerce business can not make the most of the opportunities available without offering a seamless experience on social channels. Shopify Plus allows retailers to integrate social platforms like Pinterest, Instagram, and Facebook into their eCommerce store so that their consumers can buy right away without leaving these apps.
Selling on Popular Marketplaces: If Shopify Plus powers your online store, you can sell on platforms like Amazon and eBay without any hassles. You can integrate with these marketplaces and begin selling while managing everything from the Shopify dashboard in just a few simple steps. A huge win-win for your business!
Expanding to New Countries: Shopify Plus allows you to launch and manage nine storefronts for different countries other than your main store. It also supports several local payment methods and provides a customized dashboard for each store in local languages for easy store management.
PIM integration: You can streamline your business processes further by integrating a PIM (Product Information Management) to save time. The single source of truth will be available to centralize data, enabling store owners to optimize the experience and content for each channel.
2. Highly Personalized Customer Experience
Now, if you are selling on multiple platforms, you can expect that all your consumers will have the same preferences or desires. You will never find similar customer groups while selling on various channels – may it be age-wise, preferences-wise, or as per their spending habits.
You may get some consumers via social channels, and others may know about your brand through a marketplace like eBay. Some purchasers may be shopping from just one product category, and others may like to explore different types of products you sell. However, your responsibility is to delight them all by providing them with what they desire. That's where Shopify Plus helps you.
Powered by powerful data analytics, Shopify Plus can help you collect invaluable insights about every one of your consumers to provide a personalized eCommerce Customer Experience. You can find almost every tiny detail about them – from what platform they came from to how much time they spend on your product pages and what their maximum or minimum expected spending capacity is.
You can utilize this information to segment these consumers into smaller groups so as to provide them with a hyper-personalized shopping experience. Here is how Shopify Plus will add more value to the process:
It lets you completely customize the checkout process for specific customer groups – from payment options to offers and discounts.
Shopify Plus also allows you to customize your store's homepage for different customers and customer groups. For example, new customers will see an offer like "Free Delivery on First Five Orders" and a repeat customer may see highly personalized product recommendations.
3. Streamlined Inventory Management and Supply Chain
One of the biggest problems of selling on multiple channels is inventory management. It is more tedious than you can imagine. But Shopify Plus can help you do it more efficiently. It can help you get and show real-time updates about your inventory on every channel.
It helps your business avoid problems like out stocking and overstocking. In addition, the platform allows you to add up to 20 locations of inventories to make sure you get a complete and accurate view of product availability.
Also Read: Top 5 Shipping Apps for Shopify Stores to Increase Conversions
4. 24/7 Support
When you are selling on several platforms, you may face some challenges at times. However, with Shopify Plus, you need not worry about them.
If at any time you feel that your business needs support, the Shopify team will be at your service. Their support team of experts will assist you with your business-related and technical queries that could impact your bottom line and customer experience. With specialists available all day, you can forget bottlenecks that keep upgrades from occurring.
Wrapping Up
Shopify Plus is an amazing platform for businesses planning to expand their consumer base and target new markets. We at Envision eCommerce have helped multiple companies turn their eCommerce businesses into brands while selling on Shopify Plus. If you also plan to use this amazing platform to the fullest, get in touch today!