2022 Holiday Survival Guide for eCommerce Businesses: Why You Should Prepare Early?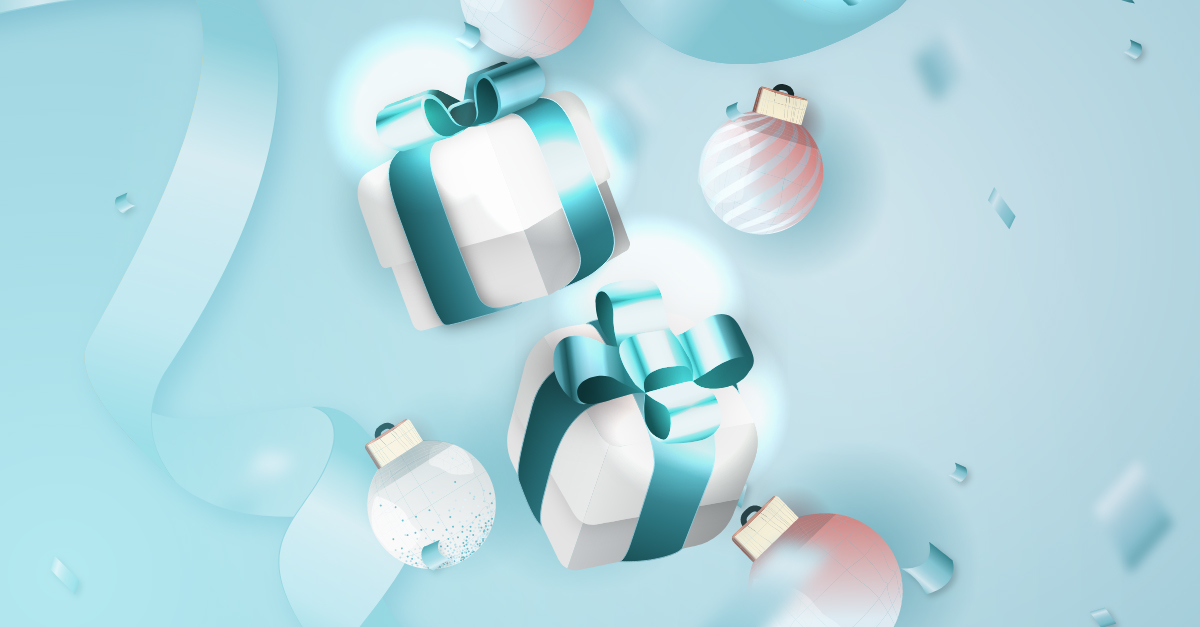 The holiday season is around the corner! And, after the pandemic, the way people shop for holidays has changed forever. During the 2021 holiday season, things were normal, and COVID-19 restrictions were also removed from major parts of the world. However, 57% of shoppers still planned to do their shopping online, with only 43% heading in-store, as per Statista.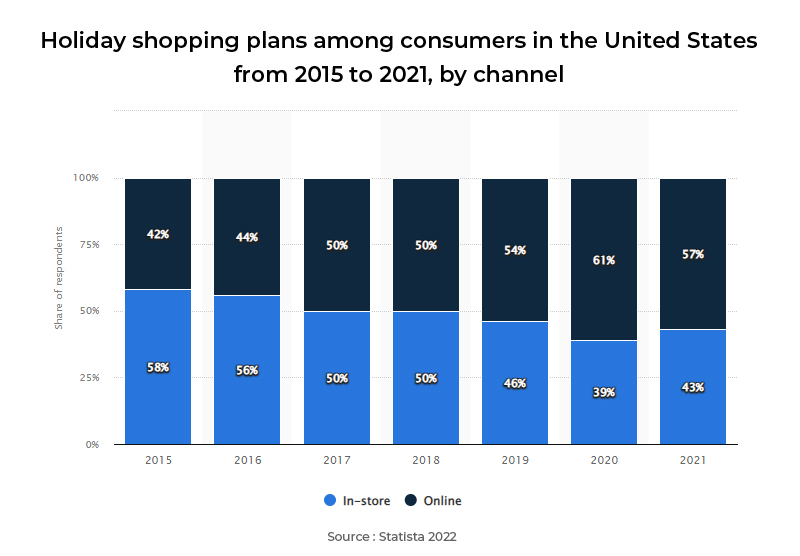 That means things are not going to change this year as well. Hence, as an online retailer, you must prepare your store to turn maximum visitors into customers and generate profits.
To become the shoppers' favorite shopping destination for the holiday season, you must make the online shopping experience easy, transparent, and fast. And a good time to start doing all these things is now! Here is why:
Halloween is just 7 days away, and 31% of consumers will make their Halloween purchases online this year. Also, consumers are expected to spend around $10.6 billion on Halloween this year, according to a report by NRF.
Thanksgiving is just 1 month away, and consumers spent $5.14 billion on Thanksgiving in 2021. In 2022, this number will increase, and only well-prepared online stores will benefit.
Black Friday and Cyber Monday are just 1 month and a few days away, and 69% of US consumers will shop online during the holidays this year, and only 32% will shop in person.
Christmas and New Year are just 2 months away, and around 60% of US consumers purchase their holiday gifts a week before Christmas. More than 60% of them like to shop for these gifts online, as per a study by Deloitte.
So, in this blog, we will look at everything you need to do to make your online store ready for the holiday magic. Let's get started.
1. Make a Holiday Sales Plan
Every successful campaign starts with well-researched planning. Thus, you need to do the basics right to make the most of this holiday season. Here are some of the things you need to pay attention to while preparing for the holiday season:
Define your goals in advance
Invest in customer segmentation
Plan for special promotions
Gather customer insights
Once you have the data, you can pitch personalized offers to your customer that they can't deny during the festivities. Also, test your offerings before the launch to ensure your online platform is working well.
2. Analyze and Learn
Now that you have collected data, it is time to analyze everything and drive some insights. Analyze the failure or success of your last year's holiday marketing campaigns and try to improve this year. It will help you meet customers' needs in a better way this year.
Here are some of the questions whose answers you must gather at this stage:
What was your most in-demand product?
Which campaign sold the most products?
Which days or dates had the best traffic?
Which keywords derived traffic?
What was the traffic source of high-paying customers?
What was the average order value?
How much revenue did you make?
What did your competitors do?
3. Make Sure Your Online Store Can Handle Increased Traffic
One of the worst things that can happen during the holiday season is a store crashing. But, it happens with many brands, resulting in the loss of millions of dollars.
Too many website visits simultaneously can, especially on Black Friday and Cyber Monday, cause your site to crash or run very slow. Thus, it is necessary to load-test your website to ensure it works fine even when traffic spikes all of a sudden. Check with your website host and find out what the server capacity is. If you think that won't be enough, you need to scale.
Also Read: 5 Do's and Don'ts of Holiday eCommerce Marketing
4. Encourage Impulse Buying
During the holiday season, customers visit your online store with the mindset of purchasing things. Now, it is up to you to take advantage of that mindset as a retailer. One way to sell more and make your customers purchase without planning is by providing them with exceptional CX and personalized product recommendations.

Also, by making your store easy to navigate and attractive, you will increase customer loyalty, leading to impulse purchases. Here are some of the other ways to encourage purchases:
Set a minimum purchase limit to qualify for free delivery so that consumers add more items to the cart. It is a great way to increase sales that don't even look like impulse purchases to consumers but are just a way to get free shipping.
You can use social media to promote your products creatively and give users an option to purchase them immediately.
Provide suggestions related to what other people are buying with their items in the cart. Consumers are more likely to purchase those products because of social approval.
5. Give Your Online Store a Makeover
While it is not required that you do a full website redesign ahead of the holiday season, it is essential to give your website a makeover to introduce some festive vibes.
Maybe add some Christmas elements on your website header or a countdown timer for holiday season sales to create FOMO. Or, if you have time and resources, you can even redesign the website as per the holiday theme.
Changing even the tagline of your homepage to something interesting like "It's the holidays" can reflect festive vibes and compel users to shop what they like. Or, you can use the creative festive season imagery that looks good and even promotes your products.
Here is an excellent example from Tiffany & Co: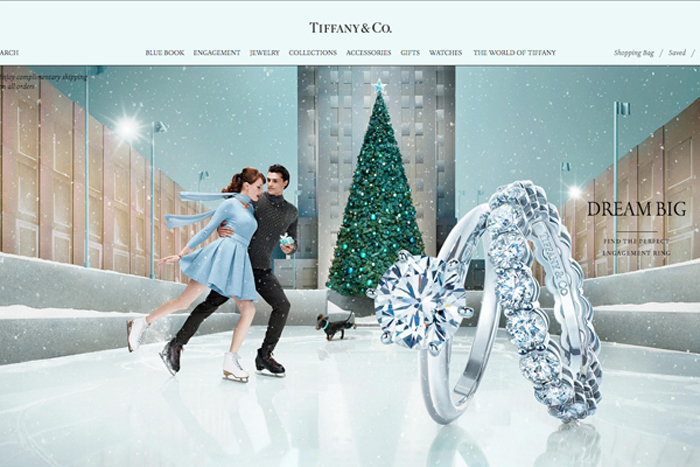 6. Enable Gift Options
Exchanging gifts is a common practice during the holiday season. So, instead of having your store customer place several orders for gifts, you can enable multi-recipient functionality so that orders get delivered to the recipient's doorsteps.
This functionality will let users send products to multiple addresses and help them eliminate a lot of stress, making your online business a one-stop holiday shopping destination.
7. Invest in Email Marketing
Email marketing can help you double your sales during the holiday season. Also, this is the right time to remind your customers about your business. You can send personalized product ideas and offer discounts if you have insights about your customers.
Brands also tell consumers about special promo codes, discounts on specific products, and free shipping offers via email to attract them to the website. You can also send automated reminders to people who left carts without completing the purchase.
During holidays, people have a high tendency to shop, and they don't think twice before buying the products they like. Thus, investing in email marketing during this time of the year is a great idea.
Wrapping Up
You presently have a big picture of what you need to do to make the most of this holiday season. So, start planning and optimizing your website ASAP, as you are already late.
However, if you haven't started planning for the holidays yet, you can still make profits if you take action now. We at Envision eCommerce can help you with the same. So, reach out to our experts today!