How Much Does It Cost to Build an Online Store Using Different eCommerce Platforms?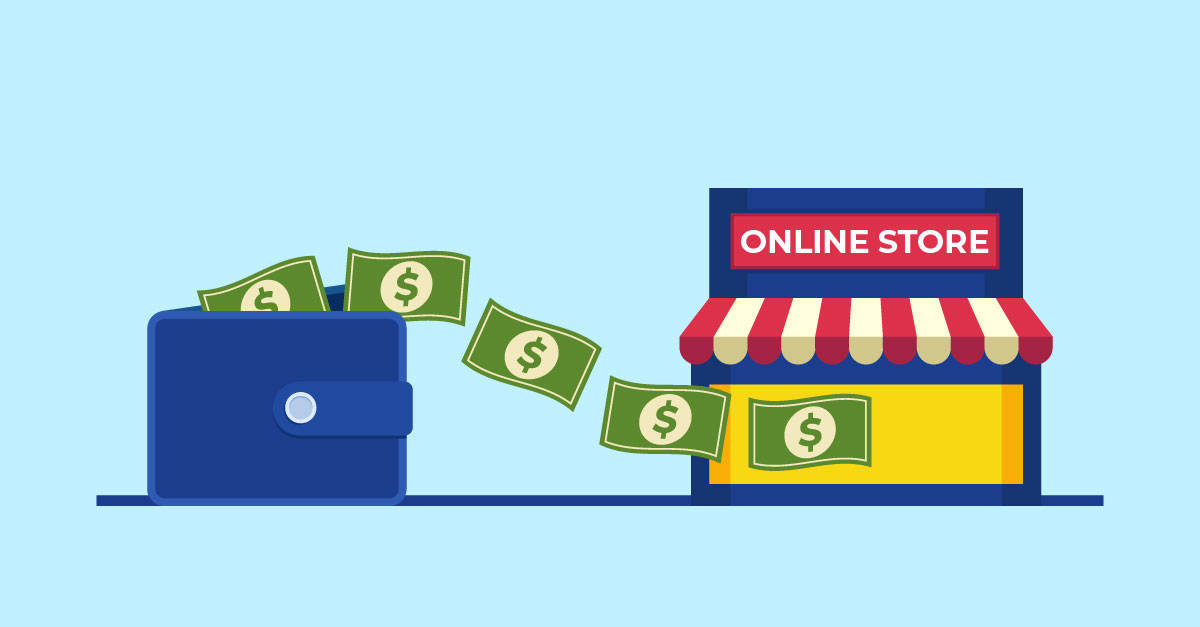 Building an eCommerce website will be very profitable for your offline business. You will get a chance to increase your consumer base, improve brand awareness, and generate more sales. However, to get your online store up and running, you will have to invest in it.
For example, you will spend on eCommerce website development, design, hosting, and many other things. But, how much do you need to spend?
Every budding entrepreneur wants to know the answer to this question. However, unfortunately, nobody can answer it directly. The cost to build an eCommerce store depends on several factors, for example, the eCommerce development platform you choose, your hosting plans, the developers you hire, and others.
The average cost of developing an eCommerce website can range from $5K to $70K. However, please remember that it is just the average cost. The actual number can go up or down depending on your business model and requirements.
This blog will discuss eCommerce website development costs depending on your chosen platform. To keep things simple, we will just compare the price associated with the three most-popular eCommerce development platforms – Magento, Shopify, and BigCommerce.
So, let's get started.
Magento vs Shopify vs BigCommerce: Which is More Pricey?
Magento, Shopify, and BigCommerce are all well-known and popular in the eCommerce industry. But which one suits your project depends on your specific requirements and budget. So, to compare these based on the cost associated with them, we first need to define some specific attributes, which are:
Licensing Fee
Design
Hosting
Integrations and Add-Ons
Depending on these parameters, we can easily depict the average amount of money you will require to spend to build an eCommerce website. So, let's analyze them one by one:
1. Licensing Fee
Before choosing an eCommerce development platform, it is crucial to find out the cost associated with it. While many components affect the cost, licensing fee is the most critical point to discuss. Here is how much you will pay depending on what platform you choose:
Magento has three editions: open-source, Adobe Commerce, and Adobe Commerce Cloud. You can choose the one depending on your business needs and budget. While Magento open-source is free-to-use, you will have to pay a license fee if you choose to use Adobe Commerce and Adobe Commerce Cloud.
Both of these platforms provide exclusive built-in features and top-notch security. However, their licensing fee depends on your annual gross revenue.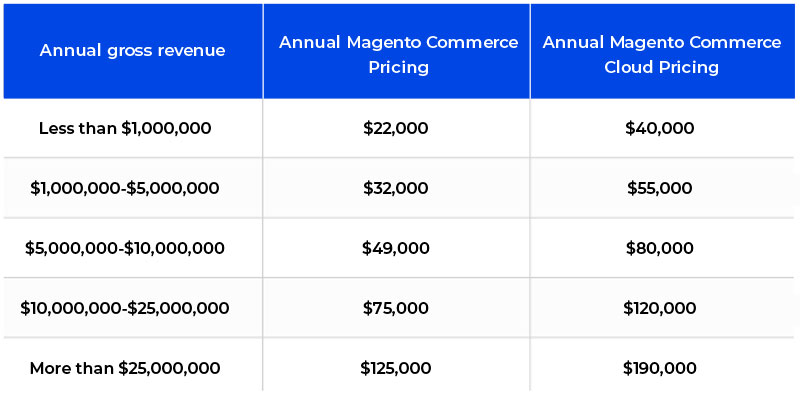 Shopify is no doubt cheaper than Magento in terms of licensing. Also, you can get an online store up and running using Shopify in less time. Here are Shopify plans and how much they would cost you:
The cost of BigCommerce's basic plan is $29.95 per month. You can get the Plus plan for $79.95 per month, and the Pro plan is available for $249.95 per month. It also provides a 15-day free trial for businesses that want to test its offerings to find out whether it is a suitable option for them or not.
2. Design
The competition in the eCommerce industry is intense. Thus, you will need a stunning and highly user-friendly website to stand out among the competitors. That's where design comes in. Also, the cost of designing an eCommerce website can vary depending on your chosen platform. Here's how:
Magento offers amazing options when it comes to eCommerce website design. You can either select a pre-built Magento theme or build your own theme. While buying a pre-built Magento theme, you will spend something around $17-$300 and above. Also, you will need to hire a front-end designer to make the customization on this theme.
These front-end designers can cost between $30-$80 per hour, depending on the designer's location. On the other hand, if you build your own theme, you will need a team of front-end developers, and the cost will depend on the requested feature set. But, unlike other platforms, Magento provides you complete control over the UI and UX that you want to offer. Developing a custom theme using Magento will cost around $5000.
Shopify also provides ready-made templates to design basic eCommerce stores. You can also work on some customizations using built-in tools. But, the number of themes available is limited. While Magento provides thousands of themes to choose from, Shopify just has ten free, and around 60 paid themes available.
The price of a paid Shopify theme starts from $160, but you can also find a cheaper theme for around $50 on a third-party marketplace. Also, because of less control and limited customization that Shopify allows, you can find a Shopify developer at cheaper rates than a Magento developer.
BigCommerce also provides free and paid themes. There are presently 12+ free themes in several styles and around 100+ paid themes. You can get a paid BigCommerce theme for $160. However, the price of a custom BigCommerce theme highly depends on the design agency you hire.
3. Hosting
Shopify and BigCommerce are both cloud-hosted, and the hosting fee is included in the subscription cost itself. That means you will not have to look for a hosting provider and deal with the challenges of managing hosting. It seems convenient, but you will have limited control over the speed and functions of your online store.
On the other hand, Magento is a self-hosted platform. You can choose to Host Your Magento Store on dedicated, shared, or cloud servers. Your price will depend on the functionality or performance you need. It typically varies from $10–50/month. In addition, please note that the team at Magento itself hosts Adobe Commerce Cloud. So, you won't have to bother about the hosting if you go with the cloud version of Magento.
4. Integrations and Add-Ons
To enhance the functionality of your website, you will need third-party integrations, extensions, and plugins. Building all the functionalities from scratch can be difficult many times, so it is always a good idea to use these tools. Here are the options you get on these three platforms:
Magento is an open-source platform, so you will find thousands of free extensions and third-party integrations to enhance the functionality of your store. The cost varies from $30-$90 for paid ones. However, there are expensive options as well that can range up to $2,000. It all depends on your requirements and business needs.
Shopify also offers free and paid apps to help you enhance the functionality of your online store. However, you have fewer choices than Magento. Shopify Add-ons can vary from $9 to $199 per month.
Similarly, BigCommerce also lets you install paid as well as free apps. And many of them are available on a monthly subscription basis. Their price can vary from $9 to $350+ per month. You can also get a custom app developed to integrate with your store, and its cost will depend on the development agency you hire.
Why Magento over Other eCommerce Development Platforms?
There is no doubt that BigCommerce and Shopify come with a little lower cost than Magento. Also, you can get your store up and running in just a few days. However, both these platforms lack flexibility. You can adjust the design elements as per your business needs, and your developers will be restricted. Thus, you will have to move to a flexible platform like Magento once your business starts growing.
Magento is obviously a good investment even though it does not provide a subscription model. But, it has incredible features and scalability needed to grow an online store even across borders. Thus, we recommend Magento over Shopify and BigCommerce. You will need to spend a bit more initially, but it is going to be the most affordable option for the future.
You will save yourself the hassles of migration or eCommerce replatforming. If you are still confused, get in touch with one of our experts at Envision eCommerce and clear all your doubts.