Magento Theme Development: 5 Tips to Take the UI/UX of Your Store to the Next Level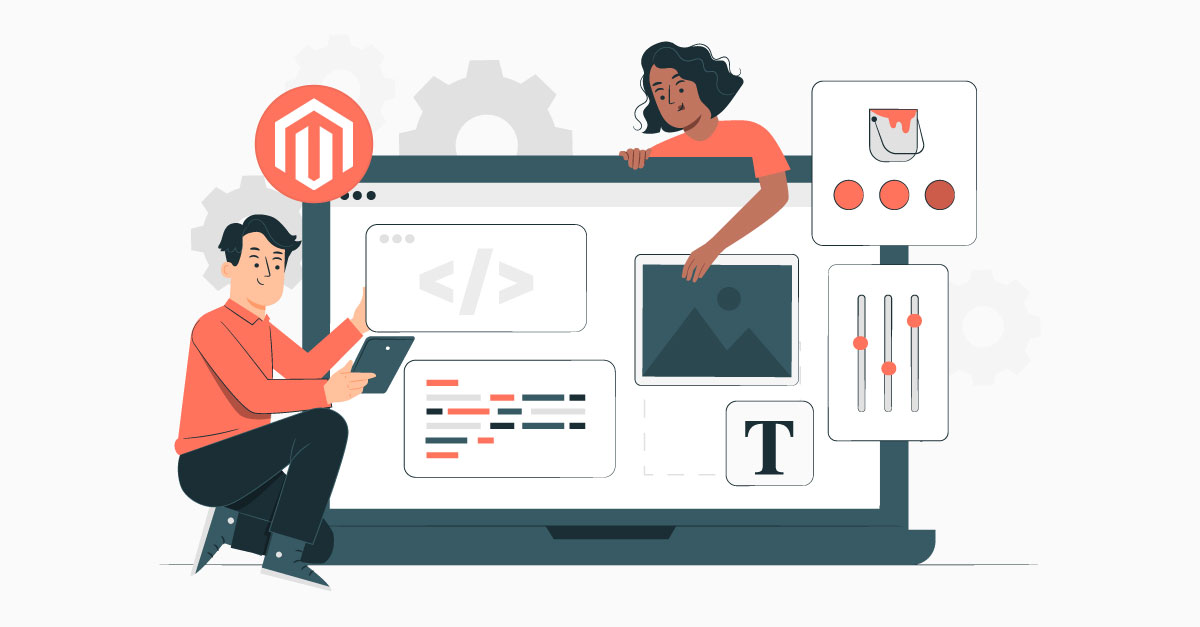 If you wish to start an eCommerce business that scales and thrives in the competitive industry, creating a stunning interface that your customers love is essential. And what type of user experience you provide highly depends on your Magento Theme.
In this article, we are going to talk about what is a Magento theme and what you need to keep in mind before you build a custom or choose a ready-made theme for your online store. There are numerous things to pay attention to as your Magento Theme will highly impact your store's CX.
So, let's get started.
What is a Magento Theme?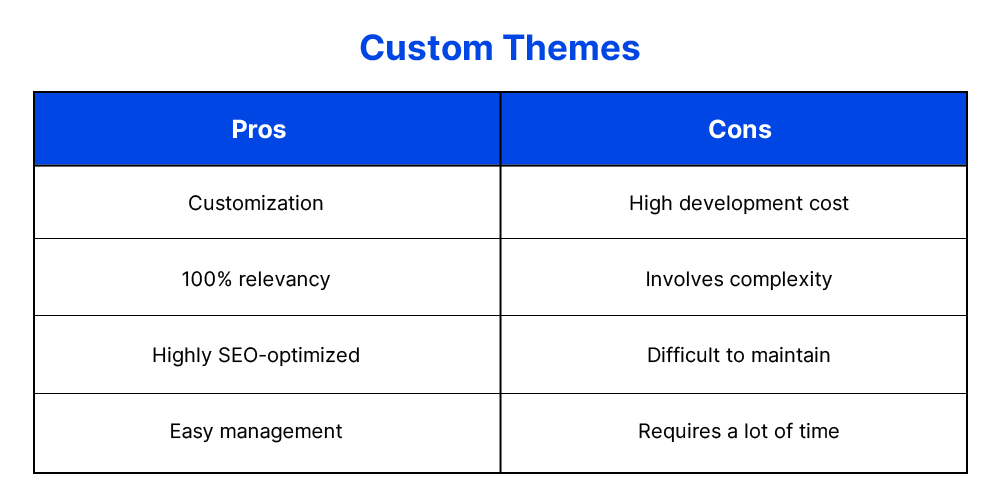 Here are some of the Pros and Cons of choosing a Ready-Made Magento Theme: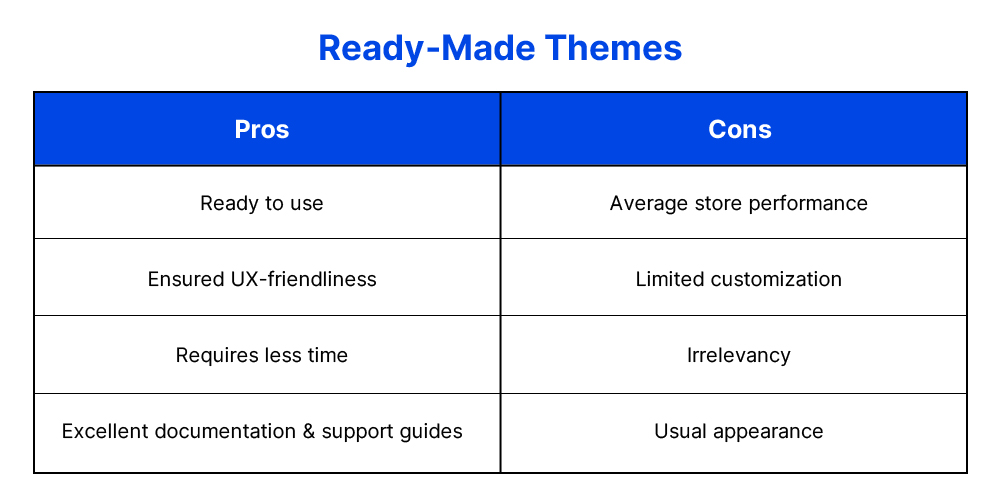 Hence, if you want complete control over the elements and experience of your online store, it is best to design a custom theme. However, it is essential to follow best practices when designing a custom theme for your business website. Let's see how you can do it.
How to Create a Custom Magento Theme: 5 Tips You Should Follow
Here are some best practices and concepts that you must keep in mind before Magento theme development:
1. Have a Clearly Defined Process
When you create a Magento theme, it is crucial to plan everything first before jumping into the process. Find out your business goals, the kind of experience you want to provide, your branding elements, tools you have at your disposal, and other things before hashing out the plan. When you have a clearly defined process, you will complete the work with minimum unexpected errors and surprises.
Here is what your process should look like:
Find out your target audience and branding elements, and do some competitor analysis to find out what's working in your industry.
Plan tasks, set milestones, and follow them religiously to stay on the right track.
Develop a sitemap and wireframe to visualize the website content and other elements.
Develop a visual style, content, and create crucial elements like HTML and CSS.
Test everything before launching and make sure that everything works seamlessly.
Also Read: 3 Tried and Tested Ways to Improve eCommerce Customer Experience
2. Pay Heeds to the UX
If there is something that impacts your store conversions more than any other thing, it is your website's UX. Bad UX can compel your users to leave your site and go to a competitor, while a smooth UX can push them towards purchase.
While User Experience is a very broad topic in itself, here are some of the most important things that you need to keep in mind from a UX perspective while creating a Magento theme:
Value Proposition

From each page of your eCommerce website, your users should be able to get some value. It can be in the form of an ad, offer, discount, or anything that benefits users. It is usually placed on the top of the page or in the form of a banner. Here are some examples:

50% off on your first purchase
Free delivery all over the USA
Get it delivered in 3 days

These elements entice users to make the purchase and drive conversions. However, to actually get the benefits, you will have to create value strategically.

CTAs
Call-to-action buttons are crucial elements that encourage customers to complete a purchase or take any other desired action. But, you can not just place a CTA and hope for it to work. To provide users with a better CX, you need to craft CTAs very carefully.
It is recommended to place CTAs as high as possible on your website page so that it gets more attention and turns visitors into customers. In addition, the content of CTAs on your website needs to be personalized.
3. Keep it Mobile Friendly
Mobile Commerce is booming. Retail mobile commerce sales reached $359.32 billion in 2021, which is an increase of 15.2 percent over 2020. By 2025, it is expected to double in number and reach $728.28 billion.
Moreover, with advancements in mobile technology, people increasingly prefer to shop on mobile due to increased convenience. That means, to target a large number of customers and make more sales, your online store must be mobile-friendly.
In addition, Google also gives preference to mobile-friendly websites when ranking them on SERPs. According to Google Core Web Vital algorithm, mobile optimization is the key to getting more visibility and traffic. Here are a few things that you need to check to make sure your Magento theme is mobile-friendly:
The content on the desktop and mobile versions of the website should be the same
Make sure the theme design is light-weight and responsive
Ensure easy and intuitive navigation for hassle-free product discovery
Optimize website images and videos
4. Cross-Browser Compatibility
All shoppers won't be using a similar browser to access your eCommerce store. So, while developing a Magento theme, make sure that it is compatible with all popular browsers and devices in your target market. Magento 2, by default, supports Firefox, Safari, and Chrome.
Keep in mind that certain JavaScript APIs and features may not be compatible with all browsers, so make sure you check before implementing.
5. Page Load Speed
Website speed is a critical factor on which a number of things rely, for example, your store's traffic, conversions, and sales. How?
According to a study by Google, if a web page takes more than three seconds to load, the conversion rate decreases by 70%. So, always give priority to speed when designing a Magento Theme. Here are factors that slow down the speed of a Magento website:
Too many plugins and extensions
Bulky elements
Too much and unoptimized code
Lack of caching
Non-optimized images
So, keep an eye on elements you use while designing a Magento theme and analyze their impact on page load speed.
Wrapping Up
So, this was all about Magento Themes, their types, pros, and cons. If you want to have full control over your website's look and feel, you must choose to develop a custom Magento theme. Or, if you do not want to deal with the hassles of building one, you can also use a ready-made theme.
Our experts can help you make the right decision. So, without further ado, let's get started.