Adobe Experience Manager: Features and Benefits for eCommerce Businesses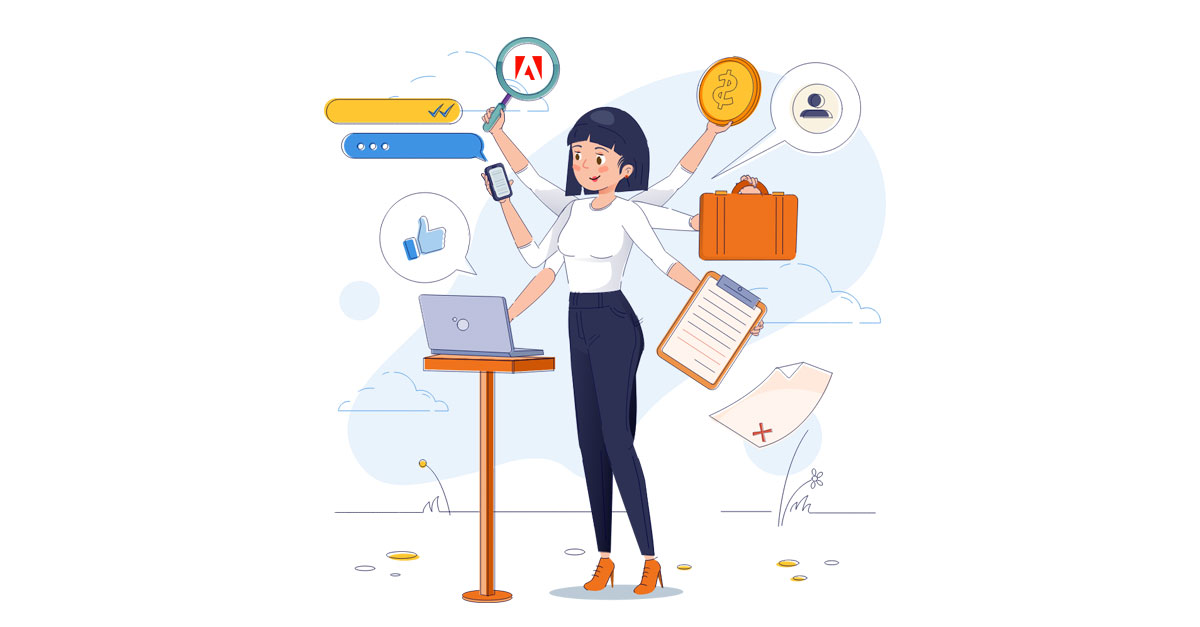 Modern consumers can find or reach you through your website, social media channels, mobile app, or any other medium. However, your brand's core message needs to remain consistent and authentic over all channels. That's only possible if you use a reliable content management system.
Using a CMS, you can manage the content your brand delivers in a more accessible manner while putting your competitors behind and paving the way for amazing customer experience. This blog will discuss one such CMS, Adobe Experience Manager. AEM is one of the most popular tools in the eCommerce industry used by millions of big brands to deliver a cutting-edge experience. So, let's know about its capabilities and features in detail.
What is Adobe Experience Manager?
Adobe Experience Manager is an offering by Adobe to help businesses manage their content and digital assets seamlessly. It lets organizations create, deliver, and manage content across every touchpoint to deliver a consistent experience. Using AEM, you can manage images, documents, videos, online forums, PDFs, and more.
Powered by Adobe Cloud Technology, AEM lets you quickly publish a feature-rich website or social media page where your customers can find helpful content to make purchase decisions faster. It results in improved conversions and sales. Whether you are developing mobile apps or websites, AEM is perfect for automating your content strategy, resulting in engaging and consistent experiences that drive growth. Let's look at some of the features of AEM: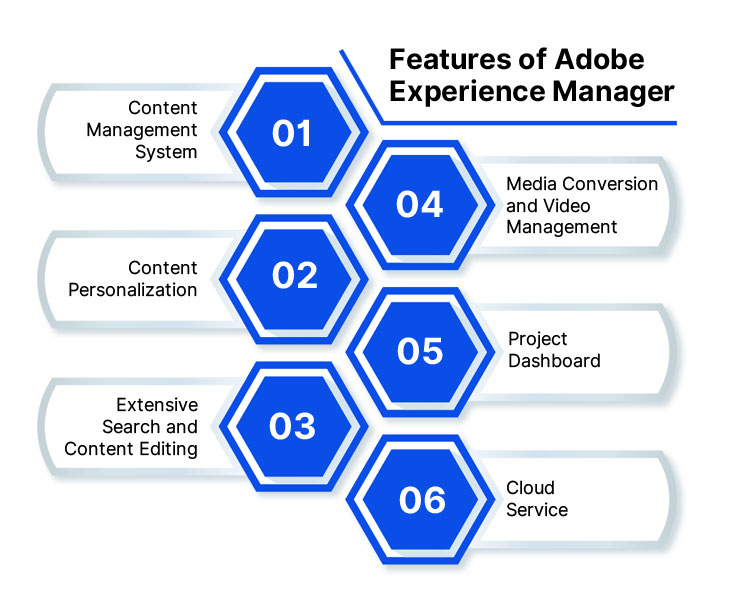 Content Management System: Using AEM, you can easily manage your brand assets and online content across channels and devices. Build websites fast with pre-built templates and launch responsive experiences.
Cloud Integration: AEM helps you deliver personalized content to the audience by capturing details like location, search history, relationship with available products, and much more. When users navigate through your website, their profile is built automatically for targeted marketing.
Search & Content Editing: AEM allows you to add tags and metadata to files in the cloud to make the search easier and faster for later. Also, it makes content editing a matter of minutes instead of hours by providing a preview of how it will look after publishing.
Media Conversion & Video Management: Using AEM, you can showcase products leveraging a variety of videos on several screens, resulting in increased engagement, brand loyalty, and customer attention.
Project Dashboard: It provides a quick overview of your present projects. You can utilize this section to monitor the key components of the project, including project status and progress.
Cloud Service: AEM offers a cloud-native CMS that allows you to manage your website securely at scale and without needing costly upgrades. You can use AEM cloud services to create websites that customers love.
5 Benefits of Adobe Experience Manager for eCommerce Businesses
It is crucial for eCommerce businesses to stand out among competitors to achieve success. AEM provides several amazing benefits that can help you drive efficiency, increase conversions, and build a unique brand. Some of these benefits include:
1. Improved Search
AEM lets marketers search their rich media content easily without spending a lot of time, resulting in improved efficiency. For example, the photo manager in Adobe Experience Manager is developed with search-by-metadata to search the pictures you need depending on how they are tagged.
Since the tags are applied based on specifications provided by you instead of random parameters, it makes the search easy and faster.
2. Visual Media Conversions
To fulfill the complex needs of eCommerce marketers and content creators, AEM provides built-in support for changing creative cloud files into several frameworks and formats to share them across different devices and channels. It makes it easy for marketers to convert their digital media into different formators so as to drive results from multiple channels.
AEM is powered by centrally managed and automated workflows that enable bulk conversion of digital assets to desired file types. The converted content adapts across formats, screen sizes, and channels to drive seamless CX for your consumers.
3. Better Task Management
Adobe Experience Manager is developed to provide marketers with better task management capabilities. It lets teams work on different projects efficiently without any overhead. It provides a separate workspace for different projects.
The ability and resources to work on different projects simultaneously help teams stay productive and generate better results. Using AEM, you can manage your entire project lifecycle easily and efficiently. You can build team workspaces, organize multimedia assets, host conversations, and easily check every task's progress.
AEM also provides capabilities like sharing files in real-time, scheduling tasks, connecting with co-workers across devices, and others to stay organized.
4. Manage Web and Mobile from a Single Platform
AEM empowers you to create, track, publish, and analyze your digital assets fast. It is a robust CMS that empowers your marketing team to manage the content of the web as well as mobile from a single platform. Adobe Experience Manager comes with drag-and-drop and inline editing functionality, which makes it easy to develop and deploy content in no time.
5. Flexibility
AEM delivers consistent management, flexible publishing, and streamlined workflows to your website content. It makes it seamless to create and publish content via a central platform. Getting your content in front of end users was never so efficient before the inception of AEM. It puts content in the fingerprints of users and helps them delight and engage end-users on every screen.
Wrapping Up
Big brands and organizations use Adobe Experience Manager because of its amazing capabilities and features. As per multiple reports, Adobe Experience Manager is one of the most popular and useful products by Adobe in the eCommerce industry. Being a part of Adobe Marketing Cloud, it will be your one-stop solution to establish a unique online presence.
Get in touch with experts at Envision eCommerce to use AEM and its capabilities to the fullest.