The Future of eCommerce & How Adobe Commerce Development Can Help Retailers Secure an Edge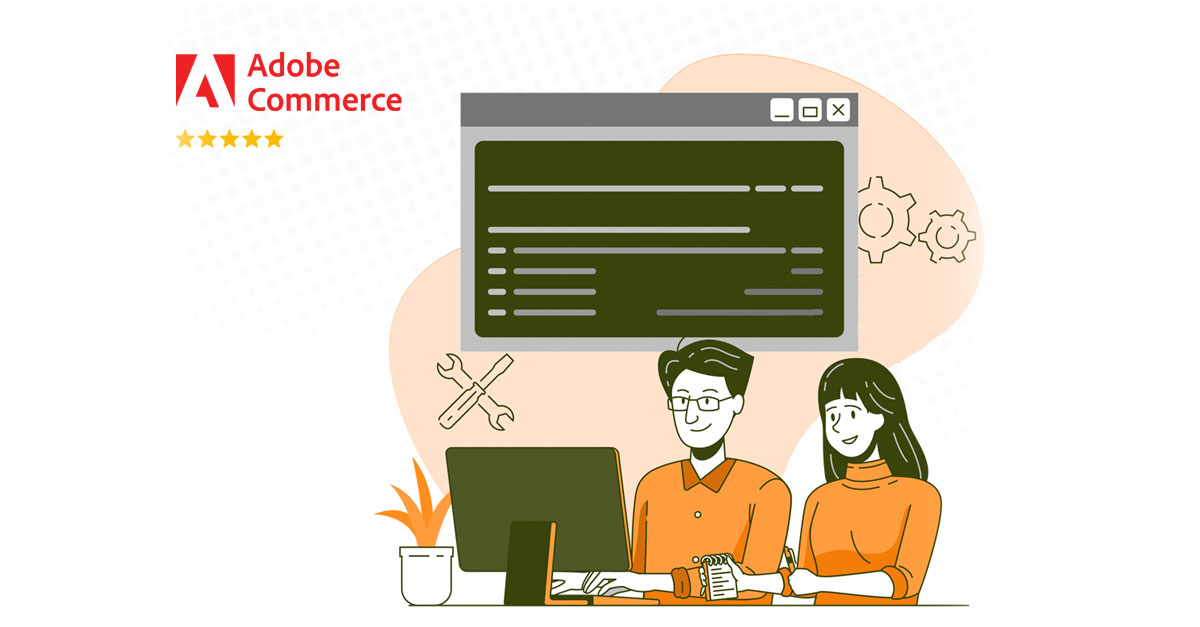 Adobe Commerce is a leading eCommerce development solution for brands and retailers. Using its amazing features, you can create impeccable shopping experiences, no matter which industry vertical you belong to.
From B2C, B2B, to B2B2C, it caters to the needs of every business type by helping brands automate their business processes and deliver value. Many experts also call it the building block for future growth because of the success stories associated with it.
However, given the high licensing cost, does it really make sense to use Adobe Commerce for your business? If yes, what lies in the future of this platform? In this blog, we will find out answers to all these questions. So, let's get started.
What is Adobe Commerce?
The enterprise version of Magento is called Adobe Commerce. After Magento's acquisition by Adobe in 2018, the platform is reaching new heights in terms of popularity, security, and scalability. While the Magento open-source version is still known as Magento, Magento Commerce was rebranded after the acquisition and is now called Adobe Commerce.
Adobe is currently focusing more on its enterprise-level version (Adobe Commerce) by upgrading its software, security, features, and performance to match modern business needs.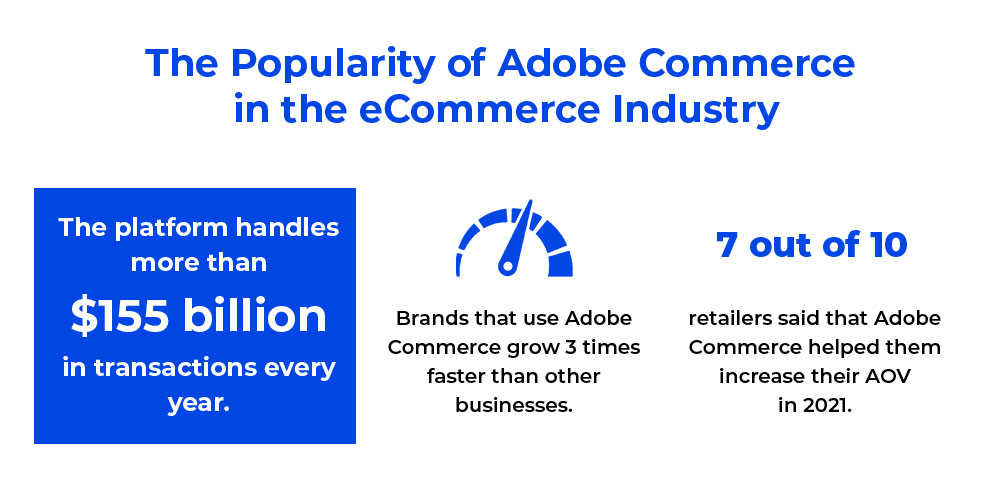 As a result, there is no doubt that Adobe Commerce will have a bright future despite all the challenges from other renowned eCommerce platforms like Shopify, BigCommerce, and others.
In addition, the team at Adobe is releasing platform upgrades and security patches many times a year to make the platform more secure and robust than ever before. Let's now see how it can help retailers in 2022 and years beyond.
The Future of eCommerce and Why Adobe Commerce Development is a Blessing?
The future of eCommerce lies in the following trends and technologies, and Adobe Commerce excels in all of them:
1. Headless Commerce
Modern-day consumers expect brands to cater to their needs across several touchpoints and channels. Now, headless commerce is the only way to do that seamlessly. This approach can help brands future-proof their ability to fulfill orders and deliver content in a personalized manner.
The advantages of headless commerce involve improved scalability, personalization, and unconstrained flexibility to develop custom experiences using any tech stack when needed.
However, implementing a headless commerce solution is not as easy as a walk in the park. You will require best-of-the-breed solutions to create a robust infrastructure.
Adobe Commerce can help you do it seamlessly.
It is fully headless and has an integrated framework that lets brands enjoy full flexibility. While it has a coupled storefront, it is not required that businesses use it for the front-end. Businesses can just leverage Adobe Commerce's commerce services to handle back-end processes and use their own platform to deliver the front-end experience.
Thus, an important role that Adobe Commerce will play in the future is in helping businesses implement the headless approach while using its advantages to the fullest. There is no platform available in the market that provides flexibility and scalability like Adobe Commerce when it comes to implementing headless. Here are three ways to go headless with Adobe Commerce: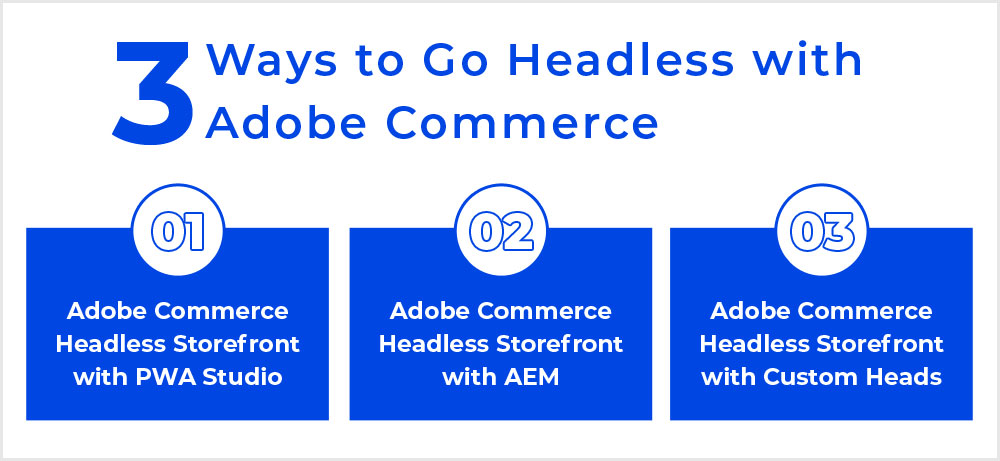 Also Read: Will Headless Really Help eCommerce Businesses Thrive in 2022 & Years Beyond?
2. Artificial Intelligence
AI is a powerful technology that can help brands deliver a personalized customer experience by leveraging collected customer and business data to make informed business decisions. The importance of Artificial Intelligence in eCommerce can be clearly defined using the below stats:
84% of eCommerce brands are either using AI to power their operations or it is their top priority

15% of all customer service integrations will be handled by AI by the end of 2022 

35% of Amazon sales are derived by its AI-powered recommendation engine
Now, how are these stats related to Adobe Commerce? We will explain.
The future of eCommerce is Adobe Commerce because it is well-equipped with intelligent Artificial Intelligence features that can help retailers secure an edge in 2022. All these features are powered by Adobe Sensei, Adobe's own AI and Machine Learning framework, which intelligently uses data and improves the decision-making capabilities of retailers. Let's look at all of them:
Live Search by Adobe Commerce

can help brands make the search functionality of their eCommerce stores more robust and accurate. It automatically ranks products as per the user search queries and makes it easy for them to find the products they are looking for.

Intelligent Product Recommendations

are an important part of the Adobe Commerce experience. It helps retailers upsell and cross-sell by providing recommendations based on users' past preferences.

Retailers can improve their

Business Intelligence

by visualizing complicated data from different sources in an easily digestible manner in Adobe Commerce reports.
Find out more about Live Search by Adobe in this article.
3. Personalized Marketing
Due to increasing competition in the eCommerce industry, personalized marketing is undoubtedly the key to success. In 2022 and years beyond, businesses will highly rely on personalized marketing to increase their sales and drive revenue. 
By investing in Adobe Commerce Development, businesses can use a full suite of Adobe products to take their eCommerce marketing game one step ahead. AEM applications like Adobe Analytics and Adobe Target can help brands collect cross-channel data to find contextual information for targeting consumers in a better manner. 
They can then use AI automation to build and optimize customer experiences, resulting in well-optimized customer journeys.
Adobe Target:

Set up tests and find the best messaging, offers, and content for your audience. Adobe target helps you formulate personalized content based on machine learning and rule-based approaches that consider contextual, behavioral, and offline variables.

Adobe Analytics:

Using it, you can collect customer data about how they behave over different channels, for example, web, mobile, and other marketing channels. It seamlessly analyzes all customer touchpoints for a business, resulting in a richer understanding of the user journey.
4. B2B Selling
Globally, B2B eCommerce operations are forecasted to grow by more than 18 percent each year until 2028. If you too want to sell B2B or plan to opt for a hybrid business model in the future, Adobe Commerce is the right eCommerce development platform for your business. 
It provides robust B2B eCommerce functionality, including:
Account management:

Easily create customer accounts and specify buyer roles, delivery alternatives, and approval workflows.

Multichannel sales:

Manage sales across multiple channels from one single dashboard and also leverage built-in support for marketplace extension.

Fast ordering:

Let your business buyers place orders fast using SKUs (Stock keeping units) or copying previous orders. Fast ordering means more sales and increased revenues.

Large catalogs:

Manage over a million products seamlessly from a single dashboard, create countless categories for better product division, and utilize dynamic pricing models for better customer targeting and providing a personalized experience.
Wrapping Up
All the above-mentioned points make it clear that Adobe Commerce is the future of eCommerce and a blessing for brands that have aggressive growth targets. Magento has been an excellent eCommerce development platform since its inception but Adobe's acquisition took its services to a whole new level. Now, it is time for you to utilize this amazing solution to build your own eCommerce brand and earn billions.
We are Adobe Silver Solution partners and can help you profitably embark on your Adobe Commerce Development journey. Contact our team to find out how!