Website Templates vs. Custom Designs: What is the Difference?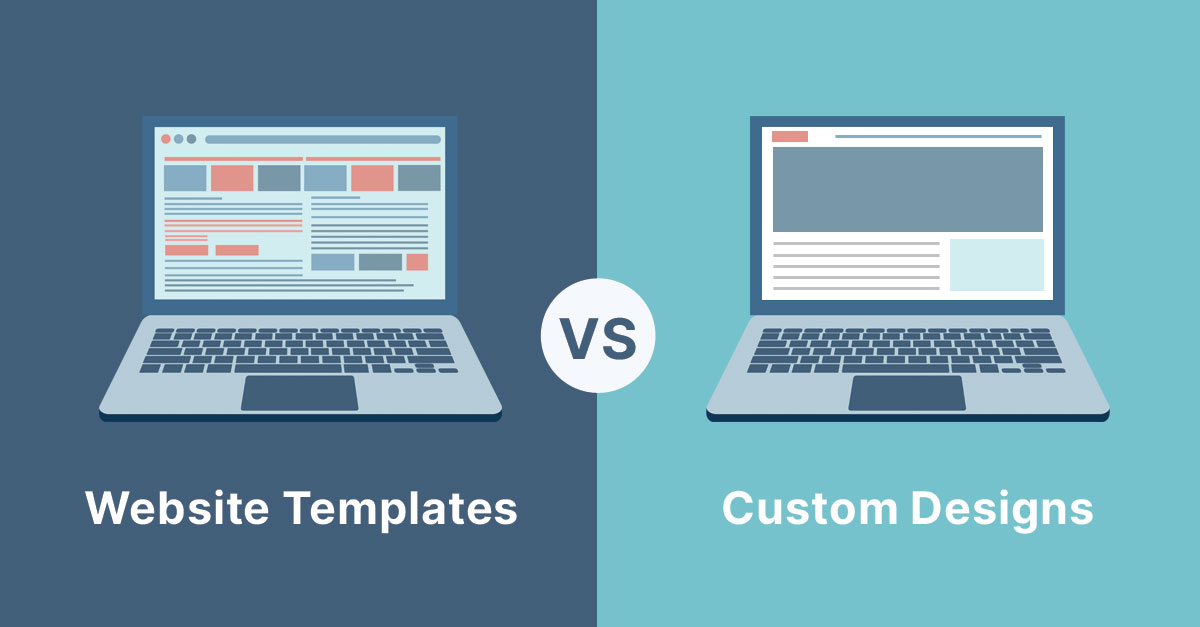 Every day, many business owners and budding entrepreneurs are worried, trying to decide how little or how much they should spend while developing or redesigning their eCommerce websites. We have seen this scenario many times, having dealt with thousands of eCommerce businesses in the past 20 years.
Usually, companies need help deciding whether to build a custom website from scratch or use an engaging, easy-on-eyes template. That sounds like a complex decision. 
However, it is not. The right decision boils down to knowing your business needs and the pros and cons of both options, which we will discuss in this article. So, let's get started.
What is a Website Template?
A website template is a predefined layout you can use to build a website. You will just need to put your content onto it and make tweaks here and there as per your branding elements. It allows you to drag and drop features like photo galleries, image blocks, logos, and others to make it your own.
The approach is to find a template that closely matches your business needs with small customizations. For example, eCommerce development platforms like Magento and Shopify have hundreds of pre-built templates that businesses use for building their websites. Some of these templates are free, and some are paid. Let's analyze the pros and cons of a website template:
Pros
It is best to purchase a website template if you have budget constraints. You can even find a good website theme for free.

A template website is easy to set up and takes less time than designing a custom website from scratch.

The templates available in the market are developed keeping industry standards in mind, which means they are attractive and user-friendly.

When buying a template, you already know what your website will look like. Templates have functional demos that you can see and analyze.
Cons
Website templates lack originality, and you can easily depict whether a website is designed or template-based.

You will need to update a website template very often. While updates are made to sort out problems, sometimes data within the site may get affected. 

Website templates limit your creativity, and you can not make major changes as per the evolving needs of your customers. Also, it is impossible to provide a personalized experience using a template.
Also Read: Magento Theme Development: 5 Tips to Take the UI/UX of Your Store to the Next Level
What is a Custom Web Design?
In a custom web design, every website element is designed to fit your business needs. Your content and business strategy remain the top consideration, and everything else is designed according to it. Every component of your website is changeable in a custom web design, including navigation, the overall structure, back-end GUI, and others.
You will have a strategic and unique online presence with a custom website design. All you need to do is hire an eCommerce website design agency with proven-industry experience to help you build a website that converts into sales. Here are some of the pros and cons of a custom web design:
Pros
Websites that are designed from scratch are unique and engaging. You can build your website as per your business identity and provide a personalized CX.

You have complete control over all the elements of your website, and you can make changes as per the evolving needs of your consumers.

Custom-designed websites are SEO-optimized, and you will not have a hard time managing and updating your URLs.
Cons
It can be expensive to build a custom website as you will need to invest in strategy, preparation, design, and development specific to your business. But you will not have to pay for additional services like themes or subscriptions.

It is a time-consuming option as it will be a back-and-forth process between the client and the web design agency. Also, you will need to spend on website maintenance.

 
Website Template vs. Custom Design: What Should You Choose?
Now that you know the advantages and disadvantages of both options, it will be easier for you to choose. However, remember that every business has different needs, and one option can never be better for all businesses.
1. When to Choose a Custom Web Design?
You should choose a custom web design only if you need a scalable, unique, and search engine-friendly web store. Also, you should not have budget constraints when developing a website from scratch because, depending on the requirements, the development cost can go up. While it may require you to invest some money, a custom web design will always satisfy you when it comes to customizations and user experience.
2. When to Purchase a Website Template?
If you want to accelerate your time-to-market and spend less on designing a website from scratch, purchasing a template is an ideal option. It is also a reliable option for those who are not proficient in coding. However, choose this option only if you need little to no control over your website elements and want a simple web store.
Wrapping Up
Choosing between a custom website and a template-based design should be based on your budget, the time you have, the functionality, flexibility, and scalability you need, and your brand's personality. Do not go for custom designs if you think you can do well, even with a template. Many big brands use website templates to generate millions of dollars in sales. But, take the decision very carefully.