Why Consider Shopify for eCommerce Store Development?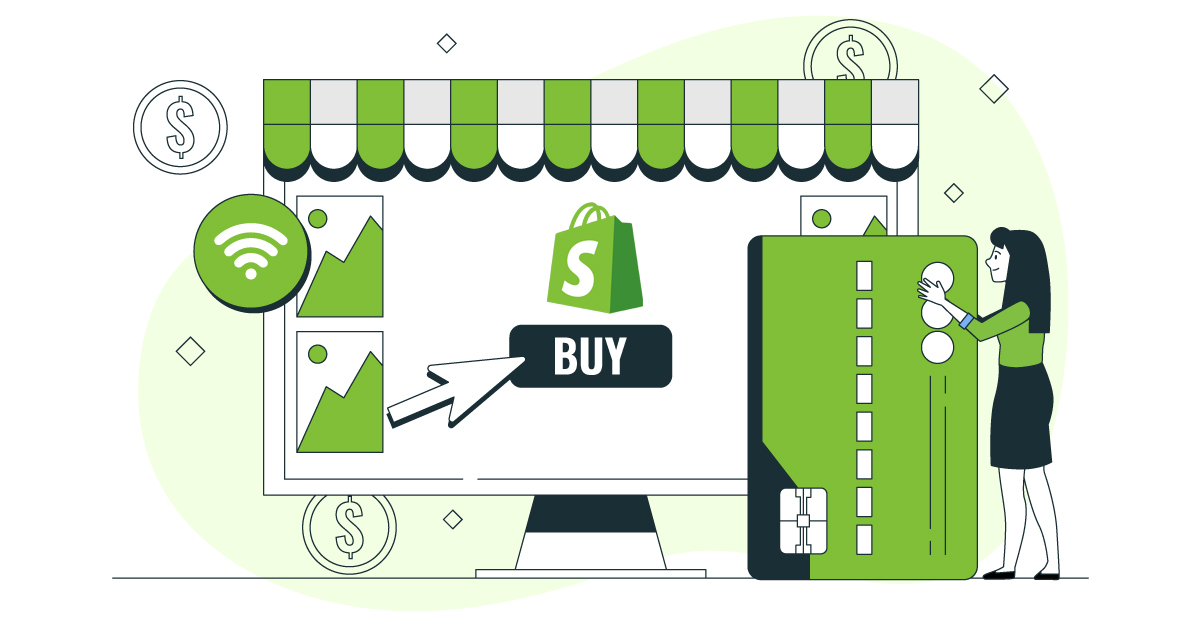 The eCommerce industry is booming. However, many think launching and running an eCommerce business is tedious.
You can not run an online business by selling products and accepting payment from anywhere in the world, and that too, without worrying about the hosting, coding, or domain purchasing process.
Or, can you? Does it sound like a dream?
We are living in 2022, and it is very much possible today! Shopify is a platform that allows you to do everything seamlessly, from launching a store to selling on it aggressively.
In this article, we will talk about this amazing eCommerce store development platform to explore many of the benefits it provides to retailers, customers, and everyone else associated with an eCommerce business. So, let's get started.
What is Shopify?
Shopify is an all-in-one SaaS platform that lets businesses set up and run an online store on a subscription model. This fantastic platform can help you build the company of your dreams from scratch and enjoy sales quickly – it is designed to be a versatile solution that has the ability to grow with your business.
According to statistics, Shopify generated more than $900 million in merchant solutions and around $600 dollars in subscription solutions in 2019. When the world was suffering from the pandemic, several businesses started their online operations with Shopify, and the platform embraced immense success due to its amazing features and advantages.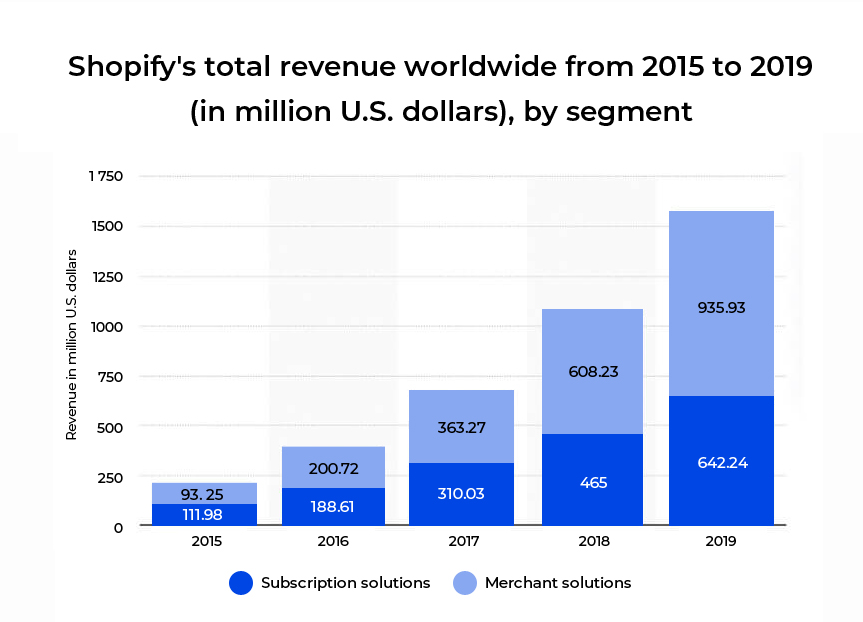 Thus, if you are also planning to get started with developing an online store, read on and get to know why you shouldn't ignore Shopify.
5 Benefits of Shopify Store Setup and Why You Shouldn't Ignore It
Shopify helps merchants build and customize an online store to sell on multiple platforms, like, the web, mobile, physical stores, and across several social media channels and online marketplaces. It also allows companies to run their online business from anywhere in the world without worrying about anything. Here are some of the statistics explaining why Shopify is one of the best eCommerce development platforms: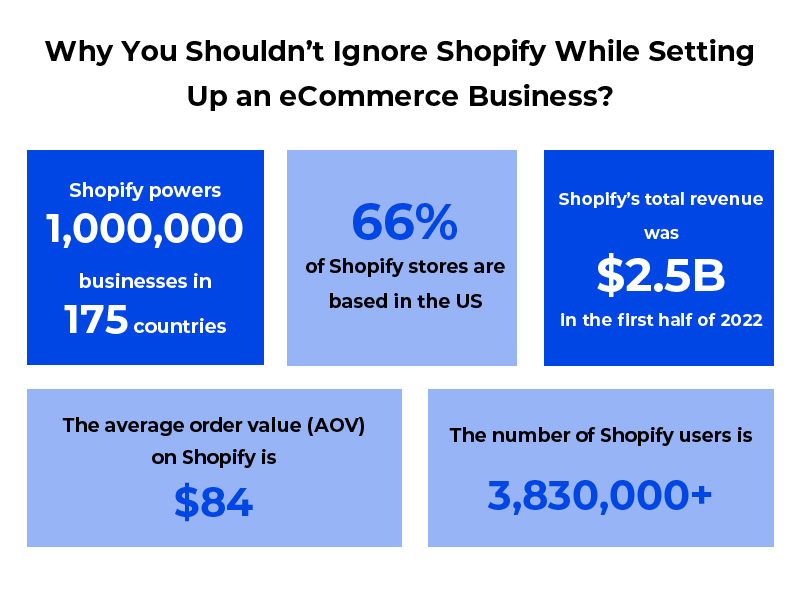 While these are just numbers explaining the popularity of Shopify, let's now focus on the actual benefits a merchant will get while selecting Shopify for an online store.
1. A Shopify store is easy-to-setup
Shopify is a fully-hosted platform with high quality. It means that your store's high performance is already guaranteed. An experienced Shopify developer can help you set up and personalize an online store in less than 4-5 days with basic designs. That means you are ready to go to the market in just a week with a basic store having all products and content if you choose Shopify.
For some advanced designs, it may take a little longer, however. On the other hand, it is extremely user-friendly, which makes it a perfect choice for startups with little or no experience. It is easy to navigate and you will need fewer resources to go up and running with your Shopify store, resulting in less cost.
2. It offers top-notch security and safe payments
Security is and should be the top concern when building an eCommerce store. You can recover lost leads or sales, but getting the same reputation back is impossible once your business suffers a data breach.
Shopify is a PCI DSS compliant platform which means you have everything needed to ensure the safety of your business and customers (you just need to keep a check on everything). The standard saves the client's data from trouble and provides businesses:
Strict access control measures
Control against leakage of data
Ensures safety at all steps of crediting money
That means all customer data on Shopify is confidential, including your customers' personal and financial details. The platform will also ensure server updates and maintenance to keep your store updated and running fast.
3. It provides multi-language and multi-currency support
Shopify provides its services in more than 20 languages. This makes it easier for businesses to expand their operations beyond borders and grow without limits. In addition, Shopify also provides multi-currency support depending on your payment provider. So, you won't have to worry about accepting payments when expanding your business. That's one reason why big brands and companies use Shopify.
4. It is a low-cost solution
Another reason why Shopify is perfect for startups and budding businesses is because it is very cost-effective. You won't have to spend a fortune on developing eCommerce solutions using Shopify, and you can also enjoy unlimited visitors and sales.
The basic Shopify is available for $29 per month, with no hidden costs. Plus, if you think your business needs are now increased, you can always upgrade to Shopify Plus. It lets businesses build feature-rich solutions, having:
99% uptime
Unlimited bandwidth and transactions
40+ migration tools
More than 10K checkouts per minute
Level 1 PCI DSS compliant
Unlike Magento, you won't have to pay a lot of money while building an eCommerce store, and also you would be spending less time and resources.
Also Read: Magento vs Shopify vs BigCommerce: Which is Best for You?
5. 24/7 support is also available
One of the additional advantages of selecting Shopify for store development is that it helps its users with 24/7 support. That means you can contact the platform anytime when you are facing trouble, have questions, or need assistance. You do not have to wait for the morning hours, leading to less downtime and more sales.
Hire Shopify Experts at Envision eCommerce
Shopify is a fantastic platform that doesn't expect you to add numerous elements. There are several Shopify themes that you can select from depending on the products you are selling. Beautiful templates are designed for clothing stores, makeup stores, and other businesses. You just have to make some tweaks and are ready to go.
Our Shopify development experts know this platform in and out. We can help you make a mark in the eCommerce industry by building a digital solution that fits your business needs precisely. We have 10+ years of industry experience, proven expertise, and a sorted development process to help you get started. So, what are you waiting for? Let's get in touch!