Top 4 eCommerce Development Platforms for 2023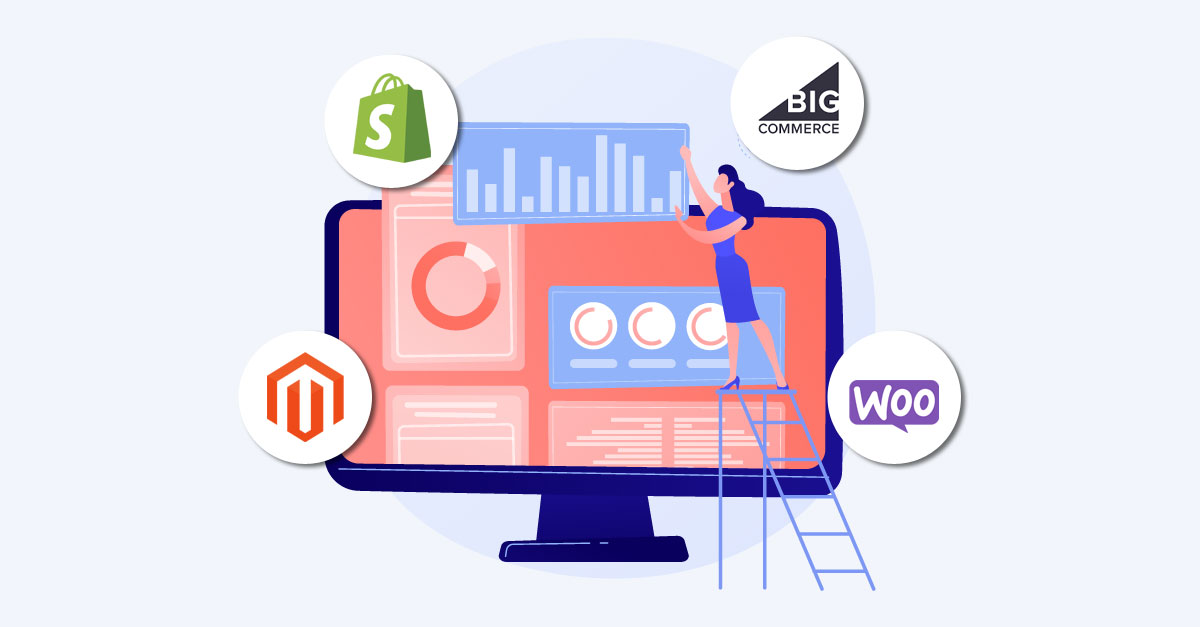 According to reports, global eCommerce sales will hit $5.55 trillion in 2022. And this number is expected to grow in the coming five years, showing that it is a profitable move to start an online selling business today. If you are working towards it or have any plan to upgrade your eCommerce platform to ensure you get the biggest slice of this pie, we must mention that you are making the right move.
There are countless possibilities in the eCommerce market. With borderless commerce rising, it is mandatory to have a robust eCommerce platform to support your business expansion and growth. But unfortunately, selecting the right platform is one of the most challenging tasks you will need to do before anything else.
This decision will impact not just your future sales but brand reputation and customer loyalty. This blog will discuss the top four options available to help you make the right move. So, let's get started.
8 Factors to Consider for Choosing the Right eCommerce Development Platform
Just like one size only fits some, there is no one best platform for all types of eCommerce businesses. The decision to select the right eCommerce platform should be based on your business objectives and customer preferences.
For example, if you plan to serve the B2B market or opt for a hybrid business model in the future, Magento will be the right choice. If you choose a Shopify-like platform for this type of business, you will have to re-platform after a while as it is less flexible and customizable when it comes to Magento.
But, there are some general attributes that you need to check before you finalize an eCommerce platform for your business, and these include:
Hosting plans
Platform themes & user experience
Third-party integrations
Speed, scalability, and security
SEO and mobile-friendliness
Payment gateways
Cost of Ownership
Store Functionality
You should finalize an eCommerce platform after scrutinizing it against all the above factors. The right eCommerce platform will suit your business needs, budget, and customer preferences in the best possible way. Let's now discuss some of the best eCommerce development platforms available for 2022 and beyond.
Top 4 eCommerce Platforms for 2022 and Years Beyond
Depending on your business type, objectives, and needs, you can choose one of the below-mentioned eCommerce platforms to run a successful online business in 2022 and years beyond:
1. Adobe Commerce (Magento)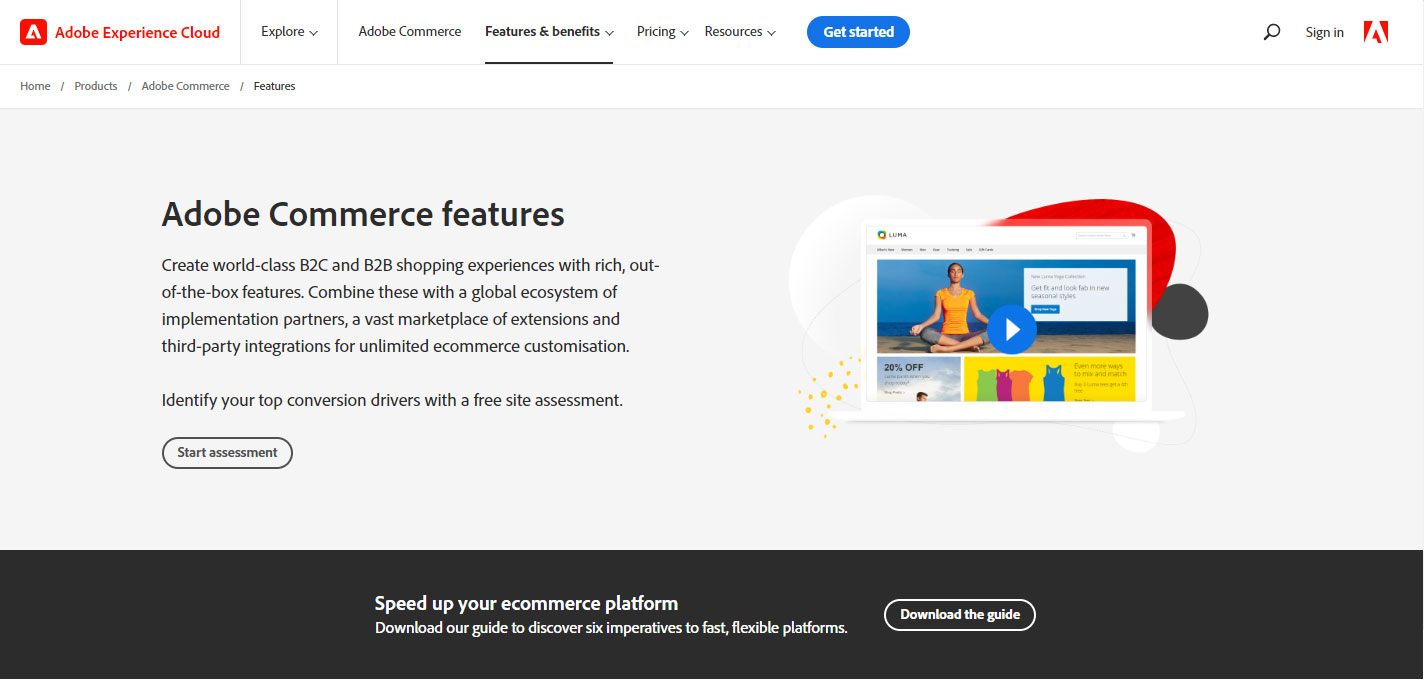 Magento was always a leading eCommerce development platform in the market. However, after Adobe's acquisition, major changes were introduced in Magento's offering, and now it is the best eCommerce platform for all business types. That's why it is number one in our list of best eCommerce platforms to use in 2022 and beyond.
Whether you follow a B2C, B2B, or any other business model, you will find all the features and functionalities in Magento. Adobe currently provides three versions of Magento: Magento open-source, Adobe Commerce (Enterprise Edition), and Adobe Commerce Cloud.
Adobe Commerce is an enhanced version of Magento that is perfect for businesses with aggressive growth targets and who want to provide a highly-personalized experience to their customers. Adobe Commerce Cloud is a version of Adobe Commerce suitable for enterprise-level organizations needing high security and more robustness.
Features of Magento/Adobe Commerce
B2B features like custom pricing/catalogs
Advanced marketing and customer loyalty tools
WYSIWYG page builder
Customer segmentation
Strong SEO
Live search
Multi-channel selling
Business intelligence (BI) dashboards
Also Read: The Future of eCommerce & How Adobe Commerce Development Can Help Retailers Secure an Edge
2. Shopify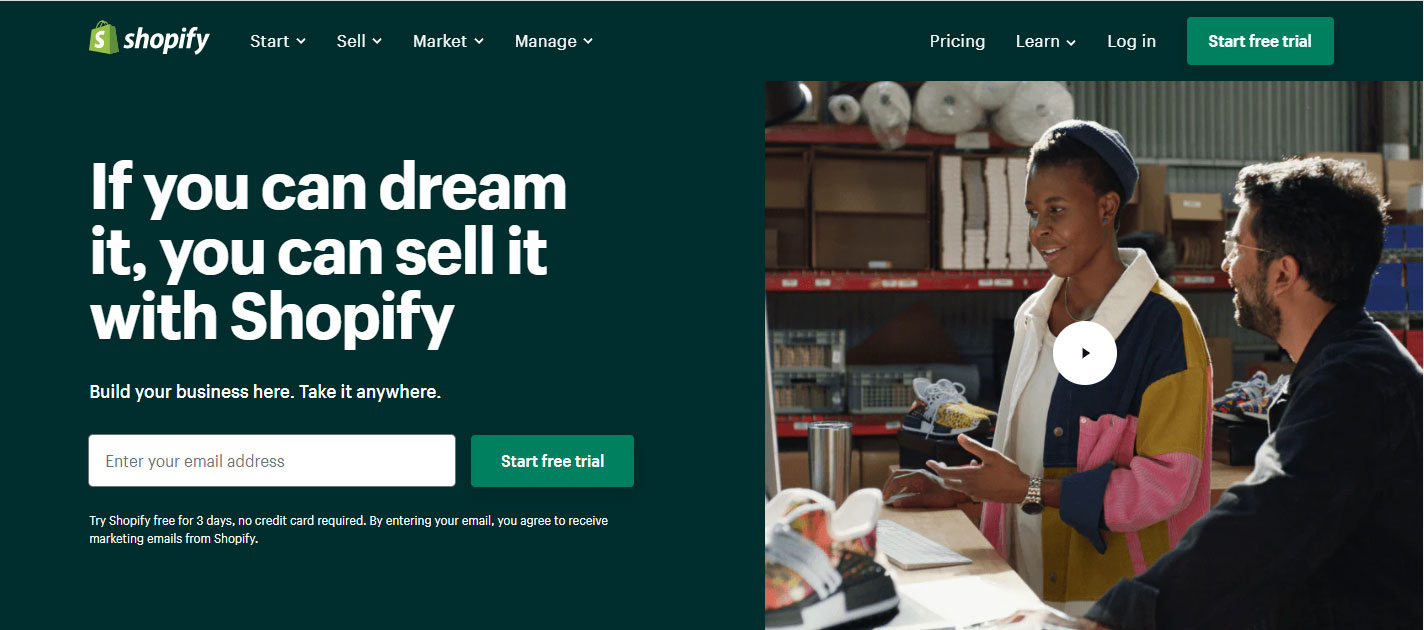 Shopify is another well-known eCommerce development platform for businesses who want to accelerate their time-to-market and still launch a perfect online store that serves the preferences of their consumers. You can find everything you need in Shopify to develop a robust online store at less price than Magento. Shopify is known for quick customization, several business themes, order monitoring, easy product management, and affordable pricing plans.
All the Shopify themes are well-optimized for mobile as well. Thus, you will be able to target a mobile audience easily. If, at any point, you think you need more than Shopify for your business needs, you can upgrade to Shopify Plus – the premium version of Shopify having advanced features. Its interface is a bit more friendly when compared to other platforms.
Features of Shopify
Easy to setup and manage
Mobile commerce compatibility
Amazing security
100+ payment gateways
Social media integration
Dropshipping
Top-notch support
3. WooCommerce

WooCommerce is also a well-known and reliable solution for eCommerce business. It is a WordPress plugin, meaning you will have to set up and install a website with WP installed. The plugin is free to download and easy to install using a step-by-step wizard.
One of the amazing features of WooCommerce is its customizability. You can change anything and everything in it to match your branding or other business needs. Also, it integrates well with the plugins of WordPress.
Features of WooCommerce
Unlimited number of themes
Unlimited extensions and plugins
Many payment gateways
Order management
Data security
Email marketing
Inventory management
Multi-currency
4. BigCommerce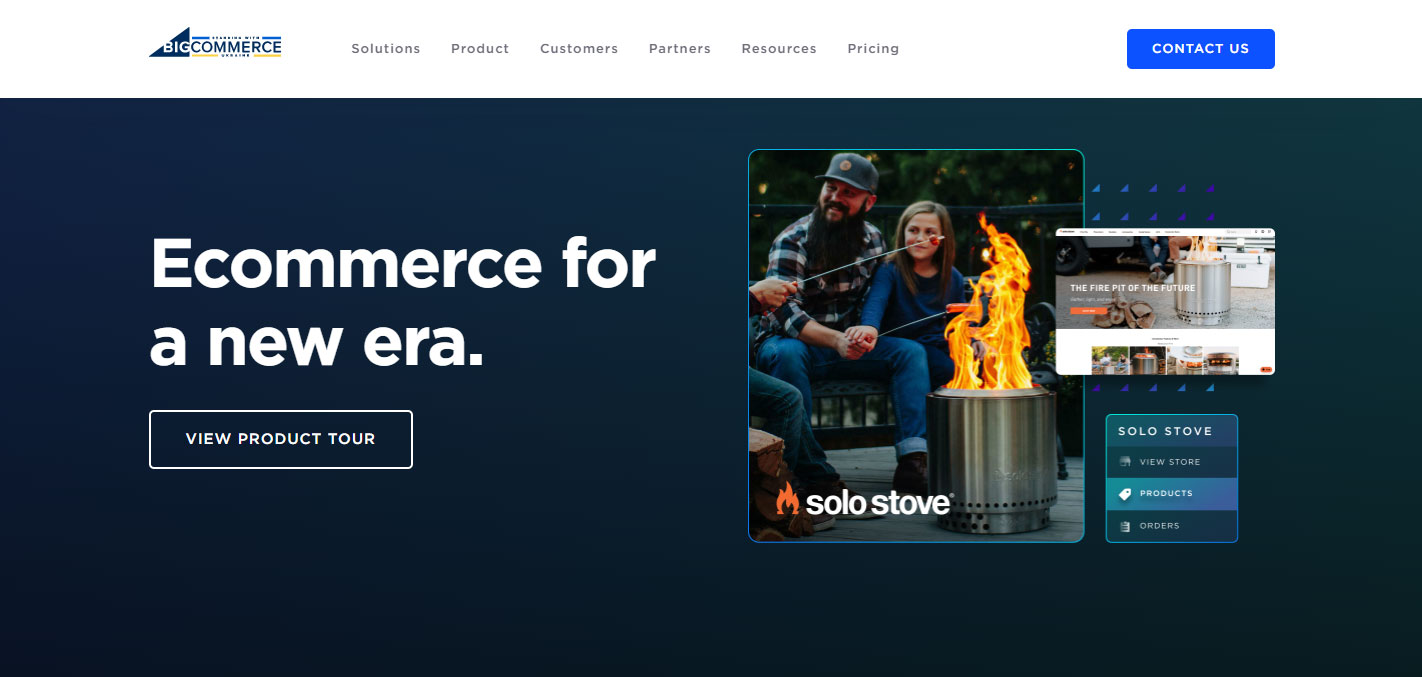 BigCommerce is also a well-known platform in the eCommerce market, and it is used by businesses in more than 100 countries globally. The platform comes pre-built with many native features. They provide users with tools for inventory management, SEO, marketing, and 24/7 support via email, phone, and live chat. The platform also has features for enterprise-level eCommerce stores and supports B2B wholesale websites.
Features of BigCommerce
High scalability and flexibility
Strong SEO features
Multi-channel selling
Wrapping Up
Every website has different needs and requirements depending on the industry, the type of products it sells, and the target market. Businesses will always be different in terms of their needs, business model, and goals. While all the platforms mentioned above are best in the market, you need to analyze them as per your business needs to find the best fit for you. Contact experts at Envision eCommerce for guidance and help!