How to Sell on Amazon to Double Your Revenue and Get Traction?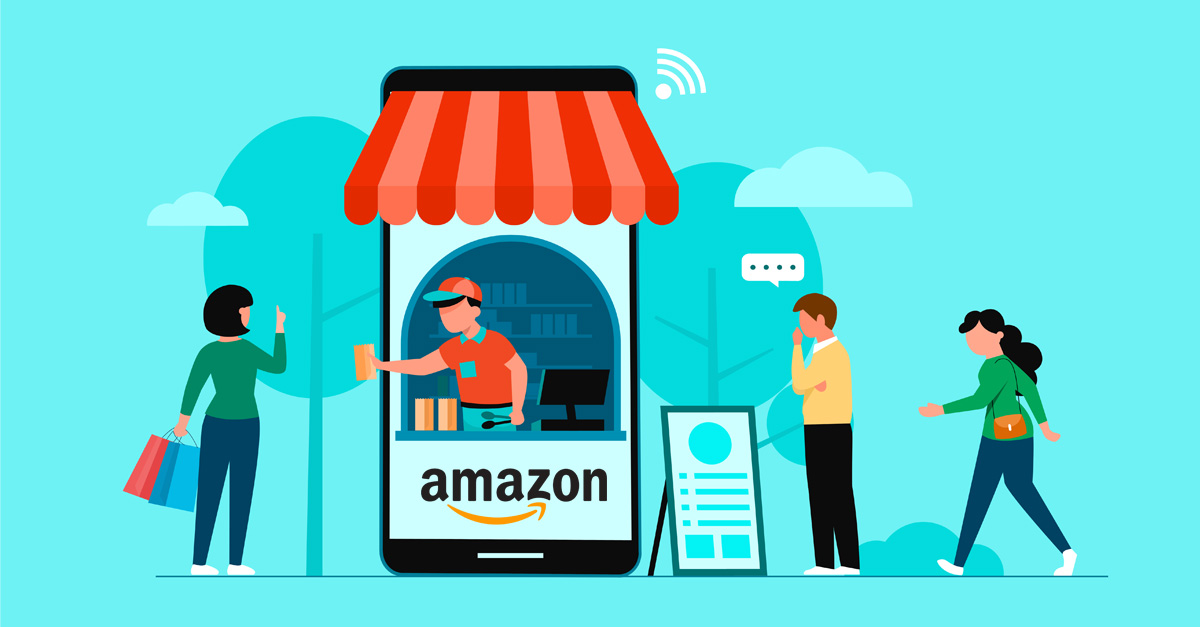 Amazon is one of the largest eCommerce platforms in the world. According to reports, nearly $2 out of every $5 spent online will be spent on Amazon in 2022, making up 39.5% of all US eCommerce sales. The platform gets more than 2 billion monthly visits in the USA alone, which shows how popular and famous it is among consumers.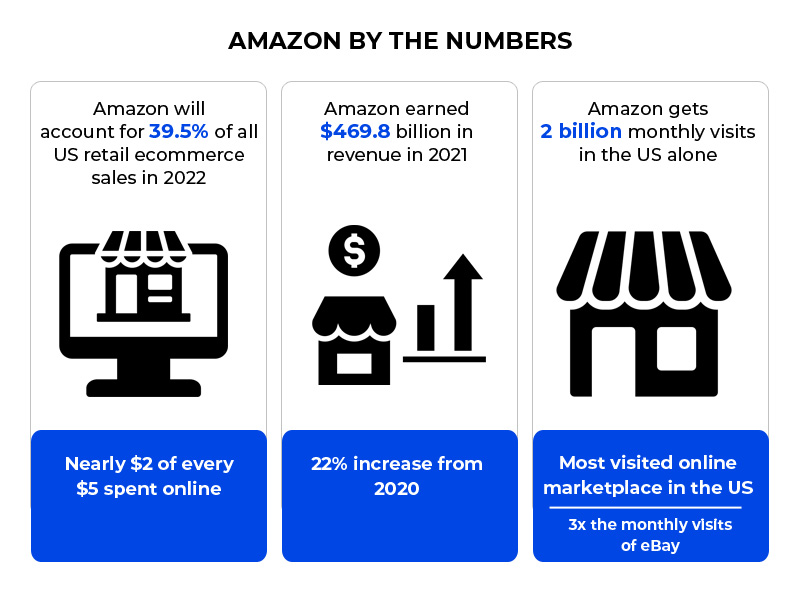 Thus, selling products on Amazon is a lucrative option for almost all types of eCommerce businesses. But is it easy to manage to sell on Amazon? Especially if you also have your own online store, is it necessary to use Amazon as a sales channel?
The answer to these questions is YES. To grow your business in the competitive eCommerce market, you need to reach out to consumers where they are. Also, Multichannel Selling is not just a "Nice-to-Have" strategy anymore. It is a "Must-Have" strategy that is helping many eCommerce businesses increase sales and grow faster.
Moreover, if you own a Shopify or Magento-based online store, managing your Amazon business is not at all challenging. With the help of integrations, you can work and track everything from a single dashboard to streamline your business processes. This article will list some of the best strategies to help you sell on Amazon more profitably. So, let's get started.
Why Sell on Amazon: 3 Benefits of Selling on Amazon
Before investing in any channel or plan, you must know what benefits you can get out of it. Here are three main benefits of selling on Amazon that you can not ignore:
1. More sales
The year 2019 ended with Amazon generating more than $280.5 billion in revenue and millions of active customers visiting Amazon each month to shop for products. That means you can target a huge consumer base and increase sales.
2. International expansion
Amazon is a global buying and selling platform. They ship to over 100 countries globally and have a presence in around 30 countries across the globe. Even in nations where online shopping is not yet mainstream, people trust Amazon over other eCommerce platforms.
3. Low marketing cost
Millions of consumers visit Amazon daily, and you will also have access to them while selling on Amazon. You can get started without any expensive investment in marketing as the website has its own search engine that ranks products depending on several factors like reviews, ratings, and popularity of the product.
Amazon is one of the best ways to get started with eCommerce. Along with the benefits mentioned above, it also helps you increase your brand awareness and provides your business access to world-class logistics (FBA). Let's now check out how you can scale a business on Amazon to stay profitable.
5 Amazon Selling Tips to Boost Your Revenue and Traffic
While using Amazon as a sales channel has several benefits, it is a competitive platform. To get the desired traction, here are some of the tips that you should follow:
1. Use the Right Keywords
Just like you optimize your website for search engines, you will have to use the right keywords in your Amazon listings to increase its visibility. Look for as many keywords as possible and use them creatively.
Focus more on long-tail keywords, as they are extremely valuable and drive high-intent leads to your listing. These keywords may not have much search volume but can prove more beneficial than others. You can also use keyword research tools like Jungle Scout or Spyfu to find keywords that your target audience use.
This will help you attract more visitors and show a spike in your sales. For example, here is how people search on Amazon and how you should do ideation for different combinations of keywords that your consumers can think about: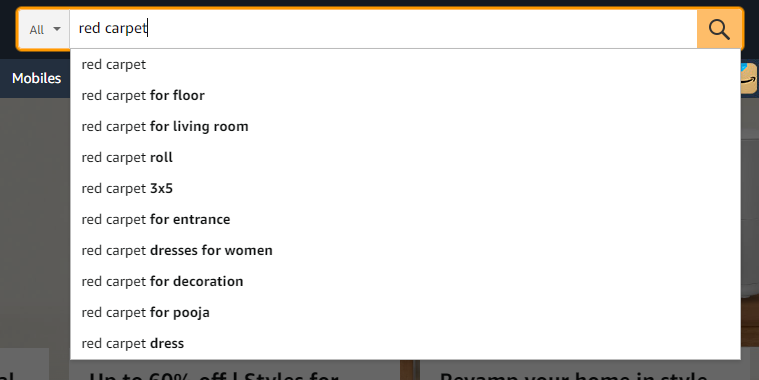 2. Use High-Quality Product Images
Product images play an essential role in converting your visitors into customers. We, humans, comprehend visual content much easier than written text, and that's why images are your chance to make people fall in love with your products.
Low-quality images can harm not just your sales but your brand reputation as well. They will create doubt in the minds of consumers, and you will not be able to sell. Moreover, it is your job to provide consumers with every detail so that purchasing becomes easier for them. 
Images are worth the expense when it comes to selling on Amazon.
Also Read: Here's Why Adobe Commerce Platform is Perfect For You If You Sell On Amazon
3. Use FBA (Fulfillment By Amazon)
Along with helping you make shipping and storage more accessible, Fulfillment by Amazon is also a way to increase your sales, and you should definitely use it.
One of the reasons behind it is Amazon Prime. The Amazon Prime badge is a trust signal for consumers, and when they see it with your product, it helps them trust your offerings a bit more.
Thus, FBA can help you make the purchasing journey easier for consumers by clearly addressing their significant doubts. Its other benefit is shipping. According to reports, more than 80% of US consumers shop on Amazon because of fast and free shipping.
4. Get More Product Reviews
Product reviews are crucial for establishing trust among customers. Thus, you must try to collect a lot of them. Even if some reviews are not five-star, they will help if they are informative.
However, a higher star rating will always lead to more conversions and sales. Thus, try to convince customers to add more reviews. You can utilize the "Request a Review " button to ask for reviews.
5. Set the Right Pricing
You may miss out on many leads because your prices are very high. Remember, competitive pricing is rule #1 to achieving success in the eCommerce industry.
But do not even set your prices too low. This way, your customers may doubt the quality of your product, and you may again lose sales. Thus, try to be as competitive as possible when it comes to pricing your products.
Wrapping Up
It doesn't matter if you are a small or big-scale eCommerce business; selling on Amazon will help you in more ways than one due to its huge user base and following. If you employ the above-mentioned strategies, you can increase your sales over the platform in a shorter time frame. So, get started today!