How to Get Started with Multi-Channel eCommerce Selling?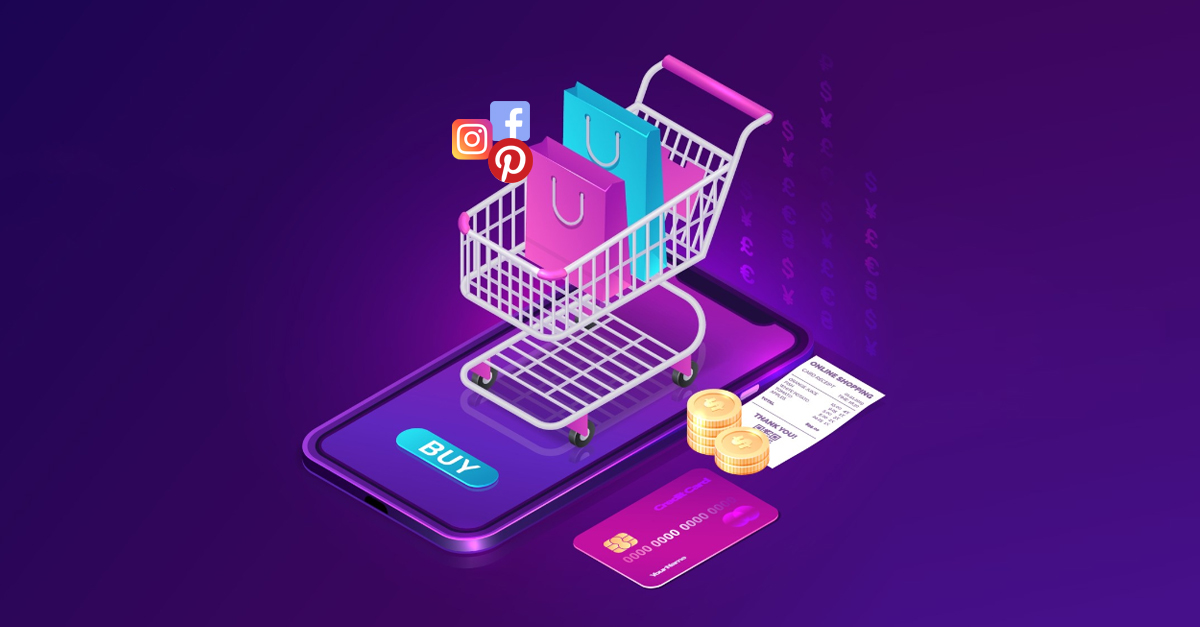 We live in a highly competitive era where everyone knows how to make the right decisions to enjoy maximum benefits. So, what do you expect from your consumers?
They are no less than normal human beings. Before making a purchase, they check prices, compare similar products of different brands, analyze their features, and do hundreds of other things to secure the right deal. And all this doesn't happen on your brand's website, obviously.
They usually like to compare items on Amazon, Wayfair, or other marketplaces where many brands have a presence. In fact, these marketplaces allow customers to compare the items offered by different brands by showing them data in a tabular manner. Here is a screenshot from everyone's favorite marketplace, Amazon: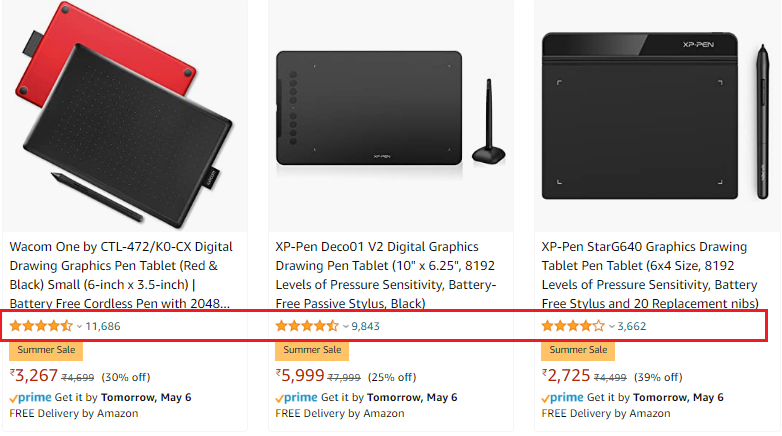 So, it makes sense to stay in the competition and add your products to these marketplaces to increase visibility. According to research, retailers who sell on two or more marketplaces are likely to experience a 190% increase in revenue over those who sell on just one. But, selling on multiple channels surely does not come without different challenges.
This article will discuss everything about selling on multiple channels and what retailers should know about it. So, let's get started.
What is Multi-Channel Selling?
Multichannel selling means selling your products on multiple platforms to reach a wider consumer base and make money. For example, suppose you are selling on your brand's website along with selling on Amazon, eBay, social media platforms like Instagram, and comparison shopping engines. In that case, it will be called multichannel selling, which is a strong commerce strategy.
Let's check out the different benefits of multichannel eCommerce selling:
Improved Reach: Even if you sell only on your SEO-Optimized Online Store, your reach will be a lot less than brands that sell on multiple platforms. By adding a new channel for your business operations, you increase the possibilities of reaching more customers. 
As per data, Amazon witnesses more than 20 million visitors every month, and when we add visitors of Walmart, eBay, and other marketplaces, this number increases several folds. Now, imagine the number of people you can reach out to by having a presence on multiple marketplaces as compared to selling only on your online store.
Improved Sales: If you are a newly established eCommerce business, you won't have a lot of exposure. Thus, you can not rely on just the sales you make on your own platform. So, an added revenue stream would be most-essential for your survival and growth.
To cite statistics, people who make purchases on different channels spend around 30% more than shoppers who purchase from a single channel.
Improved Brand Awareness: The most well-known brands are an incredible example of how eCommerce multichannel should be leveraged. Whenever you analyze how they work, you can easily see that they have a presence on almost any channel accessible.
Fewer Risks: If you are planning to develop an eCommerce store using Magento or Shopify, you would have to spend a lot on customizations and adding different features that your customers would require to complete the purchase. 
So, that is a lot of risks. For that reason, marketplaces are considered to be the best ways of testing a business idea at low risks. They do not require heavy investment and provide a simpler way to give life to a business idea.
There is no question that multichannel eCommerce is flourishing and will keep shaping online selling trends considerably further. If that interests you, we will explain how you can use multichannel eCommerce to the fullest in the next section. 
How to Sell On Multiple Channels Effectively?
Selling on multiple channels can be tedious for businesses that sell just on one or two channels presently. However, you should not be afraid of any business challenges because there are methods and tactics that can overcome all of them efficiently. 
1. Prioritize the Right Channels
There are a number of marketplaces and social media channels that allow retailers to sell their products. But, not all of them should be equally important to you. You should only put your effort where there are maximum returns.
To make an informed decision, you will have to analyze several factors, like:
Which platform does your target audience use the most? Is it Instagram or Facebook? Or are your consumers most active on Amazon?

What is the delivery like on the marketplaces? Is it cost-effective?

How much will you have to invest in order to sell in a particular marketplace?

Is the ROI worth it?
Once you find out about the channels that are the right fit for you, find out important insights about the audience using these marketplaces. A better understanding of consumers can help cater to their needs in the best possible manner.
2. Never Underestimate Inventory Management
When you decide to sell on different platforms, you need to keep a proper check on your inventory levels. A well-organized and sorted inventory is the key to successfully selling on multiple channels.
Hence, it is crucial that you update the availability of your products along with other details on every channel. It will help you avoid problems like not delivering the product after selling it online. You can utilize inventory management software to help yourself do it seamlessly. 
Consider hiring a reliable eCommerce Digital Marketing Company if you think you need help!
3. Select the Right eCommerce Development Platform
The eCommerce development platform you have will affect your multichannel strategy a lot. For example, there are some platforms that do not support businesses in selling on different platforms and the required integrations.
Therefore, we recommend our clients Adobe Commerce if they plan to sell on multiple channels and grow their sales fast. It supports easy integration with popular marketplaces like Walmart, Amazon, and others.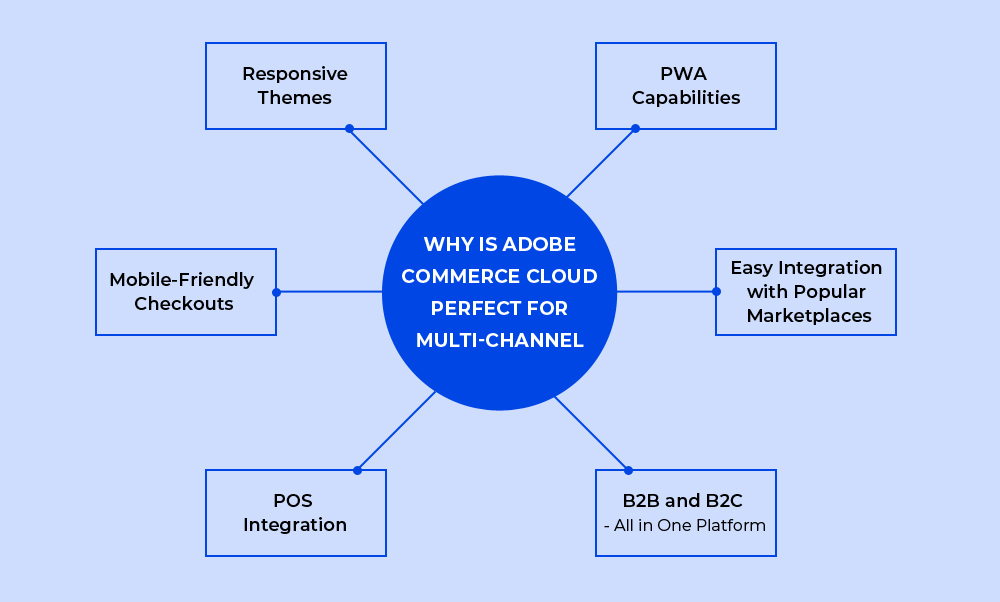 Using it, you can sell on multiple platforms while managing everything from inventory to order tracking on a unified dashboard. Moreover, it also lets you sell on mobile, which is expected to be the biggest driver of eCommerce sales in the near future.
It has attractive and responsive themes, mobile-friendly checkouts, and PWA capabilities, using which you can extend your business on mobile efficiently.
Wrapping Up
Multichannel eCommerce selling can help in more ways than one. For example, it helps you increase your brand visibility and reach out to a loyal audience and can be a perfect strategy to increase sales and profits. 
So, ensure you take care of your consumers across numerous relevant channels and provide them with a customized experience. You should also be consistent in your planning and develop regular content and offers to engage your customers for effective results. If you want any help or reliable eCommerce Management Services , get in touch with experts at Envision eCommerce.