Top Lessons from 3 Most Successful Mobile Commerce Brands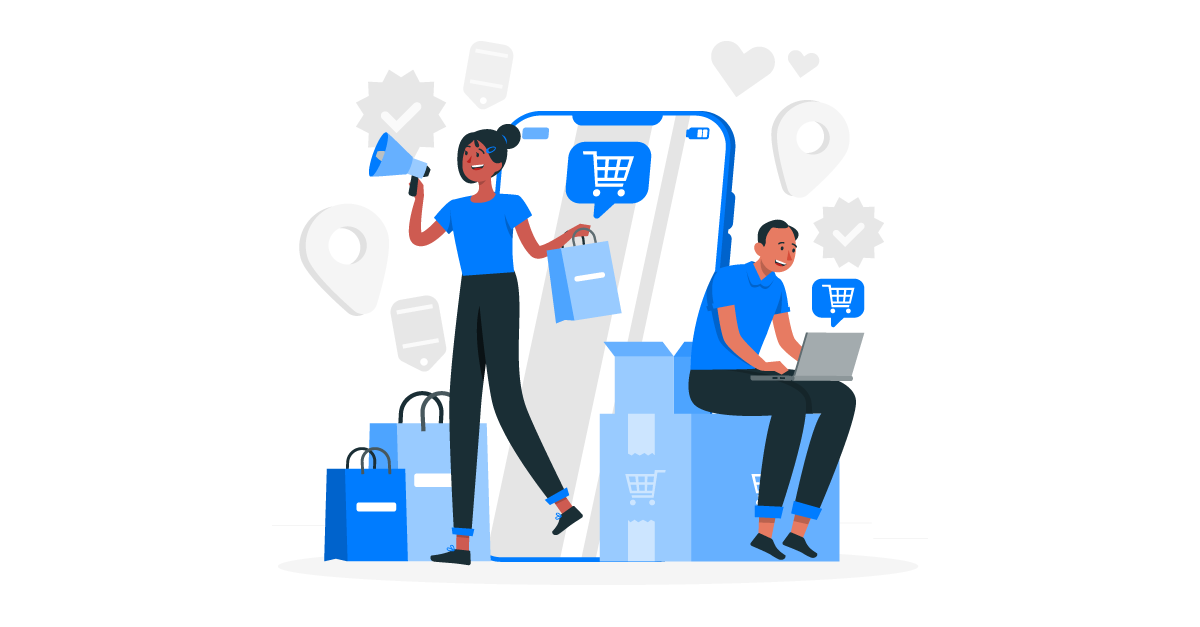 Mobile Commerce is considered the future of eCommerce. Well, FYI, the future is here now!
You do not have years to take your business on mobile because your consumers are already shopping on their handheld devices and are spending insane amounts of money. According to Oberlo, nearly 3 out of every 4 dollars spent on online purchases today is done through a mobile phone.
Thus, for budding as well as established brands, a mobile presence is crucial as it helps their business in more ways than one. Before making a purchase, people like to check reviews on their phones, browse brand pages on social channels, and even make impulse purchases on the go.
However, before you experience the benefits of mobile in eCommerce, you will have to build a robust Mobile Commerce strategy that helps you attract new and retain loyal consumers. If you are now wondering how to do that, you have come to the right place.
Below we have discussed a few tips and tricks that you can use to drive success to your eCommerce business via the mobile route, along with some inspiration from big brands.
So, read on!
1. Pay heeds to usability
Ease of use is the key to success in mobile commerce. Mobile screens are small compared to the desktop, but you must make it easy for consumers to avail your services with the same ease on both platforms. Your goal should be to make your customers' experience as hassle-free as possible. Here are a few factors that affect the usability on mobile:
A well-designed app or website
Accessibility features
Search or filter functionality.
Also, remember that not all user-friendly features on a desktop are essential for mobile. For example, selecting the product quantity you want to order is easy by using the "+" and "-" signs. On the other hand, a drop-down box is more useful on big screens. These small elements can make or break the UX your platform provides. So, make sure you hire expert designers and usability testers when launching a mobile solution.
Example: Zara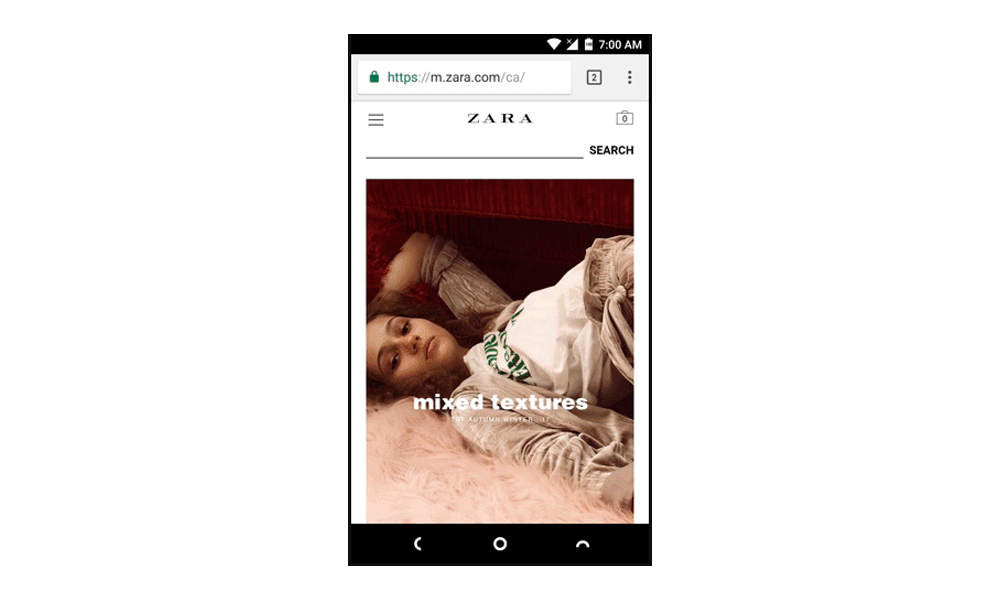 A brand that nails the usability on desktop, as well as mobile, is Zara. It is one of the largest global fashion brands with a whopping valuation of more than $11.3 billion. The team at Zara did a phenomenal job of taking their business onto mobile devices. They translated every feature of their desktop platform into mobile devices seamlessly.
The brand's mobile website is easily navigable, intuitive, and highly visual. Zara accomplishes two goals with its mobile website; it makes it easy for users to find information about their offerings, and beautiful aesthetic images complement that information.
Also Read: Mobile Apps vs PWAs: Which is Right for Your eCommerce Store?
2. Invest in social commerce
Social media is becoming as important as oxygen to live for many people around the globe. And around 91% of social media users access their favorite social platform using a mobile device.
During the pandemic, social media apps were not just used for chatting with friends or family. Instead, more than 30% of users signed in to a social network to shop for products once a week. That makes it necessary for brands to invest in social promotions in order to stay in business by serving consumers where they spend most of their time.
The popularity of features like Instagram shopping, Facebook shops, and marketplace communities like Houzz are some examples of how important social commerce has become in the last few years.
Example: Glamentic
One of the best examples of brands excelling in mobile social commerce is Glamentic, a DTC business that offers products through its online store. The brand's CEO hosts regular Livestream events on social media to talk about their offerings and how their brand differs from others in the industry. It is making massive revenue from its social commerce strategy and is now planning to expand its business to new markets.
3. Loyalty programs can be the game changers
Loyalty programs reward users for making repeat purchases from a brand. These rewards can come in the form of freebies, coupons, discounts, or cashbacks. And when developing a mobile commerce strategy, you must keep loyalty programs in mind to attract new and retain loyal consumers of your brand.
A mCommerce loyalty program can bring major advantages to your eCommerce store, like:
Increased customer retention and sales
Cost-effective marketing and sales strategies
But, setting up a loyalty program may seem tedious. Thus, it makes sense to study loyalty programs of brands that are benefiting from this strategy. Here is one example.
Example: Starbucks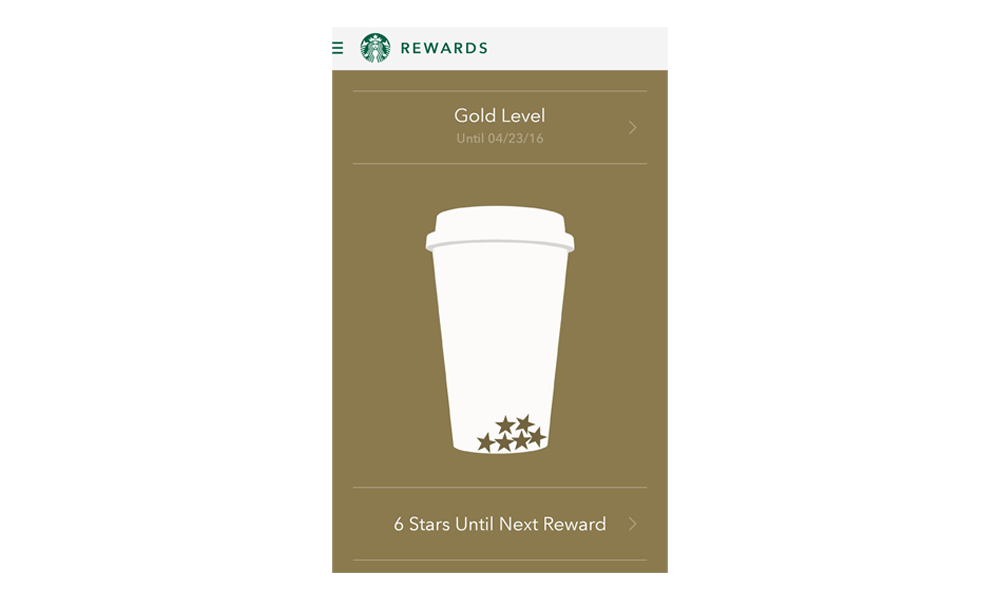 Starbucks launched its mobile app in January 2011, with many company-operated Starbucks accepting mobile payments in the USA. Just three months later, the app had more than 3 Million users.
Since its launch, the use and popularity of the Starbucks mobile app have only grown. In fact, 9% of orders in the USA were placed in advance in the third quarter of 2017 using the Starbucks mobile app. All thanks to its marvelously designed loyalty programs and engaging app interface.
At present, the company is testing more personalization opportunities to attract customers and make their experience more engaging.
Also Read: 7 Features for Your eCommerce Mobile App to Make it a Success
Wrapping Up
As mobile continues to be an important part of eCommerce, it is safe to say that budding eCommerce brands either need to go home or go mobile. There are many advantages of building a strong presence on mobile, including increased brand awareness, improved experience, more sales, and many others. Each of the brands we have mentioned above-used industry expertise, knowledge, and killer marketing gimmicks to build their presence on mobile.
If you want to know more about brands that scaled their business using amazing mobile marketing strategies, stay tuned. We will be publishing more specific case studies in the future to help you learn more! In case you are looking for a one-to-one consultation on how to build a profitable mCommerce strategy, get in touch with our experts.