5 Benefits of Developing an eCommerce Mobile App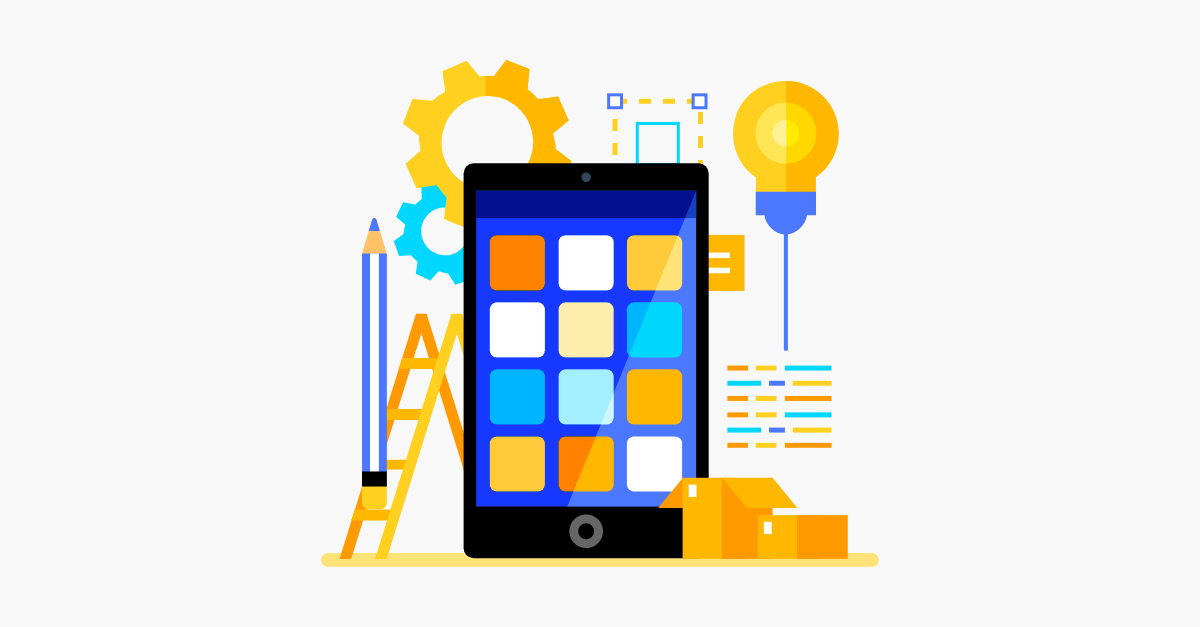 According to Statista, mobile retail eCommerce sales increased from $2,910 million in 2020 to $3,556 million in 2021. Since their inception, mCommerce apps are continuously gaining popularity and generated billions of dollars in sales.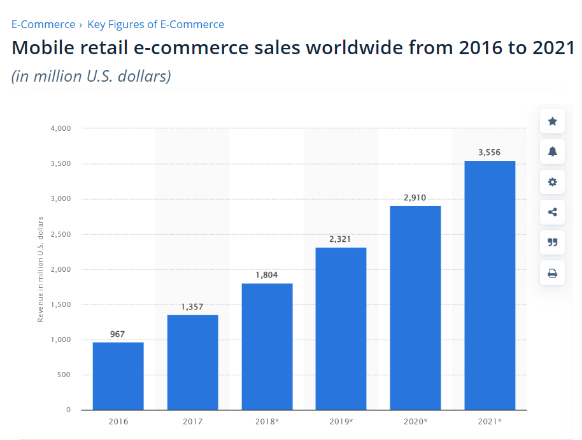 So, if you own an eCommerce business and don't have a mobile app, you are losing a lot on the table. Over six billion people around the world own a mobile app and they are using them for around 5 to 6 hours each day.
Thus, by not showing up on mobiles, you miss the chances of improving your brand visibility along with losing sales and revenue.
In this article, we will be outlining several reasons why eCommerce businesses should own a mobile app and how they help them in several ways. So, let's get started.
Why Develop an eCommerce Mobile App?
1. Better Conversions
In the end, it is all about money. Mobile apps have the potential to almost double your conversions and revenue. 
So, if you are an eCommerce business owner thinking "Why should I invest in building a mobile app"? It will help you make more money. Using mobile apps, you can trigger your customers to make a purchase using features like:
Push notifications
This feature is like a sales magnet that helps you remind your customers about the products they like. Use it well and you will never look back in terms of converting your store visitors.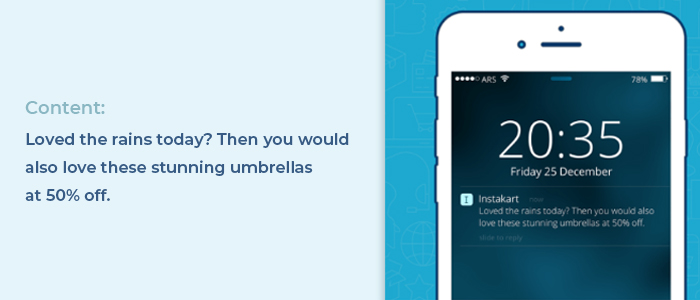 One-step Checkout
By simply integrating your mobile app with a mobile wallet, you can make your checkout process a one-step game. These days, almost all of us have payment details saved on our mobiles. So, just a click is needed to complete the purchase.
In-Built Device Features
Using a mCommerce app, customers can find the products they are looking for easily. For example, just click a picture of the product and upload it to search for relevant items. Or, use a voice search function.
All these features lead to better conversions, which increases the overall profitability of an eCommerce business. That's all that modern-day retailers desire.
Improved Customer Experience
A consistent and personalized Customer Experience is the key to keeping people hooked to your brand. And this is not possible by just having a website to deal with your consumers. 
To keep them connected with your business, it is crucial to provide them with a mobile application that stays in front of their eyes 24/7. Using technologies like AI and Machine Learning, you can collect a lot of important information about your customers if you have a mobile app.
For example,
What is the location of your consumers?

What are their internet browsing habits like?

What influences their buying decision?
And many others. Once you have all this data, you can use it to make data-informed decisions for further improving sales.
Along with improving the experience, you can leverage mobile apps to increase your customer engagement rate. For example, a mobile app can take full advantage of a mobile device. 
You can use mobile device features to improve the customer engagement rate with your business. Let's check out how:
Camera
A mobile app can access a device's camera for uploading or clicking pictures. For example, brands are now giving consumers the option to search using images. So, customers can easily click pictures using their phones and upload the same on mobile apps to look for the products they want – easily and hassle-free.
GPS
This feature allows the application to collect users' present locations. Thus, you can eliminate the need of feeding delivery details manually for your consumers by automating the task for them. It will take their customer experience to the next level and at the same time will also expedite sales.
Microphone
Voice search is on the rise. By launching a mobile app, you can give consumers the option to use voice for searching for products they are looking for.
2. Lower Shopping Cart Abandonment Rate
Shopping Cart Abandonment is a major problem in eCommerce.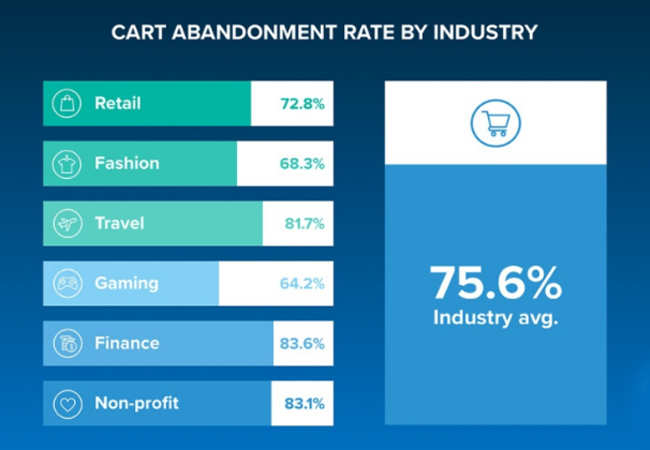 The average shopping cart abandonment rate is 75% across all industries including retail, fashion, and travel. It implies 3 out of 4 visitors never get converted into customers.
But, mobile apps can help you solve this problem easily and efficiently. You can lower your shopping cart abandonment rate by launching an application with a straightforward checkout process. 
Mobile apps store the payment and delivery details, allowing the customers to finish the purchase with only a single tap. This saves time and urges the customers to checkout quicker without leaving in the middle. Assuming you can bring down your cart abandonment rate, a large part of the battle is already won. Your users will enjoy a seamless shopping experience, leading to higher conversions and revenue for your brand.
3. Improved brand recognition
Due to the immense competition online, eCommerce branding is essential to turn a business into a brand. Thankfully, mobile apps play an important part in accomplishing this goal as well. 
 By having your mobile app installed on users' handheld devices (that they use for around 5 to 6 hours every day), you can boost your relationship with them without making extra efforts. When they will check their phones, they will see your logo and it develops familiarity and trust.
It additionally leads to more frequent interactions with consumers.
Wrapping Up
We realize that it's difficult for each eCommerce store to achieve success, yet, you should utilize each chance that might help in satisfying your business objectives.
Considering all the previously mentioned reasons leaning toward the development of mobile apps for your business, you may yourself choose if it is the best move for you depending on your business needs.
Several businesses think that developing and launching a native mobile app is too expensive. We advise such businesses to develop a PWA with the help of an expert PWA development company and still leverage all the benefits that a mobile app provides. Having developed a number of successful PWAs, we can ensure that they have the potential to double your revenue while not making a hole in your pocket. If you want to know more about this cost-effective alternative, get in touch!

Download Blog