Magento Integration Services: Benefits of Salesforce Integration
In recent years, eCommerce shopping has become the new norm. The widespread global pandemic, alongside the rules like lockdown and social distancing, has prompted numerous small as well as large organizations to carry their operations to the online world.
While numerous tools and technologies can help you digitize, Magento is one of the best ones.
It is the most established and powerful open-source eCommerce platform, and it offers several benefits like adaptability, flexibility, and open-source nature that enable eCommerce stores to sell beyond any limits. To further enhance its usefulness, businesses are now employing Magento Integration Services to utilize the power of Adobe Commerce integrations and Salesforce CRM is one of them.
This powerful integration helps businesses understand their customers' needs better, provide them with a customized experience, and offer an upgraded level of customer service.
Together Magento and Salesforce deliver many advantages that provide customers with a solid infrastructure and an intuitive front end simultaneously. This article discusses all of them.
Thus, if you are someone who is planning to enhance the functionality of their eCommerce business with the help of an amazing tool, read on!
What is Salesforce?
Salesforce is a client relationship management software and one of the most popular CRMs in the world. Basically, Salesforce CRM is a collection of robust, cloud-hosted, and data-driven products that businesses integrate on a single platform to establish a single source of truth.
Also, Salesforce solutions enable automation. It is AI-powered and helps you automate many time-consuming tasks. As a result, it lets businesses discover crucial insights and present them in a user-friendly manner for all stakeholders.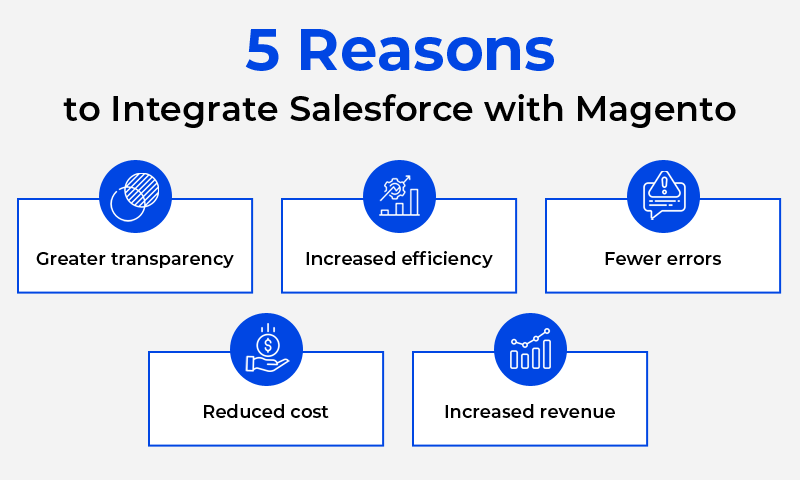 This is the reason it is said to be the best CRM for Magento-based businesses. Let's now discuss these advantages in detail:
5 Benefits of Magento Salesforce Integration for Businesses
Magento and Salesforce integration let you utilize both platforms in a seamless way and to the fullest. Let's examine how and what benefits it can provide your business.
1. Real-Time Data Sync in Both Directions
Staying updated with the order volume and other details is not easy for eCommerce businesses, especially those that aren't using any integration. Transferring data from an eCommerce system to CRM takes time and effort.
Integrating Salesforce and Magento ensures bi-directional synchronization, which helps in effective inventory management. When a customer places an order on your Magento or Adobe Commerce's front end, the Salesforce CRM updates the inventory instantly in real time. This improves accuracy and speed, ensuring seamless data flow and better business processes.
2. Better Customer Segmentation and Detailing
Magento collects and stores order and customer information. However, it can not structure or manage customers' profiles. Thus, the sales team is stuck when they need data about a particular customer. Salesforce proves to be very helpful here as it creates and maintains the profile of each customer individually.
Thus, Magento and Salesforce integration can help businesses better understand their existing consumers, resulting in better relationships between consumers and brands. In addition, it allows companies to make more accurate predictions on what offers their consumers would love or if there are any potential risks or issues.
This type of integration provides marketing and sales teams access to crucial insights using which they can form cross-selling and up-selling strategies. It also leads to a better customer experience when consumers get what they desire.
3. Email Campaign Creation
Salesforce CRM also helps create and execute an interactive email campaign to get desired results. It also allows businesses to create visually appealing email templates, discover relevant customer interactions, and track results.
With the help of Salesforce Einstein, a technology that churns out customized content for each email recipient based on their behavior, it helps businesses adopt a personalized approach to reach target consumers and boost open rates of emails.
4. CRM Social Promotion
Social media targets buyers in a customized manner. Also, many social media platforms are perfect for distributing sales-driven content, for example, Facebook, Instagram, Twitter, and others.
Magento's integration with Salesforce helps brands create engaging content depending on previous customers' comments and answers. It empowers the customer support team to make connections with interested prospects.
5. Mobile-Focused Studio
When using Salesforce with Magento, adding a new communication channel to your online business becomes easy. You can get started with mobile marketing to connect with new or existing customers via several mediums, like push notifications and SMS, that let you keep yourself updated.
Also Read: How Much Does It Cost to Build an Online Store Using Different eCommerce Platforms?
How to Integrate Salesforce with Magento
Magento 2 is the most popular eCommerce platform where you can connect with Salesforce to streamline your business operations with the power of effectively managed data. Our team at Envision eCommerce can help you quickly integrate Salesforce CRM to your Magento 2 backend without losing any data. We will share and sync all new and existing customer accounts, orders, SKUs, products, and shipping information. It can be done automatically or by selecting or choosing what data to sync.
Our team has worked with almost all CRMs, and Magento is our expertise. We are Adobe Silver Solution Partners, and our developers help businesses hack growth fast. Connect with us and start experiencing the benefits of a robust CRM and top-notch eCommerce development platform.