Magento Integration Services: 5 Best Magento CRM Integration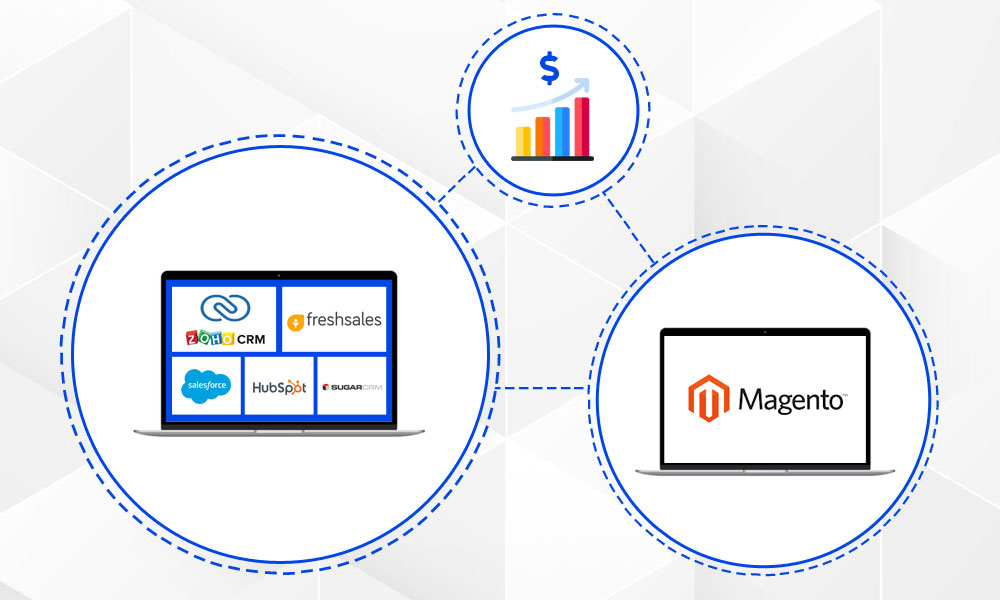 A CRM is a specialized tool that helps automate business processes and operations according to a company's customer relationship management strategy. In the highly competitive eCommerce world, it is hard to find a successful eCommerce company that is not using CRM software to connect with its consumers.
The importance of a CRM tool is clear from the advantages it provides. A CRM tool automates a company's processes by integrating all customer related activities into a unified platform. You need a CRM tool to:
Keep track of your customer interactions

Boost productivity of your internal teams

Automate several regular tasks to save time

Store, manage, and process customer data
Now, if you own a Magento store and are looking for a CRM to help you optimize your business processes and don't want to hire Magento integration services, this blog is for you. This blog will discuss the five best Magento CRM integrations that can help you secure an edge over competitors. So, let's get started.
Top 5 Magento CRM Integrations for Your Store
It is crucial to choose the best Magento CRM for your store to serve your consumers seamlessly. Here are some of the best options for the same:
1. Zoho CRM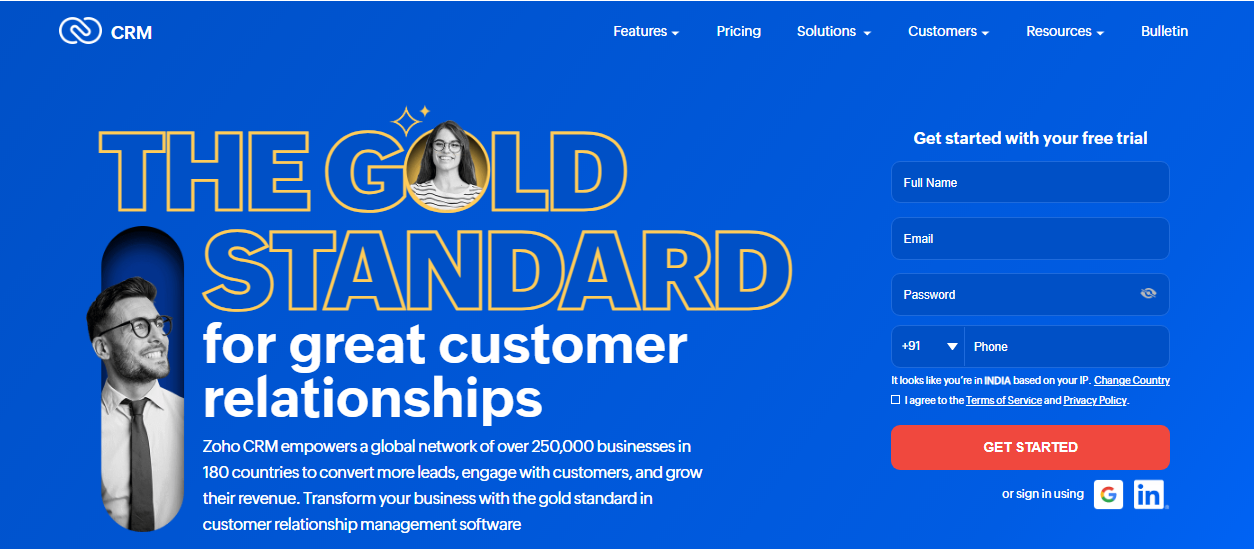 Zoho is an amazing tool for brands that want to stay at the top of their eCommerce marketing game and have a precise sales funnel to know the client is at which stage of the process. 
It will allow you to synchronize customer data between your eCommerce store and Zoho CRM leads and accounts. The Zoho CRM also includes other sections where you can monitor and track other data, for example:
You can analyze how your marketing campaigns are performing

You can divide your products into different categories

You can keep track of all your transactions and invoices

You can track the order history of your Magento store
So, Zoho is an all-in-one tool for all your sales and marketing-related needs. In addition, it is not very expensive, and you can start using it at just $12 per month.
2. HubSpot CRM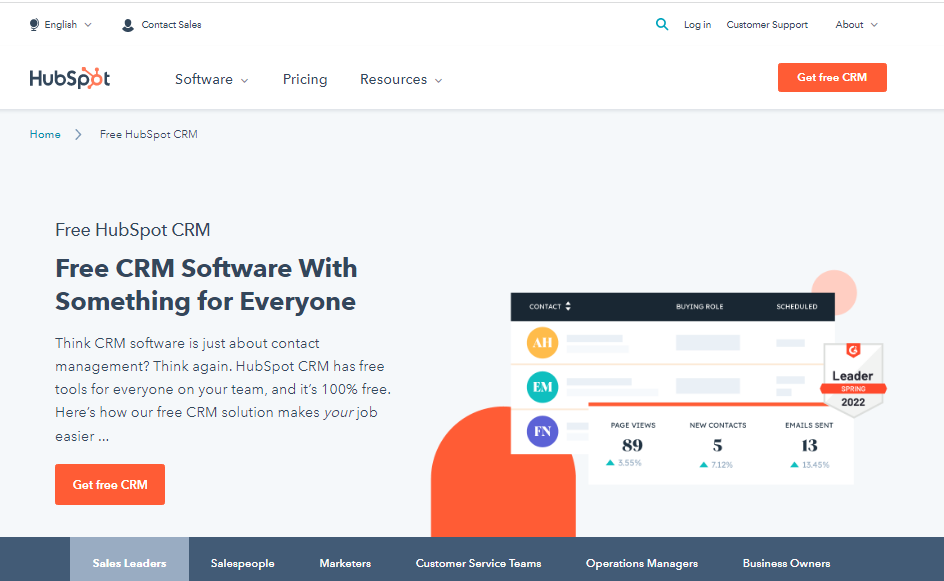 As we all know, Hubspot is the king of marketing, its CRM integration can give rise to new opportunities for your business. It is very easy to organize eCommerce marketing campaigns and customer data using HubSpot CRM. In addition, it allows business owners to automate several CRM tasks that are triggered by particular actions within the Magento store.
One feature that makes Hubspot CRM different from other options on this list is its ability to track email marketing metrics and support an endless number of users even when using a free plan. By integrating the Hubspot CRM with your Magento store, you can:
Automate emails for cross-selling and upselling

Track product inventory, shipments, and invoices

Retarget abandoned carts to re-engage users

Collect all important insights from your Magento store, including average order value, order information, abandoned carts, and more

Set several triggers to automate sales and marketing campaigns to track user journey at each step
Also Read: Why You Shouldn't Ignore Emails When Investing in eCommerce Digital Marketing?
3. SugarCRM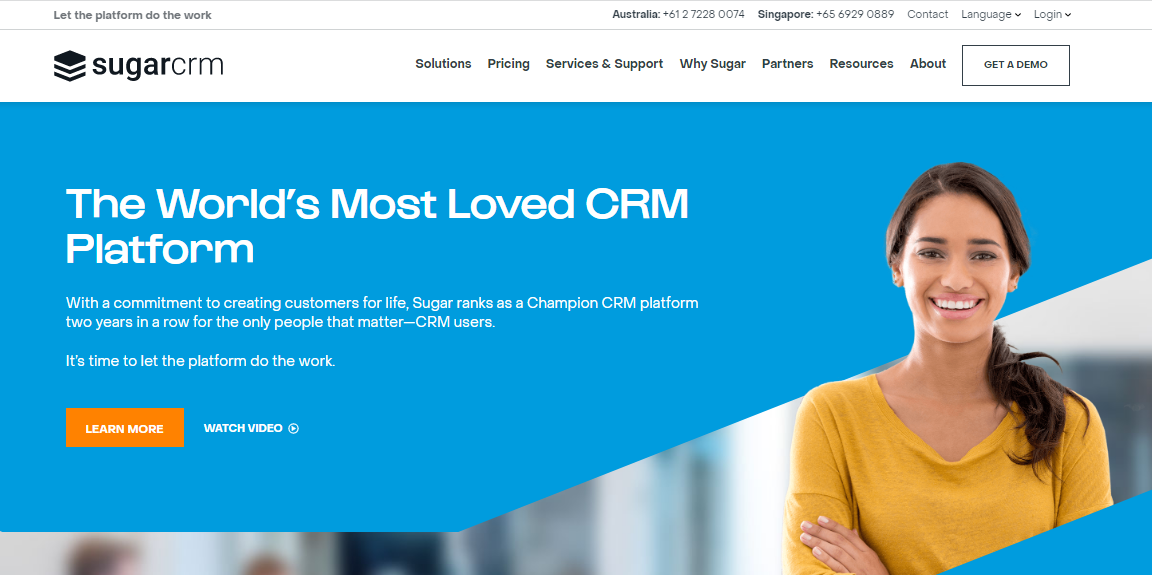 SugarCRM is an open-source solution for customer support and eCommerce store management. It is fully customizable and convenient and you can either use it as a web service or installed system.
If you run a Magento store, you can find every feature in SugarCRM that you need to communicate with your clients and nurture them during their journey with your brand. It has the following features that you will find useful:
It allows synchronization and full integration between the Magento platform and CRM system.

You can store all important data, including invoices, customer data, marketing campaigns performance data, etc.

It has a corporate telephone system that you can use to make calls.

It also records all the incoming and outgoing calls for record and analysis purposes, resulting in a better sales process and fast conversions.
The outstanding built-in features of SugarCRM can help you improve the quality of customer service fast, resulting in better customer loyalty. It also provides deep business intelligence in an easily digestible manner for medium and large businesses.
4. Salesforce CRM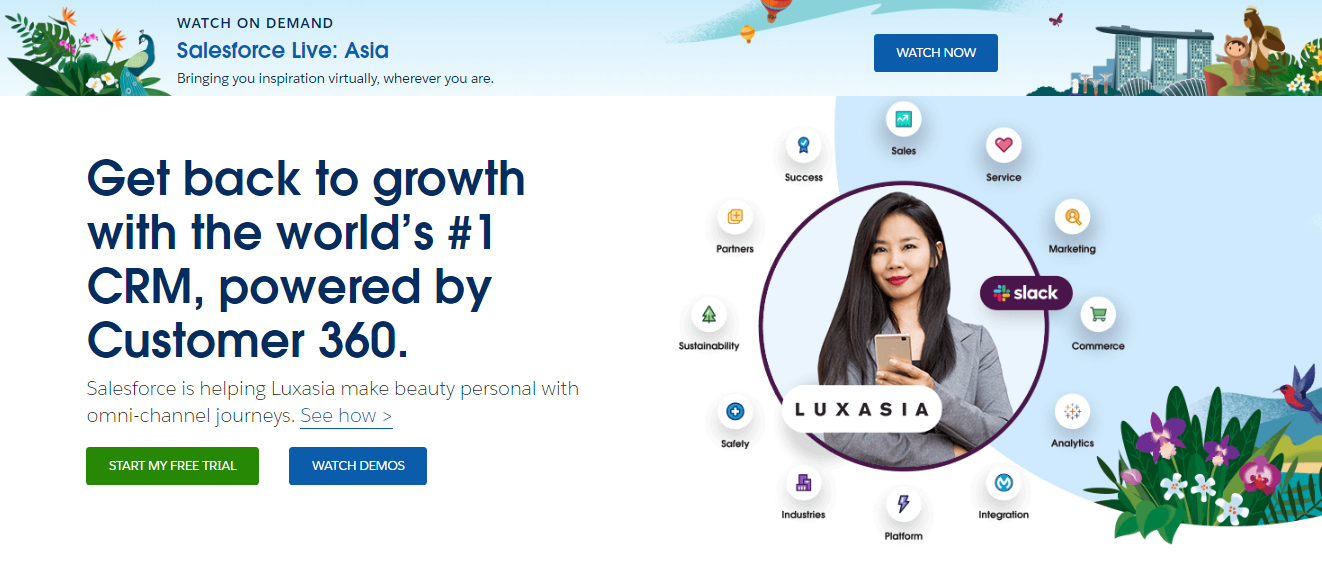 Salesforce CRM is a perfect option for every type and size of business. It is one of the most advanced CRM integrations for Magento stores and can assist you seamlessly even when your business grows to new heights.
You can manage every aspect of a customer relationship management process with Salesforce CRM. Some of its unique and advanced features include marketing automation, opportunity tracking, and workflow creation.
The features of Salesforce CRM may be a bit overwhelming for small businesses and startups, but it is a very good option if you are aiming to scale and grow fast. Here is an overview of its features:
Advanced marketing automation, contact management, and account management

Automate your workflow by developing automatic email alerts and other tasks

Customize email templates as per the needs of your business

Several third-party integrations

24/7 customer support
5. Freshsales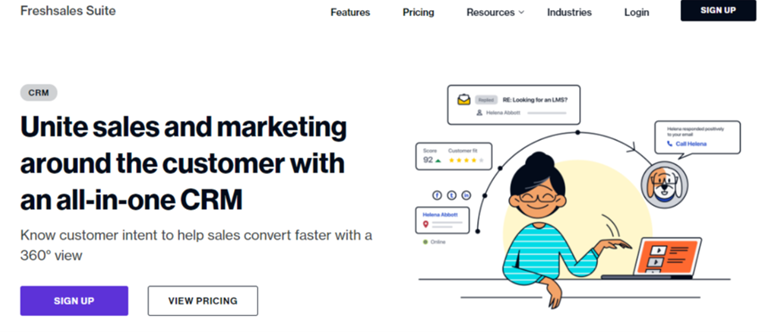 Freshsales is an all-in-one CRM integration for the needs of a Magento store. Built with efficiency at its core, it has many advanced sales intelligence and workflow automation features.
To boost the productivity of your marketing teams significantly, it has many automation tools for lead segmentation and follow-up emails. If you are a startup and you are looking for a lightweight and feature-rich CRM for your online business, Freshsales is a good option. Some of its features include:
Find out the best leads to close big tickets faster

Leverage AI-enabled chatbots to chat with visitors and turn them into buyers

Develop and nurture multi-channel campaigns

Make customers' journeys personalized based on their preferences and actions
Also Read: How to Get Started with Multi-Channel eCommerce Selling?
Wrapping Up
A reliable Magento CRM solution can help you streamline your marketing and sales efforts while improving the quality of customer service that your brand provides.
But, it is crucial to select a CRM tool that helps you do this seamlessly and affordably and depending on your business model. If you are looking for any help in selecting the right Magento CRM integration for your business, get in touch!