7 Benefits of Building a Multi-Vendor Marketplace Platform Using Adobe Commerce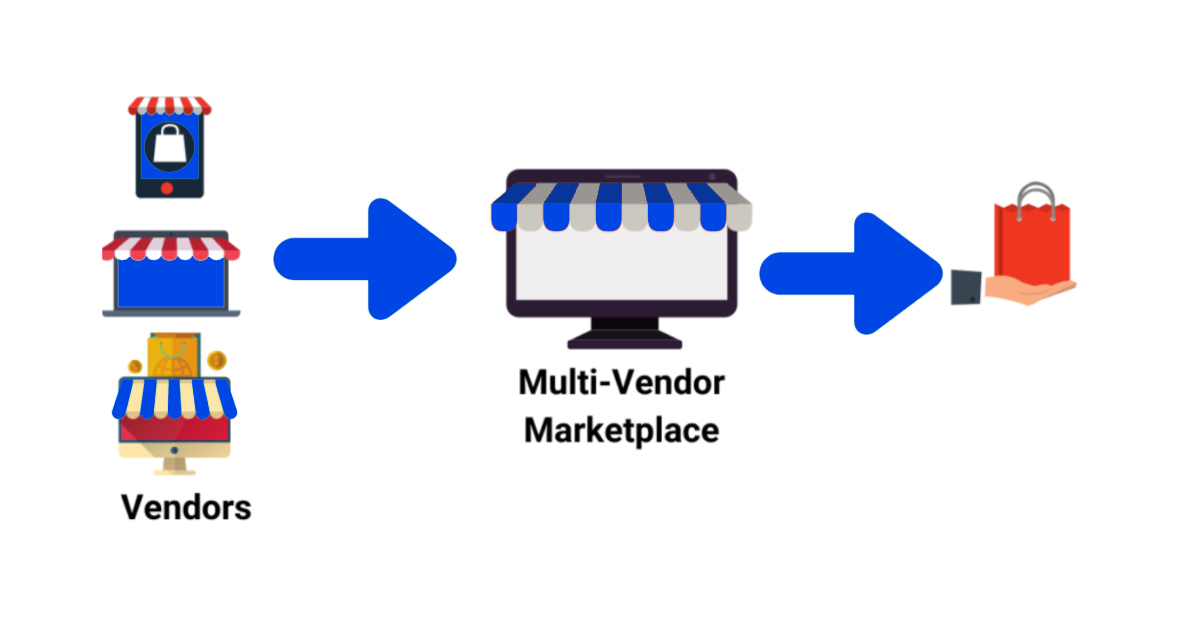 Multi-Vendor online marketplaces are money-making machines when developed and designed strategically. Amazon, eBay, and Etsy are perfect examples. A multi-vendor website lets companies or individuals create their vendor profiles and sell their products to a wide consumer base.
Because a multi-vendor platform requires more complex functionality and can accommodate any number of vendors, not all eCommerce platforms are able to support the development and functionality needed. To build a top-notch platform, you need a robust technology stack.
The first thing that you need to choose before building a multi-vendor marketplace is an eCommerce development platform. Well, there are many options available in the market like Shopify, WooCommerce, and BigCommerce, but the best one is Magento or Adobe Commerce (the enterprise version of Magento). In this blog, we will explore several reasons why.
So, let's get started.
Why Magento for Multi-Vendor Marketplace Development?
There is no doubt that Magento is a highly reliable, flexible, and enterprise-level platform that is highly popular all around the globe. Also, it is an amazing option for multi-vendor marketplace development. Why?
Most of the features that are required in a multi-vendor solution are already available in Magento by default, and you will not have to reinvent the wheel when choosing it as a foundation for your marketplace. Furthermore, it provides an outstanding CX with a next-gen PWA theme while also fulfilling all vendor requirements.
Here are some of the benefits you get when using Magento for developing a multi-vendor marketplace:
1. Seamless Store Management
If you have managed a single-vendor store and now you think you can easily handle the operations of a multi-vendor store as well, you are wrong. There is a lot of difference between the two things.
You have to keep an eye on multiple vendors and take care of things like quality control, order management, commission management, etc. An incorrect balance between customers, vendors, and admin can be a disaster for your business. But not if you are working on Magento. Here is how Magento helps you manage everything seamlessly:
Marketplace management tools: You can manage every vendor, their reviews, orders, payments, and many other things using a single and easy-to-use dashboard.
Commission management: You can also enable different commission rates for products, categories, and sellers.
Seller onboarding: You can set up an intuitive registration process for sellers and get/send automated notifications at every step.
Automated approval: You can quickly review or automate approvals for products added by sellers. You can also customize product attributes.
Reports: You can get every insight about what's going on with your eCommerce business in a single place. Track your average order value, GMV, customer acquisition cost, and other metrics to adjust your offerings accordingly.
2. Amazing themes and extensions
Magento has everything a business needs to turn customers into buyers – from finding out the consumers' needs to efficiently fulfilling the same – it provides a smooth, safe, and satisfying CX at every step.
It has many relevant and super helpful extensions and themes that allow businesses to use features without reinventing the wheel. For everything, from smooth browsing and optimizing the look and feel of a website as per your target persona to securing payment gateways and providing prompt customer support, Magento has a theme and extension.
3. High standards and quality
Strict quality control and test process for extensions added to the marketplace make Adobe Commerce or Magento a reliable choice. Each extension goes through a three-step review process wherein they are checked against:
Business guidelines: It needs to really solve a problem
Technical guidelines: It needs to integrate without any error with Magento marketplace
Marketing guidelines: It needs to have clear documentation and description for users.
4. Easy Onboarding
Magento allows you to provide an easy onboarding experience to your consumers. You can implement this functionality in different formats in your marketplace, including using social media, user verification with email, or phone number. The idea is to let your consumers have plenty of options to choose from so that they can select their preferred one.
5. Robust search and filtering
A multi-vendor marketplace platform usually has thousands of products from different sellers and brands. Thus, it sometimes becomes tedious for customers to find the right products they want to buy. But, it will not happen if you run your online business on Magento.
Magento has robust Live Search and Filtering functionality powered by Adobe Sensei, which never lets consumers hustle while finding the products they want.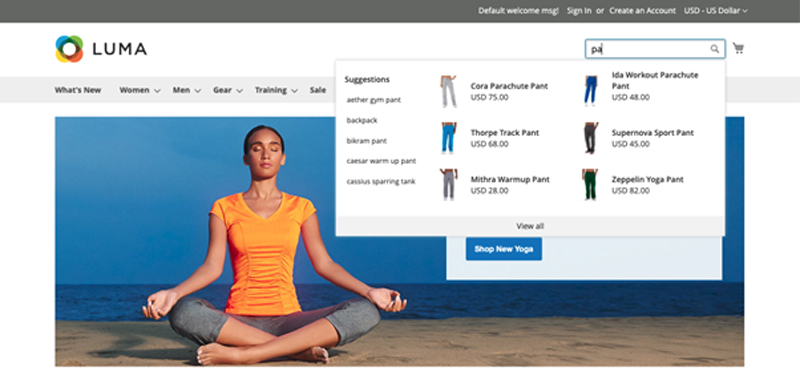 It uses Machine Learning to fetch results based on consumer behavior, which means it adjusts search relevancy depending on what people are looking for. It is an amazing feature for multi-vendor eCommerce platforms.
6. One-step checkout
High shopping cart abandonment rates are a real problem for eCommerce businesses and retailers. The best way to reduce it is by making the checkout process as simple as possible.
If you use Magento as your multi-vendor eCommerce platform, you can allow one-step checkout to let consumers make purchases quickly, increasing conversions and sales. All you need to do is install a simple extension also called OneStep Checkout.
In addition, using Magento, you can also allow your consumers to track orders, resulting in reduced customer anxiety and improved satisfaction.
7. Multi-currency and multi-language support
Global expansion is crucial for every eCommerce business today. But, not all eCommerce platforms support commerce across borders. However, using Magento, you can easily customize your store depending on the target market you serve. Localization of the store is easily possible in Magento, unlike other eCommerce platforms.
Wrapping Up
Developing an online marketplace is an amazing business opportunity in today's modern digital world. And with Magento, it is the most convenient way to move forward and develop a billion-dollar business.
So, if you have an idea, don't delay the process and take the necessary action now. Get in touch with experts at Envision eCommerce and start working on your dream project.