Adobe Summit 2022: Key Highlights of The Biggest Digital Experience Conference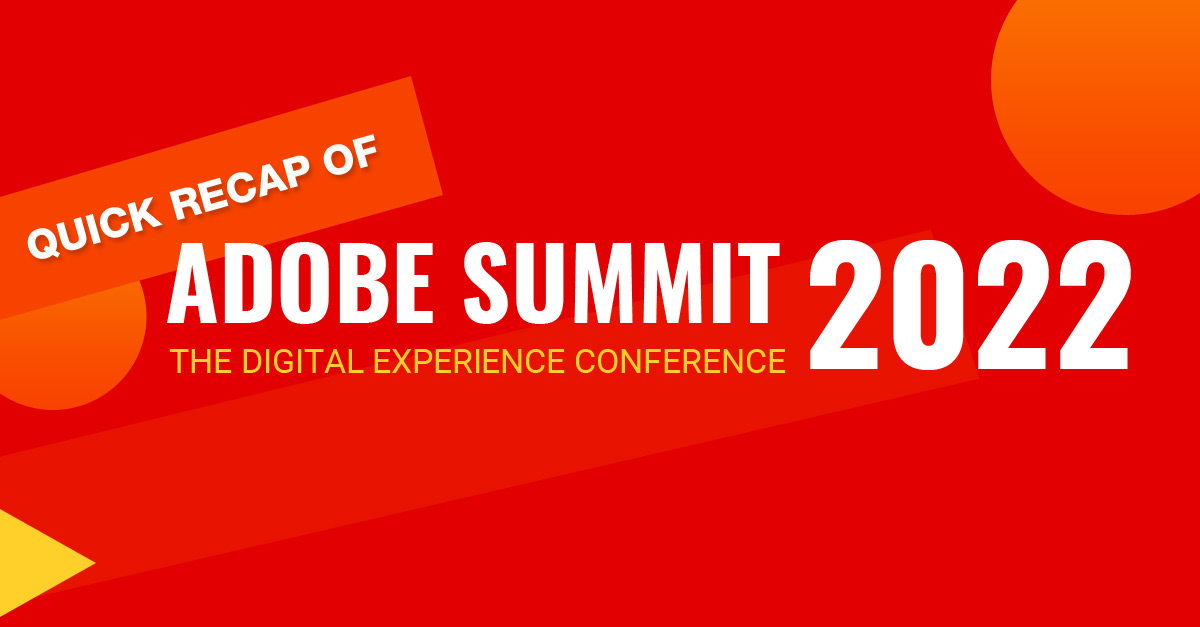 Adobe Summit 2022 ended three days ago and it was an incredible experience. It was the world's biggest digital experience event dedicated to helping brands around the world make the digital economy personal and offer personalized Digital Commerce Solutions. Powered by the Adobe Experience Cloud, Adobe Summit 2022 is completely virtual.
In case you missed it, we encourage you to check out the highlights of the event to listen to the industry leaders, Adobe partners, and eCommerce enthusiasts across sectors.
More than 200 sessions were delivered by industry leaders and experts on development around Adobe and its offering along with some case studies. So, get ready to sharpen your skill-set, discover the latest developments in the eCommerce world, and find out how businesses are utilizing the same.
Why You Shouldn't Miss Adobe Summit 2022 Highlights?
If you have ever heard great things about Adobe Summit and its products but never really experienced it, it is your chance to explore what they are all about and why the eCommerce industry is crazy about Adobe offerings and community.
Although attending the conference live was an incredible experience as it provided businesses with a chance to meet with inspirers and thought leaders from the eCommerce landscape and learn from their experiences, it is fine if you missed it. We got you covered!
This event was a pool of valuable opportunities and content that can help you put your ideas into perspective in the near future. Here is what it was all about:
Keynotes from Adobe

Latest developments in Adobe products

Training workshops and learning sessions

CX-centric innovative sessions

Connect with Adobe Solution Partners

Win free consultations, audits, and giveaways
Key Highlights of Adobe Summit 2022
The conference was about helping eCommerce business owners deliver personalized CX at scale, create seamless customer journeys, and utilize customer data to the fullest to fulfill their needs and make their purchase journeys seamless. Here are some of the key highlights of the event:
a) Adobe Commerce 2022: More Flexible and Intelligent by Christian Hedge
Chris is a senior director of product management at Adobe Commerce. He has around two decades of experience handling B2B and B2C SAAS product leadership. He is based out of Austin and is highly passionate about Adobe and its products.
In his session, he talked about the flexibility and intelligence of Adobe Commerce and how it can help businesses worldwide by providing exceptional capabilities to developers for building amazing digital experiences that delight consumers. Some of the key features he highlighted are:
Adobe app builder integration

Product recommendations and live search

Data integration with Adobe experience
b) Create a Digital Transformation with your B2B Commerce Investment by Ed Kennedy
Ed Kennedy is a Product Marketing Manager at Adobe. He spent over a decade providing eCommerce consulting services to the world's biggest consumer brands, including Dot Foods, ACCO brands, and Xylem.
In his session, he gave many examples of how companies have utilized new business models, including B2B marketplaces, to drive innovation and improve their bottom line. He also talked about many unique challenges of establishing a B2B eCommerce business. His session was dedicated to all the digital marketers, IT architects, web analysts in the consumer, high tech, and manufacturing industry.
c) Self-Driving Stores: Supercharge Your Store with Data and AI by Ryan Rozich
Having more than 20 years of experience, Ryan is the Director of Product Management at Adobe. He is basically responsible for AI and data capabilities such as live search, product recommendations, Magento BI, etc
Ryan delivered an amazing session on how data and AI can seamlessly help eCommerce business owners manage eCommerce store operations. Basically, he talked about:
How Artificial Intelligence can improve business efficiency

How data can be used to make important business decisions.
d) From Metadata to Microchips: Personalized Commerce at Scale by Thomas Swanson
Thomas Swanson is the Head of Healthcare Strategic Marketing at Adobe. His session included a story highlighting the D2C consumer journey of a well-established B2B brand called Merck Animal Health
His session was all about this case study in which he talked about ways using which Adobe helped the brand in its digital transformation journey. It was indeed a very inspiring session!
Wrapping Up
Although it is not possible to cover all the 200 sessions in this blog, the ones we mentioned are our favorite. No doubt, all the sessions are an eye-opener for many in the eCommerce world, and we are amazed to see new developments at Adobe labs. Every attendee had the chance to explore emerging technologies to improve their work to thrive in the industry.