5 Best SKU Generator Tools for eCommerce Store Management
Whether you are just planning to start an eCommerce business or want to scale one, SKUs can help you streamline your operations, improve sales, and enhance the customer experience that your platform provides.
Managing an eCommerce brand is not just about building a website and starting selling. You also need to manage inventory, keep stock organized for maximum accuracy, and avoid hassles in order management. Assigning SKUs to your products will help you eliminate the guesswork and manage everything seamlessly.
In this article, we will find out what SKU is and how you can generate SKUs for your products to keep your inventory organized and grow sales. So, let's get started.
What is SKU?
Stock Keeping Unit or SKU is a unique identifier that retailers assign to different items they sell. Sellers create unique codes depending on several characteristics of their merchandise. Basically, SKUs are broken down into different categories and classifications to track products in the inventory efficiently.
Unlike UPC (unique product codes), SKUs are specific to your business and usually specify details like color, size, and other attributes of the products. Generated on the backend of an online store, SKUs can be random combinations of numbers and letters, each depicting some meaning. A well-designed SKU provides enough information about the product to classify it in a pool of hundreds or thousands of products.
Here is how SKU, Barcode, and UPC numbers differ in an eCommerce system: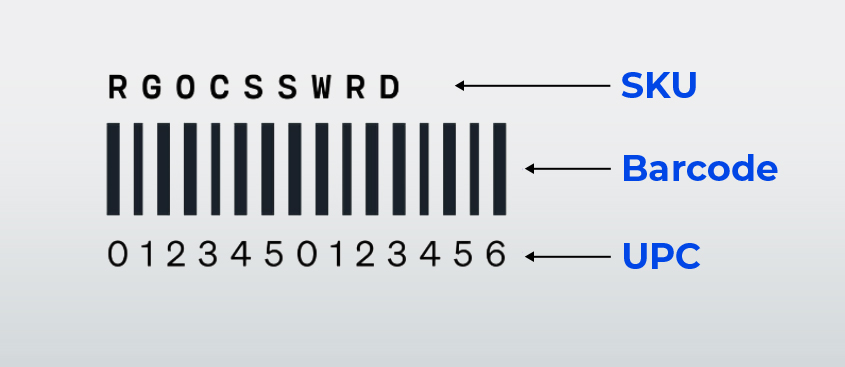 SKUs are essential for eCommerce store management since these codes help businesses track growth, improve vendor relationships, and enhance customer experience. By getting an overview of all your products at a glance, you will be able to maintain accuracy and ensure on-time deliveries. Here is an example showing how SKUs are assigned to products in eCommerce: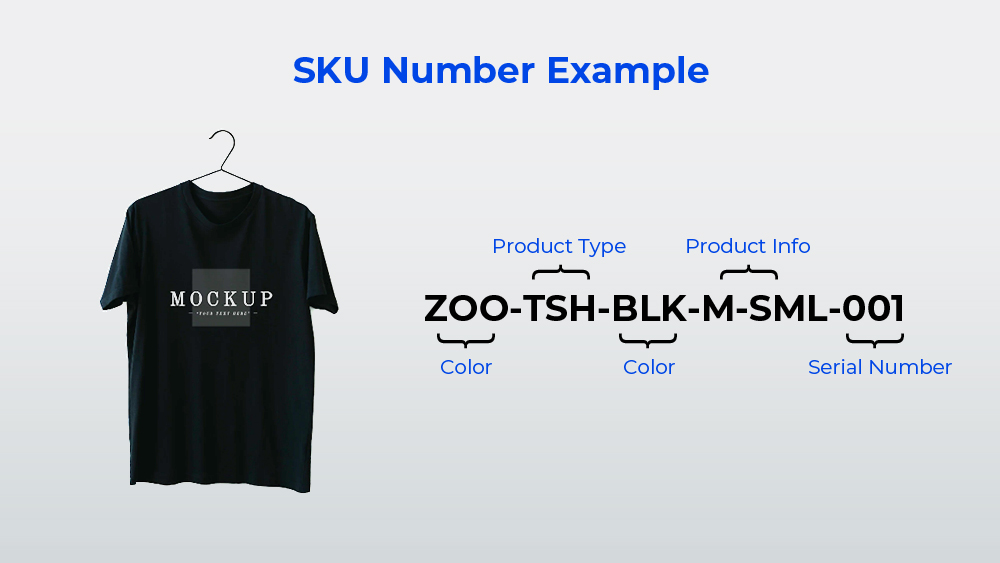 But, how do you create SKUs to manage your inventory efficiently?
While you can also create SKUs manually, it is best to use an SKU generator to create SKUs automatically and avoid human errors. An efficient SKU generator will automatically create SKUs as per different product attributes and will also enhance accuracy. Let's now talk about some of the best SKU generator tools that eCommerce businesses use to manage inventory.
Top 5 SKU Generator Tools to Keep Your Inventory Organized
Doesn't matter what eCommerce development platform you use; there are several SKU generators to choose from – in-built and independent platforms. Here are some of the best ones:
1. Zoho Inventory
Zoho provides a full suite of SAAS applications and tools to manage a business, including CRM software, customer help desk, email services, and more.
Being a renowned leader in the cloud industry, it also provides a free SKU generator tool that uses a pattern-based framework where you can decide the sequence of characters involved. It is an easy-to-use tool using which you can keep track of your sales and stock in the inventory. Some of its benefits include:
Zoho Inventory can easily support your growing list of products & create new variations

It is not at all confusing as the names are simple and rule-based

The pattern stays the same for an entire group of products to maintain consistency

Tight integration with the rest of Zoho's software.
While Zoho Inventory provides most of its services for free, you can try bundles if you want to enhance your experience. It is also available on the play store, and you can use it on the go to stay updated about your inventory always.
Also Read: Top 5 ERP Solutions for Your Adobe Commerce Store
2. QuickBooks SKU Generator
QuickBooks is one of the best SKU generator tools for wholesalers and retailers. Specifically, it is the best choice for online apparel, jewelry, beer, and wine selling businesses.
QuickBooks helps you easily track product variations utilizing an SKU system. With it, you will be able to introduce stock transparency in your eCommerce business processes so as to find out product shrinkage and overflowing beforehand.
Some of the other benefits of the SKU generator by QuickBooks include:
It makes stock availability easy to determine

Helps you classify the most and least profitable products

An easy and lightweight tool for installation

Free technical support for all users
3. Gorgias
Gorgias is again a free-to-use SKU generator tool. It provides an easy-to-use interface and allows brands to assign SKU numbers to their products without any hassles.
You just need to enter your product name, type, and up to three other attributes to create a custom SKU instantly. Then, you need to repeat this process for the entire catalog. Once done for all your products, you can export the list in CSV format to use as per your needs. Some of the benefits of Gorgias SKU generator tool include:
Affordable, easy to function, and use

Avoids prefixing and generates unique codes without errors

Avoids the usage of unnecessary spaces and special characters

Filters wrong or inaccurate details in code

Faster SKU generation process.
The price for Gorgias's SKU generator tool is based on which level you choose – it has four levels of memberships. The pricing starts at $60 per month and can go up to $750 per month. 
4. SKUGen
SKUGen is also a free option for generating SKUs in a hassle-free manner. It is a robust tool, and its consistency satisfies brand owners the most. Depending on your guidelines and preferences, it produces SKUs and barcodes fast.
This tool develops SKUs using a customizable ruleset. For instance, you can choose to have product abbreviations, prefixes, numbers, and more. The product is free but also offers some paid options. Some of the features of SKUGen include:
Create SKUs in one go directly from your store

Create SKUs automatically whenever new products are added

You will be allowed to define custom abbreviations for product types, variants, and vendors.
5. Katana
Katana provides you with SKU templates to create your own SKUs for products. It is a user-friendly tool, and its plan is also explained in great detail to avoid confusion. Users just need to head to the website, read instructions, and they will be all set to create SKUs. Some of its benefits include:
Easy to understand process and clean layout

Seamless guidelines for beginners to get started

Free of bugs and glitches
The best thing about this tool is that you get a 14-day free trial, and after that you can sign up for Katana. They offer annual and monthly packages, and the prices can range from $99 to $349.
Wrapping Up
Inventory management becomes easier when you manage products using SKUs. Thus, an SKU generator tool is a must-have tool in your eCommerce arsenal. All the above-mentioned SKU generator tools are exceptional and provide amazing features. You can check all of them and choose the one as per your business needs. Or, reach out to our team at Envision eCommerce to help you with eCommerce store management.