Meet Magento New York 2022: Highlights and Key Takeaways
In the ever-growing eCommerce industry, Magento is a name that stands out because of the flexibility, world-class features, and fantastic community support that it provides. Organizing several global events frequently, Magento has always ensured its team is present to its clients and community worldwide.
Recently, on 23 September 2022, Magento organized their annual conference with the help of Magento partners – Meet Magento NYC! Many retailers, technology partners, developers, and solution providers attended the event and exchanged meaningful insights on digitizing and growing one's business. The event took place at Pier 60 Chelsea Piers, New York, and the event's headline sponsors were Adobe, PayPal, and Vertex.
Team Envision eCommerce was glad to be the silver sponsor of Meet Magento New York. We also attended the event with full zeal and enthusiasm to help the Magento community and budding business owners with our services and expertise in Magento. Here is all that happened during the event in case you missed it or want to have a recap.
How is the Magento and eCommerce Landscape Evolving?
The event not only dived deep into Magento and its products but also discussed the changes happening in the entire eCommerce industry. The tracks were divided into three parts – business, solutions, and technical. Here are some of the highlights from our favorite tracks:
Composable Commerce and Its Impact on Your Organization
The very first and one of the most exciting business tracks of MM22NYC was presented by Marion Freijsen (Strategic Business Advisor, Commerce Strategy EMEA, Adobe) and Ray Bogman (Sr. Global Software Support Manager, Adobe). The topic was Composable Commerce and how it is impacting businesses all around the globe.
Both the speakers shared amazing insights on Composable Commerce and how this set-up may help businesses achieve the impossible. The key takeaway of the session was to follow a careful approach when embarking on the journey to composable commerce and choose every element carefully per your business's needs. When used correctly, composable commerce's flexibility can help you speed up innovation.
The expert speakers left the audience with a clear understanding of the term composable commerce and what are the important elements that make this approach successful.
How can Retail SMBs Meet Digital Transformation & Customer Satisfaction Goals?
Presented by Mike Muhlfelder (Vice President of Sales, North America, Jitterbit), it was another amazing technical track for SMBs and budding entrepreneurs planning to take their businesses to new heights. During the session, Mike focused on the challenges of growing a small eCommerce business after the pandemic. He also put the spotlight on how customer-related concerns are increasing and what businesses need to do to increase customer satisfaction.
But, most importantly, he focused on defining the importance of data for achieving the growth targets of modern businesses. Using amazing statistics and facts, he clearly explained how consumers now shop differently than before and why customer experience matters.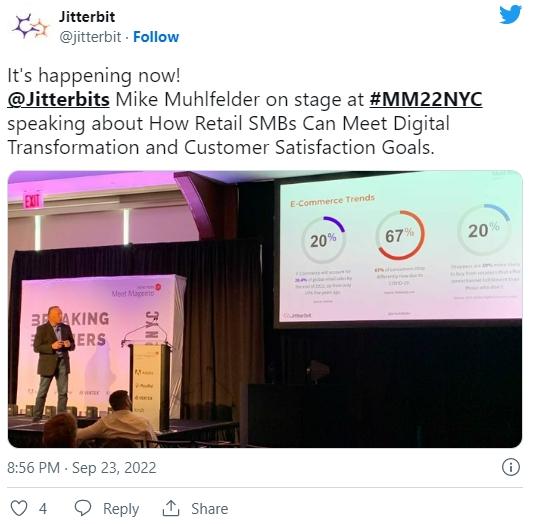 He also mentioned why hyper-automation is critical for businesses of all sizes and across every one of the verticals.
Optimizing Payments for a Stronger eCommerce Brand
While speaking for opening keynotes, Ritesh Somani (Principal product manager at Adobe) talked about some amazing numbers that clearly explained the difference between Magento open-source and Adobe Commerce. He also mentioned how the premium version could help businesses secure an edge by being as performant as ever.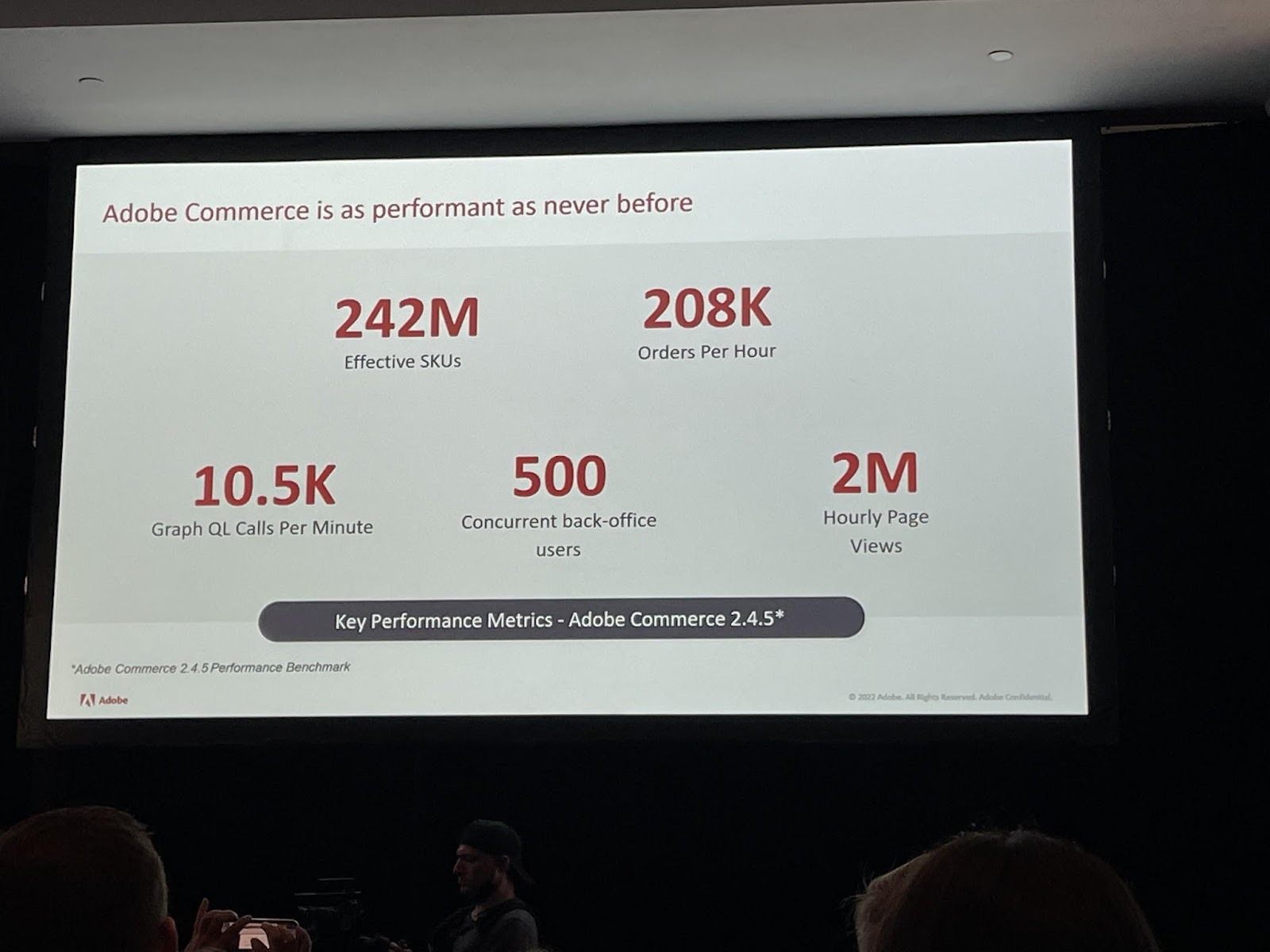 He was also the co-speaker with Mudita Tiwari (Senior Director of Developer Experiences, PayPal) for the business track on how to optimize payments for a stronger eCommerce brand.
Last year, Adobe partnered with PayPal to launch a new payment solution for B2C, B2B, and hybrid use cases. By adding payment services to their online storefronts, store owners of all sizes can access a secure, robust, and integrated payment solution that Admin can manage, and no other integration is required.
Both speakers listed many benefits of having an optimized payment system to build a stronger brand and also covered the state of the PayPal partnership with Adobe Commerce.
Some of the other insightful tracks and panel discussions were on the topics:
Which Magento Frontend to Choose by Maksym Novik (Magento Developer at vConnect)
What's worrying the retail industry? How optimization became the buzzword of 2022 by Yael Barak & Stefanie Nugent
Maximizing seller impact and reach with omnichannel retailing by James Blake (Retail & Finance Industry Expert at Vertex)
The Hidden Roadblocks of Today's Customer Journey – How to Fix Them by Uri Strauss (CEO at Webeyez)
Defining the blueprint for PWA Studio projects, Chris Brabender (Director of Adobe Practice at Valtech)
Envision eCommerce at Meet Magento New York
This year, Meet Magento New York was organized in person after three long years. Thus, it was much awaited, and we could not afford to miss it. Nicholas Castelli (Senior Client Solutions Executive at Envision eCommerce) and John Ogden (General Manager, Director of Channel Sales at Envision eCommerce) attended the conference and represented our company.
Here are some of the pictures from the conference: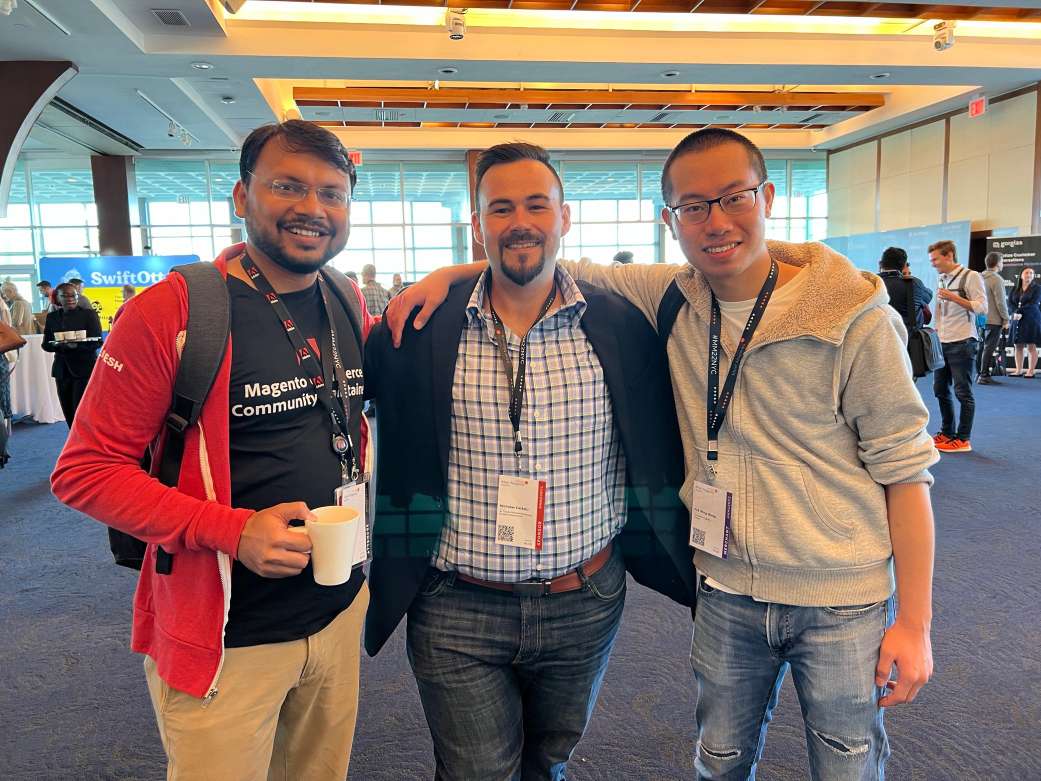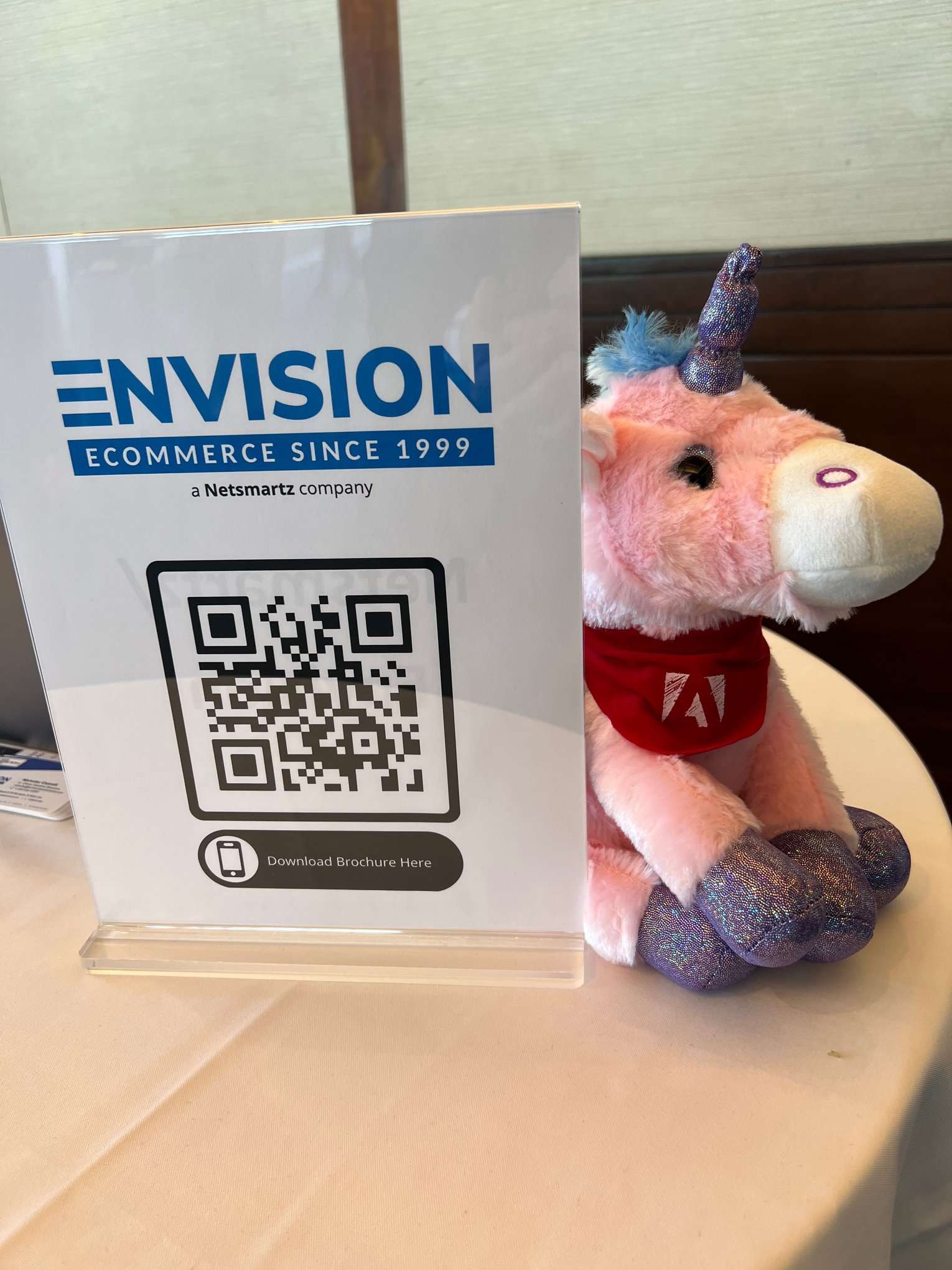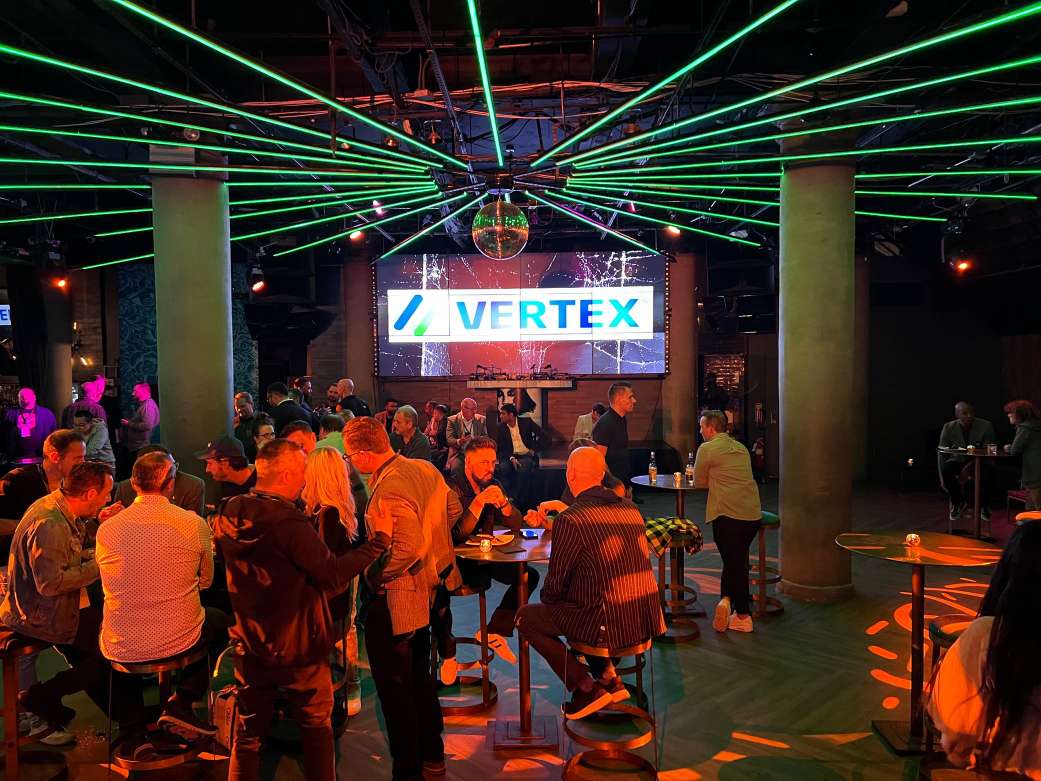 With new learnings and cutting-edge commerce practices, we collected deeper insights during the event into the challenges retailers face to ensure our solutions are aligned. Many budding entrepreneurs, retailers, developers, and industry leaders also stopped at our booth to say "Hello" and discuss their ideas. We are really grateful for all the love we received.
If you missed the event and want to know more about eCommerce trends that can help you scale your business in 2022? Connect now!
Wrapping Up
With expert speakers, insightful discussions, and amazing attendees, Meet Magento New York 2022 was just a perfect opportunity for eCommerce enthusiasts to reimagine success in the industry. The blog covers some important event highlights and hot eCommerce trends on which you should keep an eye.
For more information, get in touch with experts at Envision eCommerce.