Glory Glory! Doorstep Market Won the 2021 Adobe Experience Maker Award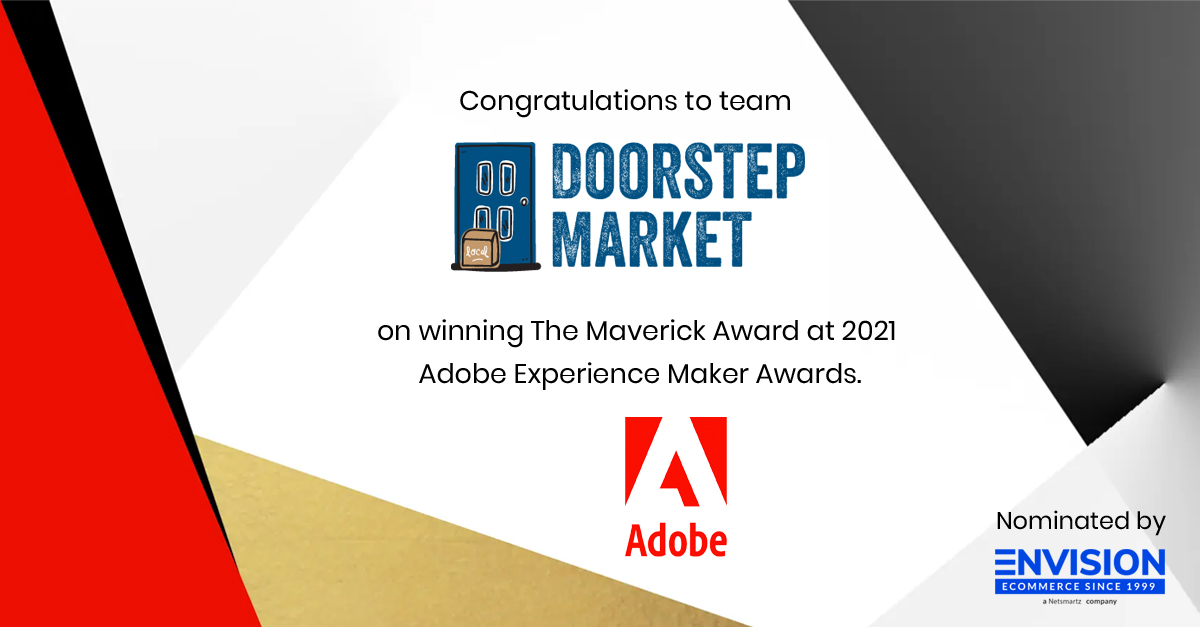 Doorstep Market, a B2C marketplace developed by Envision eCommerce (a Netsmartz Company) won the 2021 Adobe Experience Maker award in the Maverick Category. This prestigious award recognizes businesses that apply their expertise and knowledge in Adobe marketing or commerce solutions to craft beautiful user experiences and make an impact in the industry.
The celebratory news of Doorstep Market winning this award not just sent the entire Envision eCommerce team into a frenzy, but it also strengthened our belief in our client-first approach.
Developed to support local businesses during COVID-19, the Doorstep Market platform is a perfect example of how innovative ideas can thrive even amid tough times. Just six months after its launch, the brand marked its place in the US industry by:
Serving 500+ local businesses.

Presenting 2700 products.

Having 200k monthly visitors.
Owing to the seamless experience this B2C marketplace provides, they won this renowned award while competing with big players like McDonald's and MG Motors.
Read how we helped Doorstep Market in their pursuit of success.
The Backstory Behind the Victory
For the development of their eCommerce platform, the founder's team at Doorstep Market reached out to Envision eCommerce. Their requirement was to develop an eCommerce platform to help local vendors in the USA upscale their dying businesses.
The team at Envision conducted a thorough analysis of their business requirements and quickly figured out all challenges that may come en-route. We discussed all potential risks with the founder's team and worked together to get Doorstep Market out of the weeds.
Once the plan was sorted, the Envision eCommerce team started the development right away, prioritizing the core features first. In less than three months, we delivered a fully functional B2C marketplace that is now disrupting the market.
Seeing the potential of the idea and the experience its platform provides, we nominated Doorstep Market for the 2021 Adobe Experience Maker Award and the rest is history.
As the platform's influence in the industry continued to grow, so did Doorstep Market's partnership with Envision eCommerce. We are still working together to solve market challenges and make Doorstep Market the industry-leading platform.
Envision eCommerce is a client-focused, growth-oriented organization and by standing strong with our clients even after the development phase, we proved that we care. Our global partnership representatives work with hundreds of businesses every day, helping them embrace digitalization and accelerate the pace of their operations.
Ready to Build the Next Industry Disruptive Platform?
Download Blog