5 Ways to Manage and Track Inventory for Proper eCommerce Store Management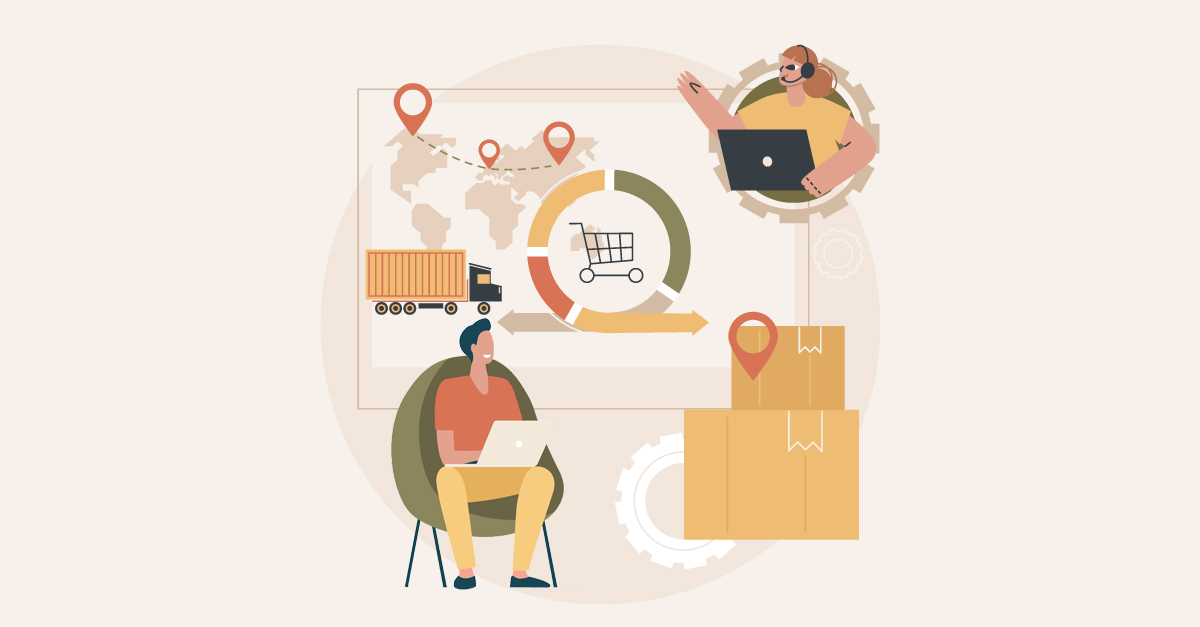 As consumers are buying more and more products online, retailers have a lot of responsibilities on their shoulders. One of these is managing the inventory of products they sell.
That process is called Inventory Management. It is all about organizing and handling the stock throughout the supply chain.
Effective inventory management aims to store products at minimum cost while keeping the levels consistent for delivering to the customer's doorsteps as soon as possible. The process of Inventory Management lies at the heart of an eCommerce business, but most companies face difficulties while doing the same.
This blog will walk you through the benefits and some effective strategies to manage the Inventory for your online business. So, let's get started.
What are the Benefits of Managing Inventory for eCommerce Store Management?
Inventory management is crucial if you want to ensure you have enough products in stock to fulfill the demands. Here is how it can help your business:
Reduced Cost: The warehousing cost will fluctuate depending on how much you want to store. If you know demand trends and patterns, you can save costs by only stocking products that you will need in the coming time.
Improved Cash Flow: Once you purchase items to stock in a warehouse, the chances are that you have already paid for them. So, you are out of money until you sell the stock and get paid by your consumers. When you have a robust IMS in place, you can predict how much you need to buy, leading to saving cash that you can use to run your business operations.
Increased Revenues: When you can predict the right amount and levels of inventory needed, you will be able to avoid dead stocks and stockouts. This way, you can negotiate with suppliers in a better way depending on how much you require. This will improve your revenues.
Let's now see some of the effective strategies to manage and track your inventory.
Also Read: How eCommerce Businesses Can Save Money on Inventory Management
How to Manage and Track Inventory for Your Online Business?
You can face several challenges while managing the inventory for your online business—for example, understocking, overstocking, inconsistent safety stock, or stock in the wrong place. However, you can tackle all these challenges successfully with some effective strategies for eCommerce store management.
1. Understand the Demand Pattern for Your Products
If you want to manage the inventory of your eCommerce store profitably, it is crucial to understand how demand for your products fluctuates throughout the year. You can utilize simple tools like Google Trends to understand demand.
For example, if you are a clothing brand and want to know when the demand for your products increases, just add a few of your project keywords to the tools and get results. Here is how the demand for the keyword "winter jackets" changes: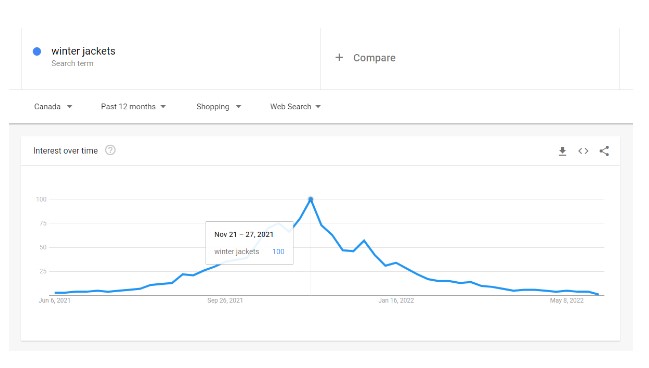 Similarly, you can find demand trends for other products to stock items. It will give you a better understanding of how and when you should stock several items.
Or, you can also use data collected by your business for inventory forecasting to make smarter and accurate decisions on what products will be high in demand over a particular period of time. There are several benefits of inventory forecasting: less space is required to store stock, less manual labor, and more sales.
2. Select the Right Inventory Management Software
Inventory management software or IMS is a tool that helps you automate your inventory management processes. It lets you track present inventory levels accurately and predict what products you will need more in the future, along with many other functions.
Although several Inventory Management Software are available in the market, you must choose the right one carefully. Make sure you select an IMS that:
Predicts future demands

Let you do barcode scanning easy and quick

Syncs with your website seamlessly

Customer relationship management

Notifies you if products are running low

Tracks the required product information

Warehouse management

Integrates with other important business software like eCommerce, POS, and accounting.
3. Use FIFO for Order Fulfillment
FIFO stands for first in and first out. It is an approach to managing your inventory that says products should be sold in the same order in which they were created or purchased.
This is especially important if you sell perishable products like makeup, food, or flowers. For example, if you sell dairy products online, the FIFO approach is crucial for you. Undoubtedly, FIFO is beneficial for nonperishable products as well because products stored for long in inventory may get damaged or out of date.
The best way to apply the FIFO approach at the warehouse is to add new products from the back, so that old products remain at the front.
4. You May Consider Drop Shipping
What's better than not holding any inventory at all? If you adopt the Drop-Shipping Model, you can sell products online without even managing and holding an inventory.
In this model, a manufacturer or wholesaler would be responsible for storing and shipping the products whenever a consumer orders something. Thus, you will be free from the responsibility of holding, storing, and managing inventory. Many small business owners or online startups adopt drop shipping methods due to its many advantages, including:
Lower startup costs

Reduced management overhead

Broad product offerings

High flexibility and scalability
However, it has some disadvantages as well, like reliance on third-party suppliers, low-profit margins, a high level of competition, and difficult customer support.
5. Schedule Regular Audits
It is always a good idea to track your inventory management processes using a quality IMS that generates detailed reports. You may feel one such audit per year would be enough, but that is not true.
In order to run your business process seamlessly, you should do audits every month or quality. It will help you make better business decisions by forecasting demands and risks. Intelligent Inventory Management Software can help you manage your business processes seamlessly by sending prompt notifications whenever a product goes out of stock or you have products in access.
Wrapping Up
As we have seen several inventory management strategies above, you've likely understood that there are several benefits of successful inventory management. Also, you're right! That's why we suggest even smaller eCommerce businesses or startups keep track of their inventory levels and use effective software to do the same.
You can get in touch with experts at Envision eCommerce for more information on how you can track and manage inventory for proper eCommerce store management.