5 Reasons: Why You Must Attend Meet Magento Singapore This Year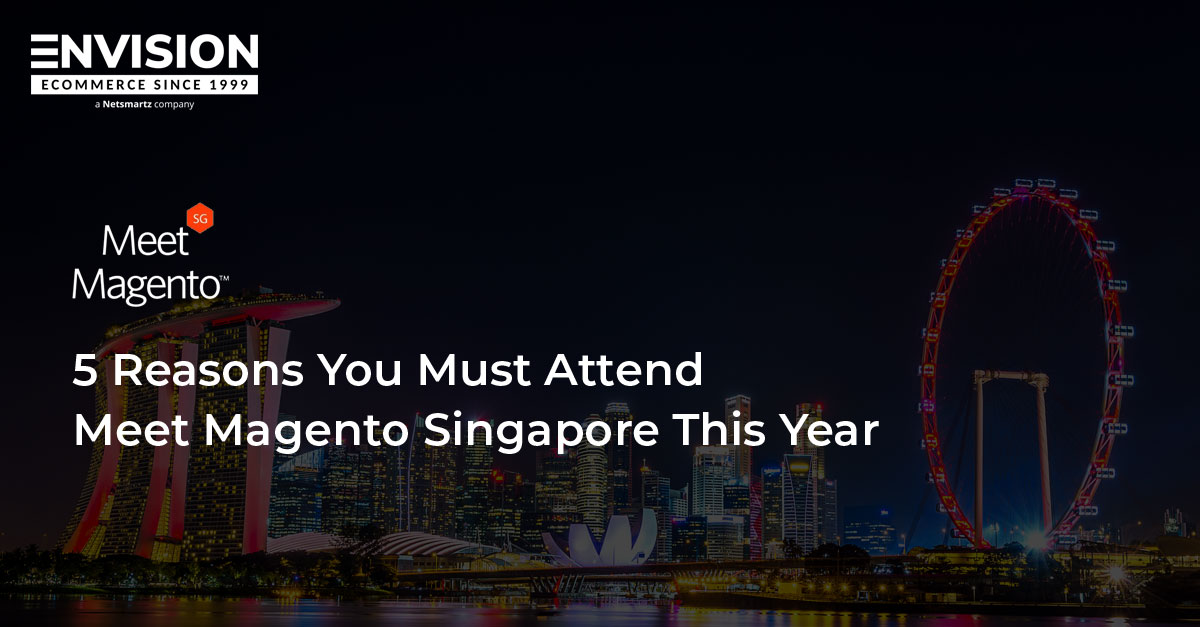 Meet Magento Singapore is a global eCommerce event that welcomes retailers, businesses, merchants, and all eCommerce enthusiasts who want to learn about growing an online business in this digital age using Magento. At the event, expert speakers talk about what's trending in the eCommerce industry and how new businesses can use Magento and other products by Adobe to achieve their business goals and targets.
Here Are Five Reasons Why You Should Not Miss Attending This Wonderful Event
1. Get a Sneak Peak at the Flourishing eCommerce Market in Singapore
According to reports, the eCommerce industry in Singapore will be worth $7.5 Billion by 2025. It means 5X growth since 2016. Imagine the potential that this country has to accommodate budding eCommerce businesses. It is immense!
While growing at a CAGR of 9.9% during 2021-2025, the eCommerce market in Singapore is expected to generate many unicorn businesses that will lead the world with innovation in the coming years. In addition, with the continuous and extensive support from the government of Singapore for growing eCommerce operations, many global and home-grown businesses are exploring the nation to expand operations and boost sales.
In Meet Magento Singapore, most of the crowd will be from these budding businesses, and you will get to learn a lot from their experiences about the Singaporean market. There will be investors, developers, technology partners, and established retailers to learn from.

2. It is Your Chance to Network
The most significant benefit of going to Meet Magento Singapore is Networking. As it is the biggest Magento event in the country that is happening in person, you can be sure that you will get to meet many eCommerce experts, developers, Adobe partners, and market leaders.
This Meetup will bring beginners as well as experts to one stage and will provide them a chance to share their experiences with each other. Thus, it is a great chance to connect with like-minded individuals, share ideas, exchange thoughts, and plan to do something innovative to help your business thrive.
Meet Magento is a great way to find potential clients, partners, and even employees to help you in your dream project. These partnerships can help you prosper, grow, and build your business.
Also Read: Cross-Border Expansion With Adobe Commerce: The Right Next Step for Your Business
3. Giveaways, Deals, Contests
During Meet Magento events, business owners and Magento partners provide giveaways to the attendees. To acquire new customers, they provide discounts on their services, and you can avail many benefits. Sometimes, different games are organized where you can win more deals and discounts. These games also do not let you get bored during the event.
You can build your business using these deals while cutting costs on technology providers.
4. Clear your Doubts
Every one of the attendees gets to connect with the experts and ask their queries. You can go to their booth and ask your questions personally.
If you own a Magento or Adobe Commerce store and you feel a little skeptical, there will be somebody at Meet Magento Singapore to take care of the issue. Individuals from all backgrounds and industries come to the Meetup to associate with others and take part in the event. So, you have the chance to find yourself the right partner or developer during the event.
5. You Will Meet Envision eCommerce at Meet Magento 2022 Singapore
Just like every year, Envision eCommerce will participate in Meet Magento Singapore this year as well. Being an Adobe Silver Solution Partner, we are always at the forefront of Magento events worldwide, and our team never misses an opportunity to interact with the Magento community.
You will meet Raj Dhiman (Technical Project Manager) and Kamlesh Sharma (AVP Sales) from our team at the event. So, if you want to discuss your eCommerce project idea or have some doubts or queries regarding succeeding in the dynamic eCommerce industry, just stop by our booth, and our experts will try to help you in the best possible manner.
You can also schedule a meeting with our team by getting in touch with us: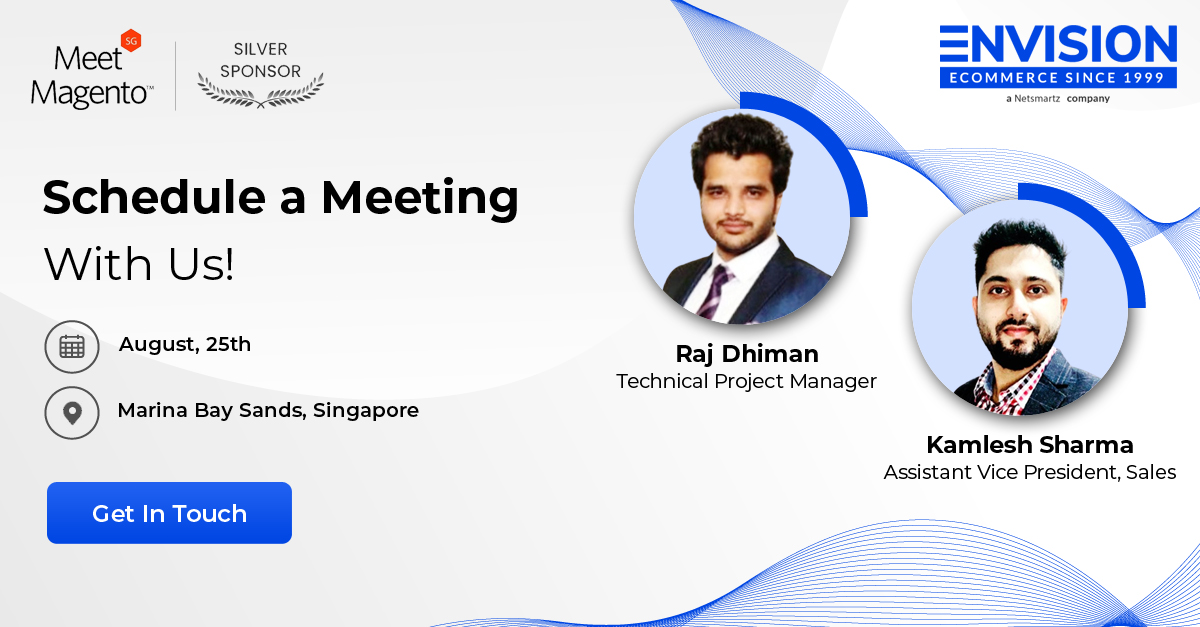 Envision eCommerce is also the proud Silver Sponsor of Meet Magento Singapore 2022, and we are dedicated to making this event a success by helping as many budding entrepreneurs as possible.
Wrapping Up
If you are an eCommerce enthusiast or you want to stay updated with the latest trends in Magento, you can not miss Meet Magento Singapore 2022. So, register here today and get ready to attend a fun-filled and insightful session on August 25, 2022, at Marina Bay Sands, Singapore. We will be waiting for you right there!