Announcing IonicPress App: Convert Your WordPress Site into an App!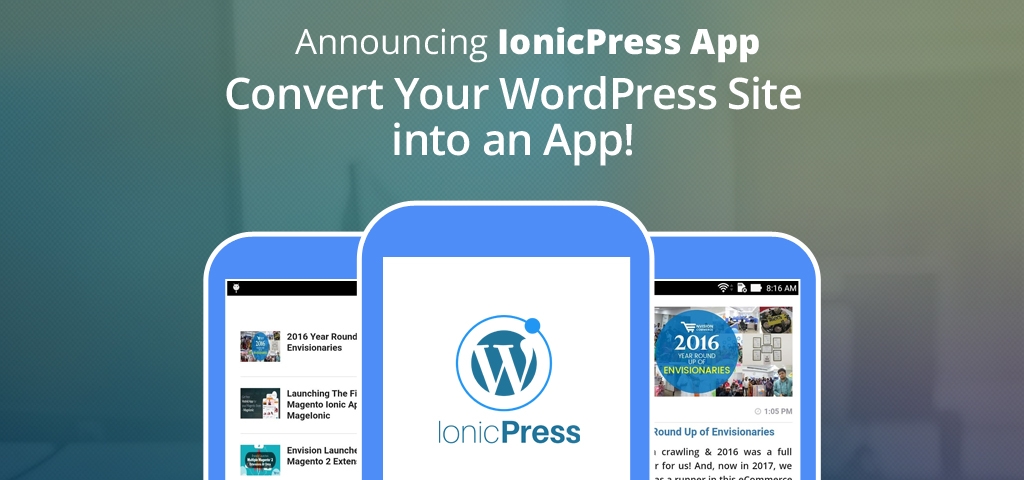 Without further ado, we at Envision Ecommerce introduce yet another Hybrid Mobile App and this time it is for WordPress. The app comes with Ionic Source code and the plugin (WordPress App Connector) that will link your WordPress site to the mobile app. We will create a new app and submit an app to Google and IOS app stores with your own Branding and logo.
IonicPress gives an opportunity to WordPress site owners to convert any of their WordPress sites into an app in an easy way. This app works fluently well on both platforms, i.e. Android and iOS.
Salient Features of IonicPress App;
Social Sharing
Encourage app users to share content or new updates on social media sites from mobile devices with one click.
Platform Support
It guarantees to work well on world's most popular mobile platforms, i.e. iOS and Android platforms.
Push Notifications
Send manual or automatic Push Notifications to the app users, as per the requirements. Work smoothly on iOs and Andriod.
FeedBack
Allow app users to Make Comments on Mobile with a single click.
Support WordPress Elements
IonicPress supports all major WordPress elements such as blog posts, pages, custom fields, categories, tags, and more.
Flexible and Intuitive Backend
The best feature that IonicPress offers is its flexible and intuitive backend that allows website owners to easily manage their entire mobilized store.
What Next
The app will be beefed up with more features in future
Admob to be implemented
More themes and templates to choose from
Ability to also have Video Posts
Get in touch with Envision Ecommerce to get your own WordPress Ionic App.
For live demo: Click here
Live on Ionic Marketplace: Click here