Successful Launch of ParkSafe App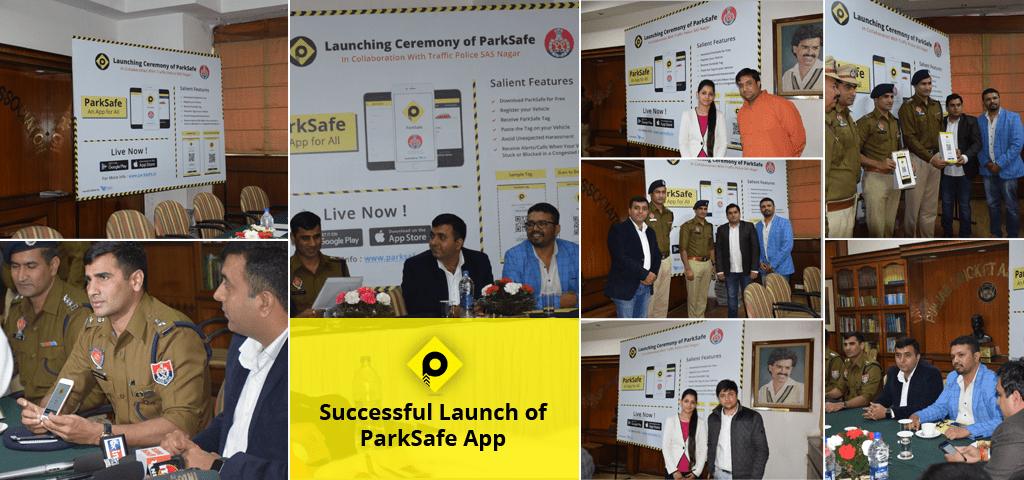 We at Envision Ecommerce are in News again. Yes, indeed we are! But, this time we are highly honored and privileged to announce that our new, innovative parking app, i.e. ParkSafe has been officially launched by SSP Sh. Kuldip Singh (IPS), DSP Sh. Amroz Singh and SP Sh. Harbir Singh Atwal, Punjab Police at PCA Cricket Stadium, SAS Nagar, Mohali. Today, we held a press conference at PCA Stadium, aiming to aware vehicle owners and other citizens that they can now easily get out of congested parking space or other parking hazards along with the up-to-the-minute traffic flow information by using a ParkSafe mobile app.
SSP Sh. Kuldip Singh (IPS) said that the app is exactly the type of asset that comes in handy. As, it supports the individuals to detect and connect with vehicle owner who has wrongly parked his/her vehicle nearby your vehicle and blocked your driveway via QR code/ ParkSafe Tag/ or Vehicle number.
The real beauty of the app is that all your public and private parking issues will be sorted out in real time, which often used to snowball into major, minor scuffles.
We at Envision Ecommerce, providing the app free to public in the Tricity. It can be downloaded through iTunes and Google Play by searching for ParkSafe.
For more info, click here http://chandigarhmetro.com/parksafe-app-for-wrong-parking-problems-chandigarh-mohali/.
CSR initiatives undertaken by Envision Ecommerce