How to Get Your Magento Store Ready For Holiday Season?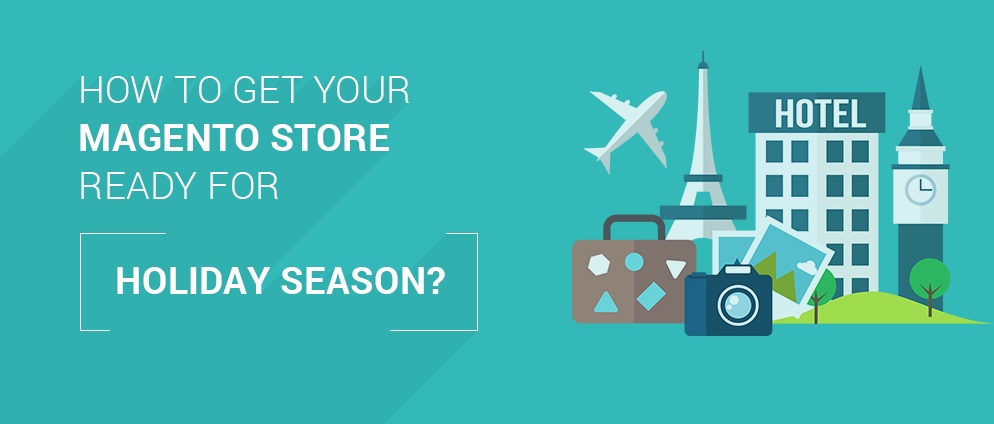 With the time crossing by, the holiday season is very near. The upcoming months are coming along with some popular festivals like Halloween, Veterans Day, ThanksGiving (Black Friday) day, Christmas, and New Year.  This is the season for Shopping and sales. With the growth of eCommerce, it is the season of Ecommerce. So, it is the time to start an eCommerce website for your physical store and keep it buzzing with festive images, special offers, graphics and all. A fully functional eCommerce store can be a revenue booster during this holiday season.
But, today's eCommerce marketplace is engaged with sophisticated online shoppers, and why wouldn't it be? Some of the biggest online retailers like Amazon & Zappos have made this possible. These retailers serve their customers in the best ways to make them sophisticated & also habitual of online buying. They invest millions in using some tools and techniques with the help of which they observe user's online behavior & invest more than that millions to create cutting-edge solutions as per customers' desires. Luckily, these tools & techniques are also accessible to any small business at an affordable solution, i.e., The Enterprise Edition Magento.
Magento is a flexible & affordable solution that can meet almost any fast growing or large business's needs. It is an open source accessible with some advanced tools, functions & a wide range of extensions. However, even though there is an availability of thousands of Magento extensions, it is still essential to start planning with some basic things to acquire a successful Magento eCommerce site in this festival season. These basics cover the followings:
1. KNOW & UNDERSTAND YOUR AUDIENCE
Start by knowing & understanding your target audience. Whether it is color-texture of your eCommerce brand, navigation structure or design of your entire website, all will be going to affect your audience. Know your audience and understand as narrowly as you can in terms of gender, age, location, authority level, area of expertise, popular festive by region and business or technical professional.
2. CORRAL ALL OF YOUR CONTENT
Although every eCommerce based website's main aim is to sell products, but the CONTENT IS KING that originally drives sales. The appearance of your website, layouts, images, design, and videos are not only sufficient to attract visitors and turn them into your customers. So, WHAT IS IMPORTANT? The implementation of creative thoughts & content along with every aspect of your eCommerce site can keep your customers with you long enough till buying. Consider the following important things to increase your website's growth:
a) Good Design & Fast Loading Website Matters
A faster loading website with quick content downloadable at this upcoming festive season – is the foundation of a successful eCommerce website. A good loading speed also helps in reducing the bounce rate of a website. All of your visitors should able to understand quickly about what you sell by your content's main headlines. Also make sure to make your site attractive with upcoming festivals related graphics, images and designs.
b) Some Best Color Matters
As per some research studies, it has been found that green, purple, and blue are some best colors that encourage SITE GROWTH. On the other hand, red color is found as one of the proven causes that results in a visits drop. It doesn't mean that you should avoid red color for your website, but avoid it to use as a primary color. The worthy usage of red color is its presence on something attentive, e.g. discount offers at festivals, to catch your visitor's eye.
c) Content Layout Matters
The way you layout your website's content affects your visitor engagement. Most of the visitors start scanning of online content from the top section of your web page first, like headers, sub headers, images & then videos. If you have organized your web page horizontally, you should keep the visitor's travel, in your mind, i.e., backwards "Z" motion. However, if the page is composed vertically, the visitor's travel will start from left-hand side and then turn into the main content section of your web page. Thus, ensure that you are composing your web pages according to the type of content central to your eCommerce business and also content equipped with snappy headers, interesting videos, festival related themes, discount offers and attentive festive images to engage your visitors.
d) Responsiveness Matters
In this era of mobile, visitors increasingly prefer mobile devices to surf the web over desktop and other devices. Thus, the responsiveness of a website becomes a necessity. The responsiveness does not simply mean to shrinking web pages to get adapt according to the screen size of different devices. It is something more than such adaptation. For example, a site presents a vertical organization of home page content to a Smartphone user along with cut down menu solution. A responsive eCommerce site presents itself in the best way on a variety of devices without requiring the visitor to resize the site.
e) Compelling Festive Images Matter
The usage of compelling, content featuring & festive images increase the credibility of an eCommerce website in the visitors' eyes and make a big impact on user engagement. Therefore, while using images on your Magento based website, keep the following things in mind:
Ability to Zoom-in sufficiently to display proper details of your products.
Professional in quality and relevant as per your site's content.
Use images related to upcoming festivals & events
Content Featured
Fast Downloadable
Compressed in the Right File Format.
Use Images Consistent in Style.
f) Impressive Videos Also Matter
Similar to compelling images, impressive videos also play an important role to increase customer engagement and conversion. Moreover, the videos that are customized as per the upcoming festivals & events, work more impressively and effectively for your store.
Explainer videos about your products compel visitors to make a purchase at your Magento site.
Videos available on the landing page of your Magento site are more effective in encouraging average page conversions by 86%.
g) Gift Wrapping Options Matter
Almost all customers love to shop gifts for their family or relatives during festival season. They don't want to buy a separate wrapping paper & all to pack gifts themselves. Free gift wrapping options come absolutely handy on festival days & saves customers' time and money.
3. Turn Your Customers into Your Best Sale People
You can turn your customers into a sales force by linking your social media accounts on each page of your Magento site. And also customers believe in other customers rather than online merchants. Thus, it is recommended you to get available on social media and blogs to build trust among customers and earn some social proof. Also allow visitors to login into your Magento site with your social media logins to start the checkout process that further results in lowering abandoned cart issues. Be an open book to your customers by doing a SUCCESSFUL BLOGGING. Here are some tips to keep in mind to become a successful blogger:
Add a blog page to your Magento website
Always write a blog in a conversational tone
Don't post just to push a sale
Posts should be chatty and interesting
Update blog on Festival Seasons
Announce your new products and important information via blogs
Write on topics mainly related to your customers' interest.
Provide a comment section for visitors and respond promptly as soon as you get a comment
Keep updating your blog; else you will damage your Magento site's credibility.
4. Tailored Magento Website for a Perfect Fit
Modify your Magento based website according to your customers' need to turn into a perfect fit for your customers. Customize the following important factors of your Magento based eCommerce website:
a) Layout: Customize your layouts according to what will most optimistically impact your Magento site's conversion rates. For example, Halloween getup of your eCommerce store during Halloween festival.
 b) Advanced Search Option: Help your customers in easily finding your products by using the advanced search option instead of using simple search function. Advanced search option helps customers in narrowing down the search results to an extent that would not overwhelm them.
 c) Simplified Checkout Process: One step checkout process is not only fast, but also reduces the rate of abandoned shopping cart.
 d) Provide Multiple Shipping Options: Customize your shipping options, and provide your customers with as many of the shipping options in order to keep the changes long enough with the business changes requirements.
 e) Magento Extensions: Magento extensions are a great way to add additional functions or capabilities to your Magento based website. There are multiple companies who offer such extensions. Therefore, it is recommended you to find an eCommerce consultant or a certified Magento developer to make such extensions work for you perfectly.
 f) Choose the Right Host Mainly Focused on Magento: You can make your Magento site to run faster and more consistently, if you choose the right host mainly focused on Magento and you can get help whenever you need.
 g) PCI Compliance: PCI compliance is responsible for handling your customer's credit card data with greater security during the whole transaction process. And also there is a need of host to support this compliance for activities like automatic update of security patches on your Magento website. So, it is recommended to you to have a conversation with your host about PCI compliance before choosing that host.
 h) Support & Helpdesk: Make sure to offer enough support hours-availability to your customers as compared to your competitors, especially during festivals.
 i) SEO: Search engine optimization is not hard to do by yourself, but it might be a lengthy & detail oriented process for you. Since your core business is eCommerce related and not SEO, it is wise for you to outsource this SEO process. A professional SEO expert is able to conduct the whole SEO process like:
Site Map
TXT
Feeds
Meta Data
URL Management
SEO Audit
Pre-Launch Testing
301-Redirects
SSL certification
Site Monitoring
Post-Launch Testing, etc.
Starting a Magento website, especially in this wonderful upcoming festival season, does not only include the above planning, designing & building steps, but also require a systematic approach in order to get enough for the work you put into your Magento site. Skipping above steps while starting with Magento may result in losing customers and increasing only developers' payments.
Envision Ecommerce can help you. We offer full fledge Magento store in 5 days of supports. We have certified Magento developers, so no issue with what you are envisioning; we have certainly built many times similar to it before.
Download Blog