How to adjust stock in Magento MSI?
Nidhi Arora

2 years

243 views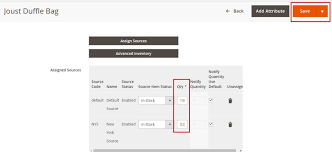 Magento is the most prominent and open-source e-commerce platform that offers a home to the world's top brands like Ford, Samsung, and 1,50,000 other online stores. With a market share of 31%, the top 1 million websites use Magento. As a consequence, catering to such wide needs of the business owners for managing stocks at manifold locations, Magento Multi-Source Inventory (MSI) came into being.
Despite such developments, many retailers across the world are struggling with the utilization of Magento 2.3 and MSI; like adjusting stock, to name a few.
Below mentioned are some of the popular methods that'll assist you in adjusting stock using Magento MSI.
Method 1- Adjust stock directly in Magento MSI by importing a CSV:
This method makes use of the import function in Magento making use of the CSV (Comma-Separated Values), which in turn helps in saving a great amount of time, especially when you have numerous Stock Keeping Units to adjust. You can follow 6 steps for importing a CSV file in Magento:
Step 1: Open Magento and then go to System> Data Transfer> Import and then use Magento MSI for adjusting stock by importing the CSV file.
Step 2: Select the Stock Sources from the entity type, after which system asks you for downloading a sample file. However, your CSV file must necessarily contain the following information to be able to adjust stock.
Source Code: The code of the source where you'll apply the change;
SKU: Update the product SKU;
Status: If it shows 1, then it is enabled and 0 means disabled;
Quantity: The new SKU quantity.
Step 3: Select the Import Behaviour: Adjust stock in Magento MSI by importing the CSV file. Go to :
Select import behavior>Choose to add/update from the three options in the pop-up menu.
Step 4: Upload your CSV file by either using the file directory or selecting a file to import.
Click on the Check Data Button
Choose import from there.
Magento will return the result after it has validated your data and show an Import button. Select import for continuing the process and the system will display a notification when the stock adjustment is completed.
Method 2- Use the product catalog for adjusting stock in Magento MSI- manually:
This method works wonders when you want to adjust stock for one or a few SKU, all at the same time. You can follow these 3 steps if you want to adjust stock in Magento 2.3 by making use of the product catalog.
Step 1: Open Products Catalog> Edit; the product you seek to edit
Step 2: Click Save after adjusting the quantity of the product in each source.
Step 3: Double click the product catalog list.
You will directly see the changes in the product catalog if the adjustment in MSI is done successfully.
Note: The product has already been assigned to the sources, in this example.
Method 3- Use Magestore Solution for Adjusting Stock in Magento MSI:
Magestore has taken a lead in Omnichannel POS Solution in the Magento market. A new feature has been added to our POS Enterprise edition for Magento 2.3 for helping businesses in adjusting their stocks conveniently.
Here are steps to adjust stock in Magento 2.3:
Step 1– Select the source for adjusting the stock: Select source from the source list> Fill the Reason field from there.
Step 2: Select the number of products for adjusting the quantity: The Magestore Solution provides you with three different ways for the selection of products.
Scan the barcode: This option works wonders if you have a barcode, all that you need to do is scan it, hence saving you from navigating the entire catalog, while searching the right products. The product will be assigned on its own to the selected warehouse by even scanning a barcode which hasn't been assigned to the source, hence updating the product quantity.
Select your required number of products from the product list: This solution is fantastic for you in circumstances when you don't have a barcode system and you don't want to engage in manual adjustment of one SKU at a time. Use the filter option to minimize your search and find your product.
Import product(s) from a CSV file: Import the CSV file to the system for the execution of stock adjustment immediately or just upload a CSV file for adjusting it further, in case you want multiple adjustments for many SKU's at a single time.
Step 3: Adjust the product quantity: Type New Quantity or Adjust Quantity, if you wish to adjust stock for each product. Magento will automatically calculate the quantity based on your input.
For example, you have 5 items in your stock and you type 1 into the Adjust Quantity column system will automatically change the new quantity to 21.
Step 4: Apply Stock Adjustment: The system will execute the stock adjustment and keep a record, once you confirm in this particular step.
You can also save a stock adjustment for executing it or modifying it later. You can also delete the stock adjustment from a system if you do not want to perform an unapplied adjustment.
Conclusion:
The experts in Magento eCommerce solutions suggest using Magestore Solution if you are looking to sell both via online and offline modes and transfer items between your warehouses. The MIS system works not only for Magento website and backend but also helps with a native Magento POS for your physical store.