The Power of an Omnichannel Strategy to Grow an eCommerce Business: In Conversation With Vinny O'Brien
When it comes to investing in eCommerce marketing, every brand fears not getting enough return on investment. A few brands also spend a fortune to market their online business and still do not get the results.
Do you also feel that whenever you take a step forward to get your customer's attention, you come two steps backward as a result? Worry not! It happens with numerous eCommerce businesses. However, one solution that can solve this problem is an omnichannel expert.
Let's talk to an omnichannel eCommerce marketing expert to know how and what is the right way to move in the right direction.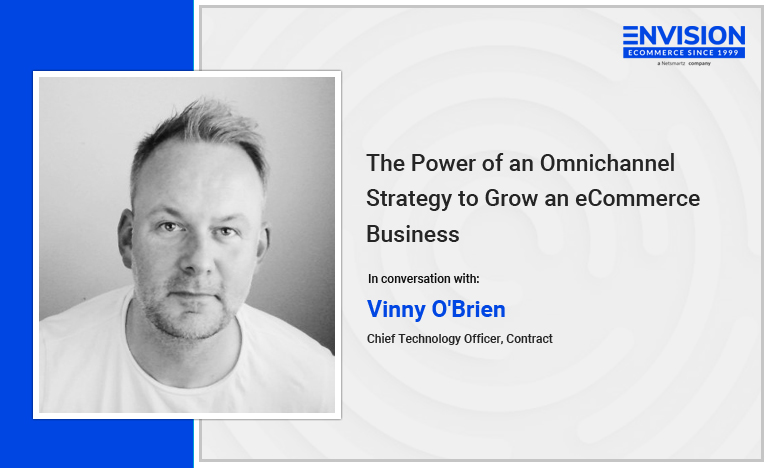 Who did we interview?
Vinny O'Brien is the Chief Technology Officer at Contract. Having more than a decade of experience working in the eCommerce industry, he is passionate about helping eCommerce businesses develop and execute global eCommerce omnichannel strategies.
Q1: What exciting projects are you working on at present?
Right now, I started the implementation phase of an omnichannel strategy for a large Irish department store. They have 28 stores, a lot of complexity, and a desire to put the customer at the center of everything they do!
Q2: What do you think are the most important trends in eCommerce for 2022 to increase conversions and boost sales?
Boost sales – Become excellent at trading stock! Not a skill we love to dig into, but now we have got to be scrappy and think, how do I turn this inventory into cash. Things I am advising people:
Increase the channels you are selling into – More than ever, people are navigating channels. Google released data a month ago, but it tells us that 51% of shoppers use >5 channels (video, social) to shop and did this over two days in 2021. (for Holiday Shopping) This purchasing group made 2x more purchases than those who use only 1 or 2 channels.
Ensure your email plan involves segmentation (think RFM analysis and customer profiles). Have an email plan for all new customer acquisitions – give yourself a chance of getting that second sale. Deliver compelling relevance – don't leave a penny on the table. Test and measure all your existing automated workflows – optimize this channel.
A/B test – so important to monitor on-page conversion. Right now, simple tests like cash back versus % off are excellent barometers of how messaging works. In the UK right now, as an example, money off is the message. Cash is king.
Q3: Customer Experience is at the heart of eCommerce. What should a good eCommerce customer experience journey look like, according to you? Is it all about digital touchpoints, or do physical interactions matter as well?
Customer experience should be designed to remove friction. To understand friction, we need to think as customers. We then try to solve the friction in a way that is easy to use and understand and has a purpose – the iPhone and its apps are a great example. It is like a swiss army knife in our pockets.
Aside from endless social media scrolling, phones provide almost unthinkable amounts of utility to our lives. We sometimes forget how powerful they are. Customer experience should be evolved in this way. Avoid trying to do things just to fill a business metric. If you think as a customer and design with this in mind, you won't go far wrong. It is essential, too, to note that the process is iterative – the day you deploy something is the start of its obsolescence, be curious and watch the results.
Touchpoints need to be managed wherever customers are. We should think about why? Why am I doing this? Is it making life easier for the customer? If so, then my rationale is right; then it is down to execution.
Q4: What technologies, platforms, or channels should marketers or brands use to excel in the digital commerce world and turn their businesses into brands?
Brand building for smaller/emerging brands is daunting. It is easy to blow budgets in the wrong ways. I like to utilize partners with a scale that can elevate a brand's position. Brands should be taking note of where they are spending ad revenue now. Amazon is a good starting point – then, for the middle of the funnel, you may need to expand into Facebook, Instagram, or CTV (Connected TV). CTV has a huge reach and significant attribution to the device level within a home. This is a powerful agent to get your brand in front of the right people.
2023 will see more offline advertising delivered but measured through GA and Amazon. Both platforms have enabled this recently. When you consider the flexibility and control, say of multiple ads being delivered on billboards, bus stops, etc., in cities worldwide, it makes sense that we need to consider these things. We cannot hide behind a lack of knowledge.
Q5: What potential do you see for the eCommerce industry as a whole? And which industry verticals would take the biggest piece of the pie after the surge in eCommerce sales due to the pandemic?
eCommerce is still an infant, relatively speaking. So there is a lot of headroom for improvement. I don't see strong triple-digit growth for everyone. I think pragmatic planning and solid investment approaches are needed. Ensuring you are stretching your tech the right way and being more efficient with marketing spending.
Verticals – automotive will continue to be a mature, growth-led vertical. Moving from hard parts and sales to software downloads, cross-selling, and the ability to rent, crowd share, and so on, there are endless possibilities in this area.
FMCG and CPG are emerging as front runners. This may be deceptive. What drives this is retailers who have developed retail media platforms and see the profitable revenue share they can gain as a result. It will be interesting to see how performance maps against the spend. Because right now, it is not really equitable for smaller brands to pump money into this, but then you are being told, "You gotta do it!"
Returns mgmt – sustainability is a dirty word in eCommerce and is forcing greenwashing. But adequate returns handling and policy development will be key in international selling over the next 3 – 5 years!
Q6: Any specific tips that you would like to provide for brand owners, marketers, and others juggling to scale an eCommerce business?
Design a proper strategy. Make it numbers based achievable, and stay accountable to it. Your strategy will ultimately help you understand the problem you are solving. A strong strategy and an understanding built in this way make it easier to figure out how to get there. It also gives you the room and flexibility to be as tactical and nimble as you need. The last two years have taught us it is ok to change our approach, and we have proven we can do it (though it is exhausting).
Invest in data gathering and reporting. There are so many good platforms and partners who can build real business intelligence today. This needs to be a core investment for everyone. Then when you get the data, read it, and do something with it!
Wrapping Up
So, that was all about today's session. We thank Vinny O'Brien for talking to us and sharing essential insights about the industry. We hope you find this session insightful! For more critical discussions and insights, subscribe to our content and stay updated with what's new in eCommerce and Magento.