A Conversation with Vijay Golani on eCommerce Trends and Potentials
From buying patterns to the way retailers sell, the pandemic changed everything and we are likely to see more evolution in the near future. To find what these changes could be or what experts think about the changing industry dynamics, we started this expert Q&A series.
In today's chapter, we will be talking to Vijay Golani, an eCommerce Solution Architect and Magento trainer to collect some invaluable insights and his opinions on the way forward for eCommerce businesses. So, let's get started. yes, that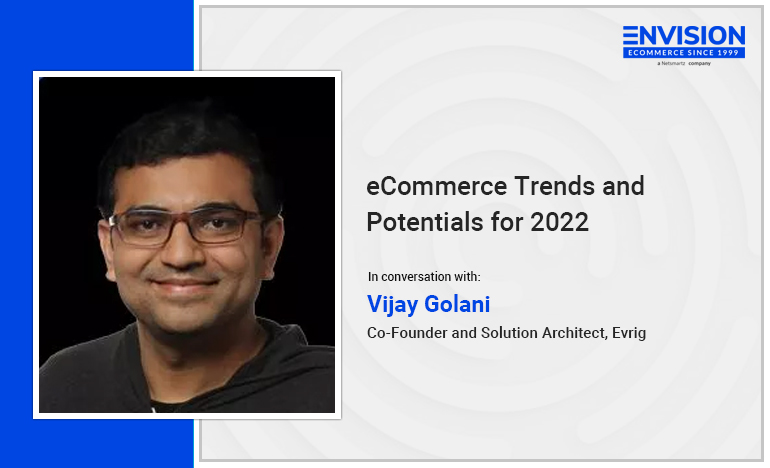 Who did we interview?
Vijay is an eCommerce expert, solution architect, and speaker at Magento events. He started his career as a Magento Developer in 2009 and gained experience in Magento customization, extension development/integration, and API integration. At present, he is committed to helping eCommerce startups and organizations achieve their growth targets.
Let Us Quickly Get To Our Expert's Point Of View.
Question 1- What exciting projects are you working on right now?
Right now, as a part of an eCommerce company, I am working on a Marketplace project for selling furniture items online. Another project which I am working on is a headless commerce project, where the backend is Magento and the frontend is React. It is an exciting project since the world is moving towards headless and we are doing new experiments every day in order to invent a new functionality that makes digital products better than before.
Question 2: What potential do you see for the eCommerce industry as a whole?
Every industry is affected by the pandemic with positive and negative impacts. The positive impact is bringing eCommerce to the next level which we could not even think of before the pandemic. Buying online has now become a necessity especially if you are in an affected zone or area and a habit for many folks.
Businesses have to go digital now because we do not know what comes next. We have to be ready for the future to survive in any kind of situation. All businesses need to go digital using the right technology. The eCommerce industry is giving double-digit growth and shifting much business from offline to online. I also read somewhere that 95% of purchases will be made online by 2040. And, that's an amazing number! eCommerce is opening the doors of opportunity to countless entrepreneurs.
Question 3: What's the biggest change you've seen in post-pandemic eCommerce trends?
There are many changes that we can see but the most important change can be seen in the online food and grocery delivery market. There are lots of players who have jumped into the markets to tap the opportunity during pandemic. If I talk about Indian, BigBasket, Grofers, JioMart, and Paytm Mall are some of the early adopters of the trend. Even before the pandemic, it was projected that online grocery sales would nearly triple by 2024, but the pandemic has contributed a lot to its growth.
Apart from that, you can also see changes in customers' behavior. Their journeys are not linear anymore and most people like to compare products before purchasing them due to a plethora of options available. So, retailers need to be smart about selling products and should display their USP along with products, very carefully.
Question 4: What industries do you think will take the biggest piece of pie due to this surge in eCommerce?
Although all industries are benefiting after this boom in eCommerce, I believe Healthcare and Retail will take the biggest piece of the pie.
Post pandemic, attention to healthcare has increased a lot and due to that many startups are coming into the markets. Nowadays entrepreneurs are thinking beyond just medical devices and medicines. Similarly, online retail is expected to grow more and more because of food and grocery businesses leaping fast into the digital world.
Question 5: Any specific technology trend where store owners should consider investing?
Yes, of course. There are a number of technologies that are likely to gain traction in the coming time. For example, Voice Search. Almost 50% of the internet searches are based on the voice today. Hence it is definitely something that merchants should focus on.
Merchants are also focusing more than ever on how they can personalize product recommendations for their customers. Apart from that, AR/VR is already helping retailers solve several pandemic-related challenges by providing features like Virtual Try-on. So, all eCommerce businesses should consider implementing these technologies if they see them benefiting their overall business growth.
To Summarize
For this chapter, we interviewed Vijay Golani and we thank him for sharing his experiences and opinions with us. The conversation was insightful and we shed light on various topics like emerging technologies in eCommerce and the future of retail. Hope you all find this conversation insightful.