How to scale Digital Commerce in 2021 & beyond – In Conversation with Vatsal Shah, an eCommerce Expert & Coach
Building and scaling an eCommerce business is not as easy as a walk in the park. But, if you stay on pace with the ever-evolving trends and technologies, you can take a big pie of the cake home and stay competitive forever.
That's what we talked about in our conversation with Vatsal Shah, an eCommerce expert, and Business Coach. He believes that the eCommerce industry has evolved a lot in the last five years and now is the time for all businesses to evolve. So, without further ado, let's tune in to the conversation and find out the expert's view on the changing eCommerce dynamics.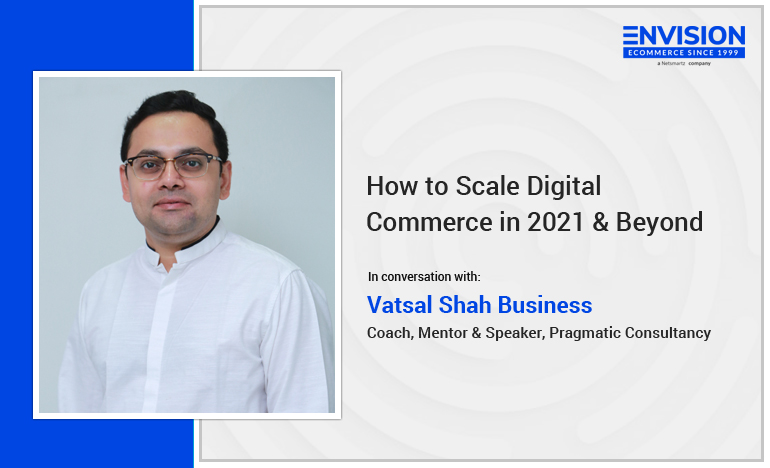 Who did we interview?
Having 17 years of experience, Vatsal Shah is a serial entrepreneur, eCommerce expert, business coach, and international speaker. He was awarded the "Mentor of the year" award in 2019 and is associated as a speaker and mentor with globally renowned events like Meet Magento (India, UK, Indonesia, Singapore), and WordCamps. In 2008, he launched his venture called Pragmatic Consultancy through which he helps IT Companies, Digital agencies, Retail, and eCommerce organizations grow and transform their businesses.
Let Us Quickly Get To Our Expert's Point Of View.
Question 1- What exciting projects are you working on right now?
As a CEO Coach to various eCommerce / Digital Marketing agencies, I am making them future-ready. Guiding them to adapt to headless commerce, new platforms, and digital services. Also, helping a couple of online sellers/store owners to define their digital commerce roadmap, KPIs, marketing strategy, people plan, etc.
Question 2: What potential do you see for the eCommerce industry as a whole?
Digital commerce has evolved tremendously in the last decade. I have seen platforms rising and growing in the market and the evolution of various models like B2C, D2C, B2B, and Marketplaces. I can see a surge in Direct-to-consumer (D2C) and Direct-to-everyone (D2E) as an upcoming wave. There are niche, upbeat and audacious brands coming up with great unique products/services with different ways of selling online. Some of the patterns I can see are an increase in demand for influencer marketing, story-telling, connecting buyers with the brand purpose, utilization of personalization, experience-driven sales, omnichannel, etc. There is no looking back for digital commerce. And with digital citizens coming up as the next set of buyers it will catch wildfire.
Question 3: What's the biggest change you've seen in post-pandemic eCommerce trends?
All age groups have been trying online shopping since the pandemic has started. And that has become their habit for various reasons. The customers are spending wisely and need-based shopping is at play. The bhiggest change is the surge of mobile shopping and digital marketing coming in with a huge role to play to show products and persuade buyers.
Normalization is coming back, stores are opening again and gaining footfalls but at the same time, there is a shift in RetailTech or change in the in-store experience where brand owners are now relying on technology for catalog demonstrations, BOPIS, O2O, frictionless payments, use of beacons and more.
Question 4: What industries do you think will take the biggest piece of the pie due to this surge in eCommerce?
Some of the industries that have got huge benefits while pandemic are Online Learning, Food and Beverages, On-demand services, Furniture, Health & Wellness, Sports goods, Online Entertainment (OTT), and Online Games.
Question 5: Any specific technology trend where store owners should consider investing?
B2C, D2C, and B2B brands shall invest in technologies that empower content-driven commerce, digital experience improvements, personalization, marketing automation, PWA/mobile commerce, ERP/back-office integrations, etc. That can help them reduce costs and improve revenues. They shall not look at technology as a cost, rather consider it as an investment for better today/tomorrow.
To Summarize
In this chapter, we interviewed Vatsal Shah, an eCommerce expert, and business coach. He shared insights on how Digital Commerce is expected to evolve in the coming years and why D2C and D2E are expected to be the upcoming wave. We also discussed ongoing trends and technologies that businesses (in various industries) need to adopt to stay competitive. Hope you find this conversation insightful!