The Importance of Using eCommerce Technology in the Right Way: In Conversation with Salvatore Capritta
eCommerce is a fast-evolving industry. These days, retailers are doing all that is within their reach to satisfy the needs of their customers and secure an edge over their competitors. While it might appear as if everything is evolving quickly, it is essential to watch out for trends and advancements that can help you survive in the fast-paced digital commerce world
Let's talk to our today's experts to know more about eCommerce trends and potentials that merchants should utilize to thrive in this industry.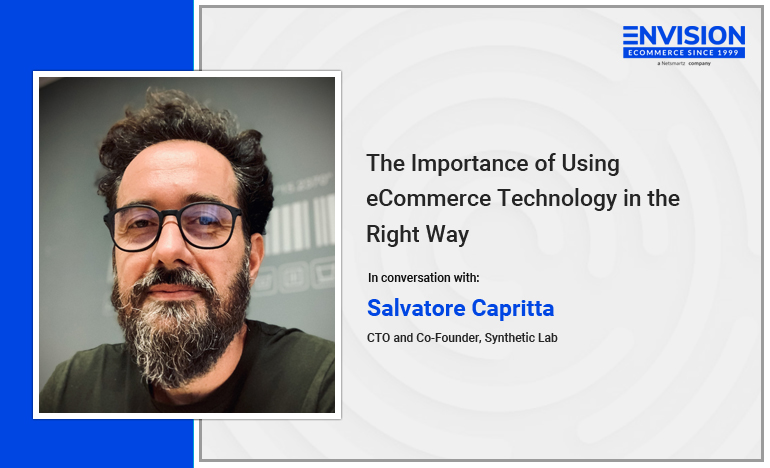 Who did we interview?
Salvatore Capritta is the Co-founder and CTO at Synthetic Lab. Having more than a decade of experience in the eCommerce industry, he is well-versed with all things commerce and what it takes to win the hearts of eCommerce consumers.
Q1: What exciting projects are you working on right now?
My team and I are currently working on some Magento 2 projects developed over Hyvä Themes, both new and old ones. Many of our last years' projects are focused on Magento2.
Despite our history as devs and as an agency mainly focused on customized works (we used to build our products on a custom CMS developed with Zend Framework) the past few years with Magento have been thrilling. And we think that the next will be too, if not much more challenging and exciting.
Q2: What potential do you see for the eCommerce industry as a whole?
The eCommerce industry has made giant steps since we started working in the early 2000s. Both the merchants' and the customers' tools and expectations are higher than some years ago.
Building a simple, functioning, and neat website is not enough; it's just a good beginning. All the fields around eCommerce grew up a lot, and the specializations in areas like development, SEO, web marketing, and other services now need more energy and specialized teams.
The customers now demand more speed, immediate and clear instructions, and are more used to advanced user interfaces. Also, comparing different offers before buying a product has become easier than ever, so the level we have to ensure has become higher than years ago.
The merchants, by their side, need stable and affordable tools to compete in the industry and great teams to manage all the steps (support and supply chain included). The potential I foresee today in the eCommerce industry is the tighter integration between offline and online buying experiences, where the best from both worlds should be assured to the final customer, who is now ready for these next-generation tools.
Q3: What's the biggest change you've seen in post-pandemic eCommerce trends?
The pandemic years have been so complicated and rude for all of us. We have been forced to rethink our social habits, face big fears, and push to find new ways to satisfy our needs.
The technology area – the eCommerce area in particular – offered a great and easy way to overcome many of the problems we were facing in that period, and the use and demand of online tools and services have increased dramatically.
Many of the merchants needed to adapt their business quickly to correctly respond to new and increased needs. This led to an incredible rise in demand for technology partners, system integrators like us, or other types of eCommerce professionals.
This "biggest change" I can still see now, in the post-pandemic era, is the level of expertise raised in technology tools along with the new customers' expectations that now need to be maintained and pushed over new limits.
Q4: What industries do you think will take the biggest piece of the pie due to this surge in eCommerce?
In the first part, it looked like the food industry and healthcare took the biggest push while covering the essential needs. But today, I would say that almost every sector in commerce could benefit from this "revolution."
Rather than a specific winning sector, I see instead more difficulty for the small businesses to join these opportunities; on days like these, the "game" is becoming a "game" for bigger ones, and the new mantras are words like "fusion" and "acquisition."
Personally, I love the small realities and businesses, and I really hope that the new waves in tech will bring new opportunities, distributed and accessible for all (from AR/VR to the Metaverse, passing through our beloved eCommerce platforms enhancement)
Q5: Any specific technology trend where store owners should consider investing?
All the new technologies are coming for a reason. From PWA to new ways to optimize our websites, from AR/VR to personalized content and suggestions: every technology in this list and over has a great potential for everyone.
But I don't think there's a "one size fits all" recipe for everyone: each sector, merchant, and business can benefit in different ways from new tech tools and products. The solution for each of them comes from combining all the ingredients available in the right balance for them in order to obtain their perfect recipe.
Maybe my custom-tailored approach is suggesting this answer, but I really think we have great times in front of us: now it's up to us to suggest to our merchants the right tools for them and make them start using the technology in the right way. From there on, I don't see any limits.
Also, I can't imagine a scenario more exciting than this.
Wrapping Up
So, that was all about today's expert Q&A session. We thank Salvatore Capritta for talking to us and sharing essential insights about the industry. We hope you find this session insightful! For more critical discussions and insights, subscribe to our content and stay updated with what's new in eCommerce and Magento.