Why Online Shopping is Now a Mandate for All Brands: In Conversation with Sailatha Karthikeyan
After the pandemic, the eCommerce industry is now spreading like fire. Thus, the need for developing immersive experiences is now more than ever before. Because if you won't, someone else will do it to take your customers and win the market.
Plus, with an abundance of options available, consumers won't stick to a business that is not providing them convenience like others. So, what shall you do and avoid?
Don't panic. We got you covered!
For this chapter, we have Sailatha Karthikeyan with us who will be providing you all with some invaluable insights to win in the digital space. So, let's get started.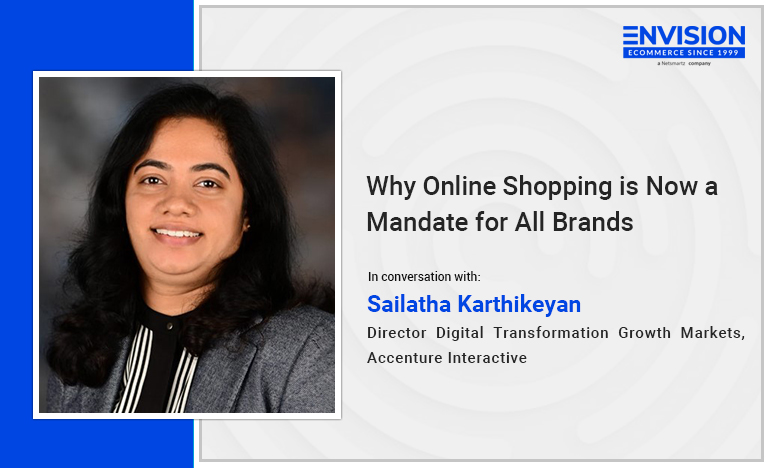 Who did we interview?
Sailatha Karthikeyan is a Digital Transformation Leader, Innovator and eCommerce enthusiast. Having more than a decade of experience in the eCommerce world, she is at present associated with Accenture Interactive as a director of Digital Transformation Programs in Dubai, UAE.
Q1: What exciting projects are you working on right now?
Presently, I am working on many exciting presale opportunities and projects on digital commerce transformation. Few to call out is a large digital commerce transformation project for a retail chain in the Asia Pacific where we are completely building an end-to-end digital commerce B2C online store and rolling out to several markets.
Another is where we are helping a personal care company automate its digital commerce, marketing, and content creation process. Many of the interesting trends that I observed during the pandemic are scalability of supply chain systems, new channels implementations like social media, B2B, and rollout of new markets.
Q2: What potential do you see for the eCommerce industry as a whole?
One of the shifts in consumer behavior due to the pandemic is that they turned to online shopping more than ever before. The fluctuation of the pandemic and the ways it influenced the shopping behavior will likely continue to stay in the future too.
Online shopping is now a mandate for all brands, merchants are developing and optimizing their eCommerce businesses to meet the customers where they are. The eCommerce industry will certainly grow in the coming years and will be in a new direction by all brands.
Q3: What's the biggest change you've seen in post-pandemic eCommerce trends?
Online shopping will continue to grow as shoppers become comfortable buying online.
A radical consumer behavior change we will see is, consumers willing to buy from brands that resonate with them because of geography, company values, experience during shopping, sustainability, trust, and transparency during product delivery cycles.
New commercial opportunities will emerge on the biggest social platforms for the eCommerce industry as consumers will shift from traditional web and mobile applications to social media for their buying.
Q4: What industries do you think will take the biggest piece of the pie due to this surge in eCommerce?
Groceries were in the surge during the pandemic. However, I see Fashion & Apparel, Beauty & Personal Care, and Household Goods also growing with eCommerce in the future.
Q5: Any specific technology trend where store owners should consider investing?
There are many interesting things that store owners can do, for example:
Creating an immersive brand experience by using extended reality to try before buying.
Maintaining a good POS system to support BOPIS and other new delivery methods.
Pick Up and Go using self-checkout technologies, where customers simply pick up the products they want, leave, and then an app automatically detects the SKUs and charges to their bank accounts.
Use AI for data insights on online and offline shopping behavior and trigger real-time offers & promotions when consumers are in store.
Wrapping Up
For this chapter, we interviewed Sailatha Karthikeyan, a Digital Transformation Leader and eCommerce enthusiast. In the conversation, she talked about many interesting upcoming trends and technologies in the eCommerce world like BOPIS, AI, and the need for creating an immersive brand experience. Hope you find this conversation insightful!