A Shift to Online for Local Vendors: In Conversation with Sahil Chugh
The COVID-19 pandemic changed the face of retail and local vendors are now shifting to online channels fast to ensure business continuity. In such a condition, competition in the eCommerce industry is rising and new trends and technologies are emerging every day to help retailers win the race.
It is hard to say who is going to excel and fail in this new normal. However, one thing is clear, if an eCommerce business wants to survive, innovating with the changing trends is crucial to meet the increasing demands of consumers. To find out what these changing trends are, we will be talking to Sahil Chugh, an eCommerce enthusiast in this chapter.
So, let's get started.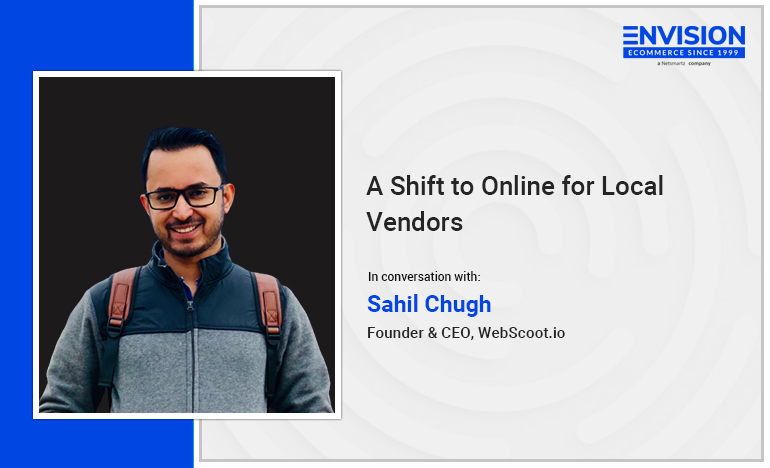 Who did we interview?
Sahil Chugh is an entrepreneur and an eCommerce enthusiast from India. He is currently the CEO of a managed eCommerce hosting company. Since 2009, he has been working with businesses helping them automate, scale and secure their cloud infrastructure.

Let Us Quickly Get To Our Expert's Point Of View.
Question 1- What exciting projects are you working on right now?
As a managed eCommerce hosting company, our goal is to constantly identify ways to improve the overall customer experience. We do this by identifying small improvements and changes that can bring a positive impact on the speed and security of eCommerce websites.
Right now, we are working on a plug-&-play tool that can instantly improve the page loading time of a website along with its Core Web Vitals and Google Pagespeed score. And we have an exciting roadmap planned for 2022.
Question 2: What potential do you see for the eCommerce industry as a whole?
The ease eCommerce has brought to us is irreplaceable especially during Covid-19. I can't imagine going out, standing in queues for grocery shopping. From clothing, medicines to food, everything is just a click away.
Even small vendors have moved to online platforms and seen their business expand. All the factors like internet penetration and post-pandemic consumer trends point towards the multi-fold growth of the eCommerce industry. It all depends on how you make your brand stand out, connect to your customers, and post-sales support.
Question 3: What's the biggest change you've seen in post-pandemic eCommerce trends?
Life before and after the pandemic is totally different. Taking the example of India and the US, the number of frequent online shoppers has increased to 55% and 75% respectively. From what I've seen with my clients across the world, people are now buying more health care items, groceries, medicines, gardening tools, health supplements, and personal hygiene items.
In fact, people are now becoming conscious of what they consume. They're buying local and that's why many local vendors who had shops for so long are now focusing on their online presence. The pandemic has accelerated digital shopping trends and it is likely to stay here for a long time.
Question 4: What industries do you think will take the biggest piece of pie due to this surge in eCommerce?
Although, almost every industry had its share of growth with the right targeting and upselling. But without any doubt, the healthcare industry has had the biggest piece. People are prioritizing their health. According to Accenture's report, 60% of people have two priorities: health & food waste limitation. Be it supplements, vitamins, ayurvedic medicines, yoga, sanitizers – everything is selling like a hot cake.
Question 5: Any specific technology trend where store owners should consider investing?
Making your website mobile-friendly is basic and supremely important. mCommerce is rising and if your website lags or is unresponsive, you're way behind the curve.
If you're not tech-savvy or have your hands full, consider looking for help and accomplish the needful to stay competitive in the market. It is crucial to take care of your website speed, security, and uptime.
Final Words
For this chapter, we interviewed Sahil Chugh, having more than a decade of experience working in the eCommerce industry. He talked about how the eCommerce sector changed after the pandemic and why local vendors are now considering the online shift. Plus, he also shed light on why technology is crucial for eCommerce and how retailers can adapt to mCommerce and mobile-friendly platforms. Hope you find this conversation insightful!