How to Market an eCommerce Business: In Conversation With Rishabh Dev
Driving traction to your eCommerce business is getting tough every day due to increased competition in the eCommerce market. No matter what product type or industry you sell, you will always find competitors struggling to get the market's attention.
In such a condition, how do you stand out? In today's expert Q&A segment, we will talk to a Digital Marketing professional passionate about helping businesses grow to find out the answer to this question. We will talk about everything from UGC to social commerce, customer support, and high-end technologies.
So, let's get started.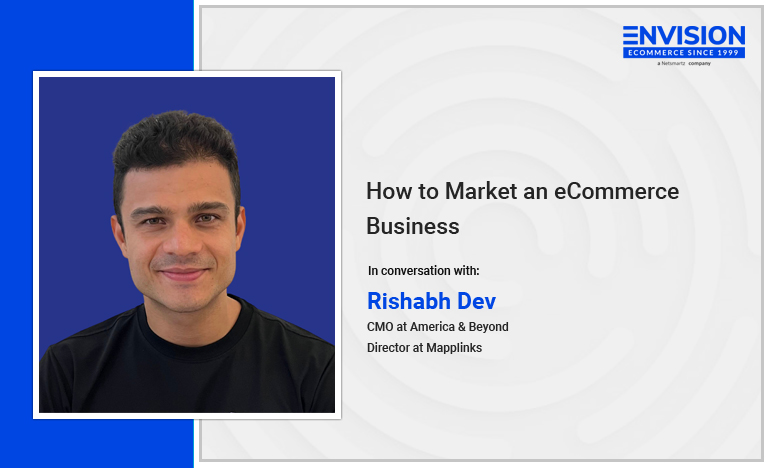 Who did we interview?
Rishabh Dev is the CMO at America & Beyond and Director at Mapplinks. He is also the founder of Edupops, a micro-learning app featuring 1-minute videos that teach you something new. Having 12+ years of experience in Digital Marketing, he is passionate about helping eCommerce businesses grow and reach new heights.
Q1: What exciting projects are you working on right now?
Managing the complete marketing funnel and tech stack for America & Beyond, a women's fashion brand based in the US, focusing on sustainability and fair trade.
Q2: What do you think are the most important trends in eCommerce for 2022 to increase conversions and boost sales?
It's important, more than ever, to build a diversified user acquisition stack covering not just multiple ad platforms but also retention and repeat revenue channels such as Email Marketing, SMS Marketing, Push Notifications, and Messenger Automations. These channels help balance the ever-increasing CACs and CPPs, while also improving profit margins.
UGC is a trend here to stay. Consumers trust other consumers more than your brand.
With TikTok Ads, you can improve the top of the funnel and drive mass attention to your brand and product at a lower cost. Make sure you measure conversion rates carefully and see if it's a good fit for you.
Another key trend is customer behavior – customers are more careful about their purchases focusing on sustainability and fair trade. Chatbots for customer support, social commerce, and live shopping experiences are also picking up.
Q3: Customer Experience is at the heart of eCommerce. What should a good eCommerce customer experience journey look like, according to you? Is it all about digital touchpoints, or do physical interactions matter as well?
A brand can be completely digital or have physical interactions, too – I feel that would totally depend on the business itself and how the decision-makers want to position it.
In either case, one thing that's common and important is to have multiple touchpoints.
Even if you're operating 100% online, remember that you must create brand impressions across channels to map the user's journey.
Follow the journey of what your users do and how they behave and then build touchpoints to help them shift from Point A to B and guide them through the purchase.
For example, a user might find you on Instagram ads but then also visit your Facebook page, see your brand reviews, come back to your product page, read customer reviews on your product, sign up for your email list, get a push notification from your store, come back to your cart through abandoned cart automation, search about you on Google, go back to your store and purchase.
This is not unusual, as you can find in your conversion path reports on your Analytics! It's important to understand the behavior and then follow the path to build your strategy to guide users through their journey, not just before purchase but even post-purchase, and through to their second order and, eventually, to improve LTV.
Q4: What technologies, platforms, or channels should marketers or brands use to excel in the digital commerce world and turn their businesses into brands?
I would suggest picking one platform for each marketing channel that you can excel at. Brands should still know what other channels are out there and keep exploring options. For example, you can excel at Klaviyo for email marketing but also see what other options are out there and how they can help you improve.
I recommend looking into AI for content generation and product recommendations in terms of technologies. Collaborative filtering is a good algorithm to show users what they might like, and it's used heavily by the likes of Amazon in the eCommerce industry.
Q5: What potential do you see for the eCommerce industry as a whole? And which industry verticals would take the biggest piece of the pie after the surge in eCommerce sales due to the pandemic?
eCommerce has plenty of room for growth. Forecasting experts at Morgan Stanley put the growth target at $5.4 trillion in 2026, reaching 27% of all retail sales by 2026.
Of course, the pandemic accelerated the growth rate, from 15% in 2019 to 22% now, but what's more important is to look at the long-term forecast.
I personally feel categories like beauty, apparel, and even grocery would continue to grow, as well as some of the established high-growth categories like electronics.
Tech is one of the bigger tailwinds behind the eCommerce growth story; as tech continues to evolve, growth in eCommerce is a given.
Q6: Any specific tips that you would like to provide for brand owners, marketers, and others juggling to scale an eCommerce business?
I would be happy to share three tips that have worked really well for me as well as my clients and businesses:
1. Always experiment – Keep testing new channels of acquisition, retention, and referrals. Make sure you're not over-dependent on any one channel. When you have more channels, you have more opportunities to scale without hitting the ceiling.
2. Keep innovating at the product level – Sometimes, we can get too focused on experimenting with creatives and ads that we forget to innovate at a product level. Focus on what else your audience wants in terms of solving their problems. You can scale at a much broader level in terms of both product catalog and audience personas without going away from your brand's mission and vision.
3. Sometimes, it's okay to maintain your run rate for a while – Remember that it's not always about scaling. Make the final decision based on your profit margins. If you have to maintain your revenue rate for a few months to maintain profit margins, my personal opinion would be to protect your margins and then use that to scale later when you're ready!
All the best.
Wrapping Up
So, that was all about today's session. We thank Rishab Dev for talking to us and sharing essential insights about the industry. We hope you find this session insightful! For more critical discussions and insights, subscribe to our content and stay updated with what's new in eCommerce and Magento.