The Future of eCommerce is Headless and PWAs: In Conversation with Pradip Shah
To excel in the eCommerce industry, retailers need to adopt emerging technologies that help them offer a personalized customer experience and simplify their business operations. With the competition rising in the online markets, it is hard to say exactly what would be the future of eCommerce.
However, in this chapter, we interviewed Pradip Shah, an eCommerce expert with over 35 years of industry experience to collect some insights about the ongoing trends in the eCommerce world. He provided us with many valuable insights during the conversation and we hope it helps our readers as well.
Let's tune into the conversation.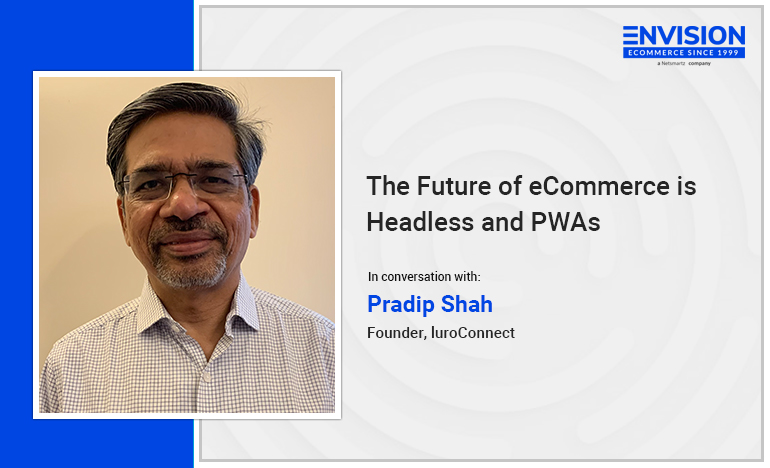 Who did we interview?
Having 35 years of experience in the eCommerce industry, Pradip Shah is the Founder of Luroconnect, a managed hosting service company in Bengaluru, India. He is an out-of-the-box thinker who believes that the eCommerce industry has immense potential and retailers just need to find the right way to harness the same.
Let Us Quickly Get To Our Expert's Point Of View.
Question 1: What exciting projects are you working on right now?
We are working on many exciting projects as of now. However, many of our projects involve the development of B2B and B2C marketplaces having unique business models and ideas.
I believe the pandemic forced local vendors to make a shift to online channels and that is why most of our projects are from local markets in the USA and UK. Apart from that, PWA technology is also gaining a lot of traction these days and we are also working on PWAs for some brands.
Question 2: What potential do you see for the eCommerce industry as a whole?
Pandemic broke a barrier in eCommerce – while the large players grew, underneath the general press view, individual brands grew as well. We have seen customers double or triple their revenues in the last year. I expect that trend to continue with many more brands treating eCommerce as far more important than they did earlier.
Question 3: What's the biggest change you've seen in post-pandemic eCommerce trends?
A: Websites which were traditionally a small part of many brand businesses, are now a recognized outlet. Now proven, processes have been built around them. For example, in India, returns (RMA) have become the norm even for small to mid-market vendors.
Question 4: What industries do you think will take the biggest piece of the pie due to this surge in eCommerce?
Fashion is clearly the biggest winner in the surge. Groceries is another, but business model problems due to thin margins, persist with that category. However, a lot of grocery retailers are finding unique ways to deal with the problem.
For example, many of our grocery delivery clients are utilizing technologies like headless commerce to grow their brand by offering a unified customer experience across all channels. They are also investing in PWAs and mobile technology to make the process of ordering and getting delivery faster for customers and profitable for the businesses.
Question 5: Any specific technology trend where store owners should consider investing?
Headless and PWA. The ability to send a notification to a customer is possibly the #1 feature. Away from marketing, but to more transactional – order status, abandoned cart – which will organically bring back a customer to the store.
Wrapping Up
For this chapter, we interviewed Pradip Shah, an eCommerce expert and enthusiast. We thank him for sharing many invaluable insights with us. We indeed believe in the potential of Headless and PWAs for scaling an eCommerce business and could not agree more with every bit of information mentioned here. Hope you find this conversation insightful!