B2B Landscape in eCommerce: In Conversation with Paul do Forno
In today's world, eCommerce has become an integral part of the business landscape, and its importance continues to grow. To shed some light on this topic, we had the pleasure of speaking with Paul do Forno, a leader in the Commerce Practice.
In this interview, Paul shares his insights on the eCommerce industry, including his experience in successful projects, current trends, and predictions for the future. He also provides valuable advice for those seeking to enter or grow in the industry. Join us for this informative conversation with a subject matter expert in the eCommerce space.
So, let's get started.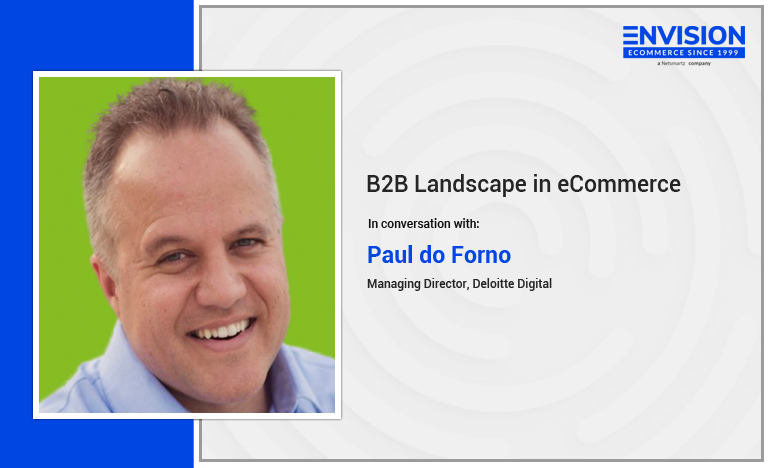 Who did we interview?
Paul do Forno is a Managing Director at Deloitte Digital and a leader in the Commerce Practice. With over 25 years of experience, he has worked with numerous big players in the eCommerce industry and loves sharing his learnings with the world.
Q1: Can you tell us a little about your background and experience in the eCommerce industry?
I have over 25 years of experience in strategy, digital experience, and technology. Having worked with companies like Target, Foot Locker, Hyatt, BMW, GE, and Victoria's Secret, I led some of the world's largest digital platform programs with some of the biggest brands.
I frequently speak at digital/eCommerce events and have been featured as an eCommerce subject matter expert in many publications. I have worked closely with research analysts and hold several executive advisory board positions with top enterprise eCommerce platforms.
Q2: Can you describe a particularly successful project or campaign that you have worked on in the eCommerce space?

We worked with a specialty chemical distributor to add B2B Commerce to their business which grew significantly to over $100M business. A year later, after over 50% growth in the second year, they were carved out and sold, and PE estimated that their eCommerce investment added $650M to the purchase price—a massive return of over 100X in less than two years.
Q3: Can you tell us about a current trend or development in eCommerce that you find particularly exciting or noteworthy?

Most of the time, people forget about B2B eCommerce, but it actually has the largest potential TAM vs. B2C. For example, in the last year, the TAM for B2B Commerce is approximately 17 Trillion in B2B Sales. Currently, B2B Commerce is a small portion of eCommerce, but it is sure to grow. While B2C eCommerce slowed down its growth by under 10% last year, B2B Commerce grew at >17%.
B2B companies have been laggards in investing in technology. They are now being forced to do it by the market because many of the companies have older workforce retiring and need new tools to enable the new workforce. The opportunity is not only a cost saving but helps to drive net new sales because industrial companies are able to drive new sales channels when in the past, they would need to hire a sales team.
Q4: How do you see eCommerce evolving in the next 5-10 years?

I will focus on B2B Commerce. You will start to see B2B Commerce more integral overall for Businesses selling, and it will be omnichannel:
Direct eCommerce
Own Commerce Marketplace
3rd Party Commerce Marketplace
Procurement Network (Punchouts)
The movement of EDI Networks to channels above
These are massive transformations that large B2B companies will go through and change the complete way they buy and sell.
Q5: What advice would you give to someone just starting out in eCommerce or looking to break into the industry?
Most important, especially as we have seen over the last couple of years, eCommerce is long-term growth, and there are many opportunities, don't believe the hype or the low. I have seen extreme gyrations that eCommerce would take over everything.
The important thing is to understand that eCommerce is not just about the purchase but the whole buying process from consideration to identifying to buying to owning to loyalty. Understand how eCommerce fits into the Omnichannel experience your customers include in-store and all around.
Wrapping Up
So, that was all about today's session. We thank Paul do Forno for talking to us and sharing essential insights about the industry. We hope you find this session insightful! For critical discussions and insights, subscribe to our content and stay updated with what's new in eCommerce and Magento.