Consumers Are Now More Confident in Buying Online: In Conversation with Oleksandr Kravchuk
eCommerce is an ever evolving industry. Nowadays, retailers are doing everything possible to meet the demands of their customers and survive in the market. While it may look like everything is changing fast, it is crucial to keep an eye on emerging trends and technologies that can help you do wonders in the online world. 
Let's talk to our today's experts to learn more about eCommerce trends and potentials that retailers should be aware of.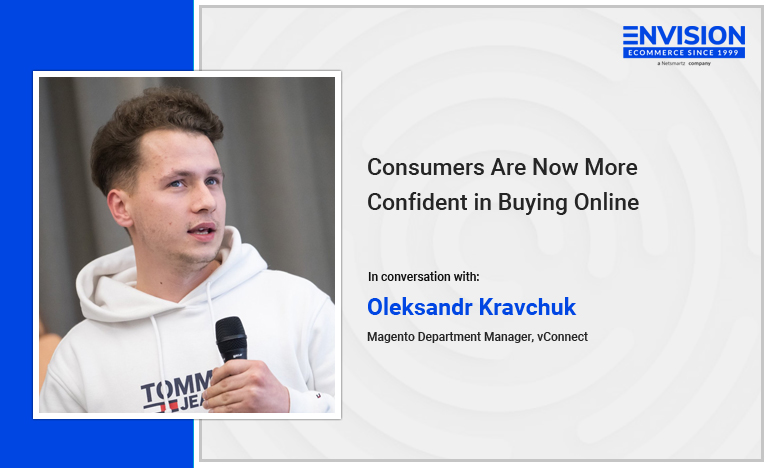 Who did we interview?
Oleksandr Kravchuk is the Magento Department Manager at vConnect. He was recognized as one of the top50 contributors in 2019 and as Magento Master Maker in 2020. Having over seven years of experience in eCommerce, he is responsible for providing exclusive experiences to vConnect's clients by helping them launch high-quality eCommerce solutions.
Q1: What exciting projects are you working on right now?
Currently, I work at the Danish digital agency "vConnect". It is a leading organization that provides development services based on the Magento 2 platform. At present, we are working on different projects with different clients. I want to mention a Danish coffee brand here, which also became our partner.
It was launched in 2011. The partnership between our companies started many years ago. We delivered them a webshop on Magento 1 and recently finished migration to Magento 2. From the very beginning, the story of this brand could be considered a success story for small eCommerce retail.
They had never had brick & mortar stores. Still, they rapidly expanded to an extensive international business in more than ten countries and are getting more than 5000 orders daily. That makes this project an exciting one for me.
Q2: What potential do you see for the eCommerce industry as a whole?
Well, I would say that we could expect much more stories like the one mentioned earlier.
Since ancient times, commerce has always been a part of almost any civilization. The way of doing commerce went hand in hand with social and technical development. eCommerce appeared due to the invention and wide use of the internet. Has it changed during these years? Definitely.
In general, it used to be a 'side option' to traditional ways of selling things. However, the COVID-19 pandemic turned things upside down and made eCommerce an integral part of many businesses. But what is most important is that customers' behavior was also changed. And we could expect more transformations in the industry in the future.
I would suggest that in the future, we will continue to see an upward trend of industry growth. However, speed could be slightly slowed down in comparison with the last few years.
The business realized that having an online channel is not a feature but rather a necessity. Customers continue experimenting with buying things online, and there will be fewer things that could be bought offline only. I would never say that eCommerce could fully replace traditional offline sales channels – customers would always be interested in an opportunity to look at and touch goods before purchase, especially when we are talking about costly products with an extended lifecycle.
Q3: What's the biggest change you've seen in post-pandemic eCommerce trends?
People are returning to offices, and it's making a corresponding impact on the industry. However, our customers are not the same as they were before Corona's time. New consumers are more confident in buying online. They do not want to spend much time shopping for essentials – preferred formats are shopping at home or the possibility to order online and pick up in-store while driving home.
In such conditions, the Omnichannel experience nowadays turned into a required feature for retail brands. Customers expect that re-opened stores would provide them the same high-quality experience that they were providing in online webshops and vice versa.
Shoppers are more open to experiments, especially those which could provide them better safety. I was excited to see how Augmented Reality helps retailers improve their customer experience. Collaboration between Farfetch (fashion retailer of luxury goods) and Snapchat allowed you to try on clothes that you liked by using your mobile phone camera! And it should not be limited to the fashion retails segment. Would you like to renew furniture in your apartments but are not sure if it suits your current design? No worries, companies like iONE360 provide services for merchants who could exactly show how a specific product would suit & fit an interior with the help of your smartphone camera.
Unfortunately, nowadays, I see many SME (Small and Medium Enterprises) merchants who are frustrated with their experience within eCommerce. And that is a real challenge for our industry. Some business owners and digital agencies are wrong in thinking that eCommerce only involves opening a webshop. And they are missing such parts as search engine optimization (SEO), data analytics, continuous improvement for UI/UX to provide the best customer experience, and development of marketing and brand strategies.
Another problem is that some merchants make their choice on tools that could not be appropriate for their business size. Nowadays, we have dozens of different options to do business online: social media (Instagram, Facebook, TikTok), marketplaces (Amazon, eBay), and SaaS solutions (Wix, Bigcommerce, Shopify). A properly developed and promoted on-premises website is an expensive option and should be wisely considered according to the business size. In other words – if you are planning to buy a yacht, you should consider not only its cost but also additional expenses and maintenance, shouldn't you?
This question is mostly cultural and educational. And I honestly believe that digital agencies should not only take care of delivering a working website to their client but also consider if that's the most appropriate option for their business size and if that's a product that could accelerate their business, and if required, walkthrough alternative solutions.
Q4: What industries do you think will take the biggest piece of the pie due to this surge in eCommerce?
I would say that those who are providing infrastructure will gain an advantage from the current situation. I am talking not only about digital agencies but all kind-of solution providers who are building eCommerce infrastructure.
Firstly, those platforms and tools that require the least effort to launch online sales would play a big role in this action. Again, that's about marketplaces, and I believe we could imagine not only Amazon being a key player, but also many countries have domestic players, which have grown from eCommerce stores into marketplaces and now are taking benefits from the current surge.
That, on the one hand, provides an opportunity for SME businesses to go online fast. On the other hand, it creates additional sales channels for those who are already present online. As a result, big players not only benefit from growing their own sales but also from marketplace commissions. 
Secondly, social media continue their way into transforming into meta universes and extending capabilities to be used in eCommerce. In recent updates, Instagram introduced an additional section in their mobile UI that is fully dedicated to online shopping. In such a way, we could observe that social media is being extended into marketplaces. Thirdly, SaaS and PaaS tools for a quick start in eCommerce (e.g., Bigcommerce or Shopify) opened their capacities for merchants all over the world. However, having your own site requires a strong brand strategy to stay competitive with other webshops. 
Fourthly, Medium and Large Enterprises most often have their own websites, which creates additional opportunities for digital agencies to provide software development services. Even those who are already represented in the eCommerce world and went successfully during pandemic years could consider upgrading their capacities and switching to tools more appropriate to their business size and ambitions, like Adobe Commerce or SalesForce Commerce, or even own technological solutions.
Additionally, I would mention professional delivery services that have always been the backbone of eCommerce. They will definitely benefit from this surge. It includes those which provide supply chains between countries, regions, and especially last-mile delivery, which became popular during COVID-19 to deliver orders directly from retail stores.
If we could talk from the perspective of merchants, I would consider that it will first benefit those who are selling essentials. Even though people are returning to offices, many still consider working from home or practicing hybrid work. For such people, at-home stores and online stores which could deliver first necessity goods would bring the biggest value. Secondly, for many, home became not only a place where they used to sleep and live but also a workplace and place for entertainment. Furniture retailers and the gaming market will be among those who will benefit from the surge.
Q5: Any specific technology trend where store owners should consider investing?
Besides the trends mentioned before, I would like to highlight changes in customer behavior caused by a rapidly growing number of Mobile users in developed parts of the world. For example, in countries of the Middle East, mobile experience comes first, as phones are more frequently used to make online purchases in comparison to regular desktop devices. In Europe, this trend is rapidly replacing traditional ways of online shopping. For some businesses, it requires the development and support of mobile applications in addition to webshops or investments in re-building them into Progressive Web Applications (PWA).
Artificial Intelligence (AI) is one of the things which transformed from the topic of science fiction movies into tools that help improve customers' experience and increase online conversion. Product recommendations, intelligent product merchandising, and live search nowadays widely use collected information and help merchants to turn it into an exclusive buying experience. Fashion retailers widely use AI to reduce return rates by fit predictors. As an example, startup 3D LOOK provides services that could offer customers the best size by using only two photos. 
Blockchain is also a technology that is being rapidly developed and integrated into our lives. While cryptocurrencies still barely could be used as a payment option due to legislative regulations and high volatility, trends like non-fungible tokens (NFT) create new markets. NFTs provide a way of selling digital goods by providing a certificate of authenticity or proof of ownership. Such technology could resolve many issues with intellectual property—an incredible example of the usage of NFTs in the virtual real estate market. People spend real money to buy pieces in virtual worlds, also known as Metaverses. I am a real fan of Ernest Cline's novel 'Ready Player One,' and it fascinated me how close we are approaching the world described by the author. I assume that in the near future, 'virtual-physical stores' could become additional sales channels in eCommerce.
Wrapping Up
For this chapter, we interviewed Oleksandr Kravchuk, Magento Department Manager at vConnect. Being an eCommerce expert, he shared many invaluable insights with us on what eCommerce retailers should keep an eye on to survive and thrive in the eCommerce world. Hope you find this conversation insightful!