How to Scale an eCommerce Business: In Conversation with Nathan Hirsch
While there are several challenges that you need to overcome while managing an eCommerce business, sorting your finances is one of the major ones. It doesn't matter if you need to sell via your own store, Amazon, Etsy, or social media; you need a stable system to manage your finances.
A seamless bookkeeping and accounting process can help maintain your business's financial integrity. But how can you streamline all of these processes? In this Q&A segment, we will talk to an eCommerce specialist that helps companies master their finances to know some of the invaluable details about growing an eCommerce business.
So, let's get started.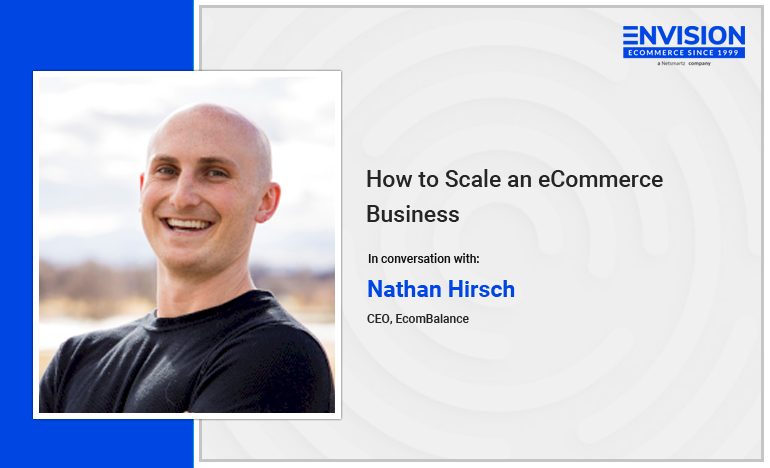 Who did we interview?
Nathan Hirsch is the Chief Executive Officer (CEO) at EcomBalance, a leading organization providing high-quality monthly bookkeeping services for online and eCommerce businesses. He is passionate about helping eCommerce business owners manage their finances in a way that allows them to grow.
Q1: What exciting projects are you working on at present?
I'm super excited about one of my companies, EcomBalance. EcomBalance is a monthly bookkeeping service for the eCommerce industry. We started the company at the start of 2022 after interviewing 100+ eCommerce business owners and seeing that there is a real need for a better bookkeeping service in the space.
We're growing fast (adding 5-10 new clients each month), and we've grown our team to 10+ bookkeepers. I'm super excited about getting all of our systems up and running efficiently so that we can start to grow quicker and cater to more eCommerce entrepreneurs. We're on a mission to help 1,000+ businesses better understand their numbers.
Q2: What do you think are the most important trends in eCommerce for 2022 to increase conversions and boost sales?
Personalization. As eCommerce continues to grow, the need for personalization becomes greater and greater. In product listings, advertisements, email campaigns, and everywhere else, the more personalized you can make your message, the better you'll be able to connect with your ideal customer. And once you've made them a customer, it's all about personalizing your communication with them so that you can turn them into repeat and loyal customers.
Q3: Customer Experience is at the heart of eCommerce. What should a good eCommerce customer experience journey look like, according to you? Is it all about digital touchpoints, or do physical interactions matter as well?

It's digital and physical—Digital for the entire experience leading up to the purchase. Physical for once the package has arrived. The digital experience should be simple, trustworthy, and transparent. If the customer wants to buy something, it should be as simple as a couple of clicks to get to the thank you page.
Once they receive the item, they should be greeted with a nice, physical insert displaying what the brand is all about and thanking them for being customers. The experience then goes back to digital as the brand reaches out to the customer for feedback.
Q4: What technologies, platforms, or channels should marketers or brands use to excel in the digital commerce world and turn their businesses into brands?
Shopify for building their online store. Amazon to tap into millions of customers that shop there. Klaviyo for email marketing. Social media channels like Instagram, Facebook, Youtube, and TikTok. New channels and apps are constantly popping up that can help you improve the eCommerce experience. eCommerce brands need to be on the lookout for these at all times.
Q5: What potential do you see for the eCommerce industry as a whole? And which industry verticals would take the biggest piece of the pie after the surge in eCommerce sales due to the pandemic?

The eCommerce industry is poised to continue to grow over the next 10-20 years. As more and more people move to shop online, eCommerce total sales in comparison to in-store retail stores will continue to grow. All channels have the opportunity to continue to thrive from the big jump in eCommerce sales from the pandemic. It's all about how the brands approach the situation and keep growing.
Q6: Any specific tips that you would like to provide for brand owners, marketers, and others juggling to scale an eCommerce business?
Don't try to do it all yourself. Perfect your internal systems, then hire intelligent people with expertise in different areas of running your eCommerce business. To build a multimillion-dollar brand, you need a team behind you leading the charge.
Wrapping Up
So, that was all about today's session. We thank Nathan Hirsch for talking to us and sharing essential insights about the industry. We hope you find this session insightful! For more critical discussions and insights, subscribe to our content and stay updated with what's new in eCommerce and Magento.