The Key to Keep Your eCommerce Customers Happy: In Conversation with Mehar Sridhar
Customers are at the heart of eCommerce. No matter what strategy you formulate and implement, your primary consideration should always be how your customers will react to it.
That's why we recommend that you must put yourself in your customers' show before planning to make any change in your eCommerce customer journey. Let's learn more from an expert to find out how you can keep shoppers happy and business afloat in 2023 and the coming years.
So, let's get started.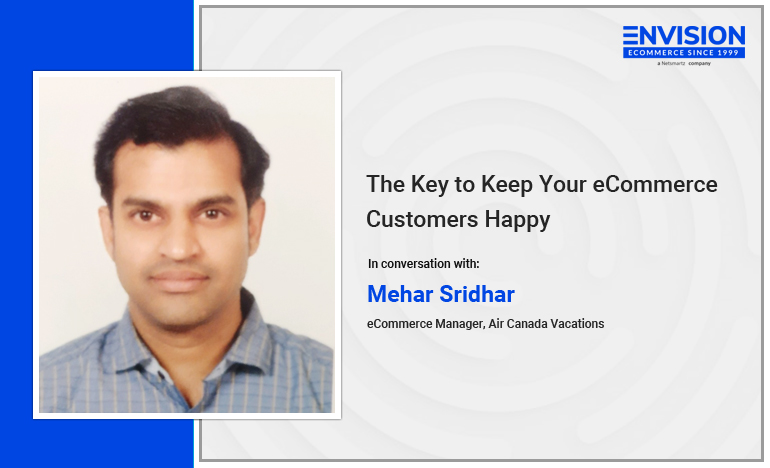 Who did we interview?
Mehar Sridhar is an eCommerce manager at Air Canada Vacations. Having worked with several organizations in different roles, he is well-versed in everything related to eCommerce. He also has a proven ability to conceptualize, design, and kick-start digital growth for startups and mid-sized organizations.
Q1: What exciting projects are you working on right now?
I am currently transitioning to a new role. In the recent past, some projects that I have worked on are
Pre-order (Booking via website) of onboard meals for an airline in the Middle East
Development and deployment of a new B2B booking tool for travel agents. This allowed them to book directly via the airline's website while ensuring a seamless process of Money Deposits – > Booking -> Regular Reports needed for settlement.
Integration of a personalization tool with an airline's website. It aimed to predict a 'booker's behavior' and ensure relevant content is displayed to them, boosting overall conversion rates.
Getting the analytics tool ready for the transition to GA4
An online check of vaccination status while doing a web check-in. It has reduced the number of passengers queuing at the airport, which severely strains the airline's ground staff.
Other revenue-generating activities along with regular support and maintenance.
Q2: What are the most important trends in eCommerce for 2022 to increase conversions and boost sales?
There's ample literature in the public domain as to what constitutes a good customer experience but what lies at heart is this:
A faster realization that AI will dominate the regular digital marketing upkeep. A one-stop solution/tool, if you may, that will drive:

Deployment of creative assets and then the eventual campaigns
Optimization of the said campaigns toward a greater ROI
Better optimization rates through unique customer journeys, which is a by-product of a relentless focus on bettering the customer experience.

Payment methods have also evolved rapidly to keep themselves apace with online customers' demands. While this has significantly differed region-wise (for example, the boom in South Asia and the Middle East), this has been one of the biggest takeaway trends of 2022.
The above-mentioned has also fueled customer loyalty in 2022. Customer retention is a significant focus area for retail and travel commerce.
Mobile still leads the way and even greatly so, and this will not slow down.
Chatbots have also seen greater adoption in 2022 though some wrinkles still need to be ironed out.
Metaverse got the marketing minds thinking, though the regular adoption still has some way to go (we are yet to see the practical uses).
Greater awareness of sustainability commerce, aka the sustainability aspect of eCommerce.
Q3: Customer Experience is at the heart of eCommerce. What should a good eCommerce customer experience journey look like, according to you? Is it all about digital touchpoints, or do physical interactions also matter?
There's ample literature in the public domain as to what constitutes a good customer experience but what lies at heart is this:
Deliver an omnichannel CX (Both digital and physical touchpoints) while ensuring the 'emotions' are taken care of, i.e., Customer Delight and Customer Surprise.
Of course, a sound content strategy doesn't hurt, either! Following these two trends, you will soon have an online community of die-hard loyalists.
Q4: What technologies, platforms, or channels should marketers or brands use to excel in digital commerce and turn their businesses into brands?
Honestly speaking, mentioning any particular name would be a gross injustice to another. The eCommerce tech stack has evolved vastly, and the usage of one is hugely dependent on below:
The overall goals and the presiding vision of the company (This is crucial, and it dictates the direction of 'digital' adoption)
The stage at which the company is (start-up / mature)
The 'cost' and the 'budgetary' comfort (boils down to the affordability aspect)
Ability to predict or align oneself with the industry trends
Q5: What potential do you see for the eCommerce industry as a whole? And which industry verticals would take the biggest piece of the pie after the surge in eCommerce sales due to the pandemic?
Given what has happened in the past two years, one can only be gung-ho about digital commerce. The pandemic has taught companies to be digitally nimble and leaner than ever before, which has prepared a platform that will allow brands to leapfrog over the competition. So, the revised future forecasts are only a reflection of the prevailing positive spirits.
In terms of industry verticals, the usual suspects like Fashion and Apparel, Personal Care, Travel, Entertainment, Household Consumption Goods, Electronics, etc., will possibly lead the way. But do not discount the impact of sustainability in the current and near future. This will affect the adoption rates.
Q6: Any tips that you would like to provide for brand owners, marketers, and others juggling to scale an eCommerce business?
Personalize your content
Read the pulse. For example: If the industry sways towards subscription, be on top of it.
The Customers are the heart. Keep them at the center of what you do.
Measure. Remember, what you can't measure (analytics, i.e.), you can't optimize.
Wrapping Up
So, that was all about today's session. We thank Mehar Sridhar for talking to us and sharing essential insights about the industry. We hope you find this session insightful! For more critical discussions and insights, subscribe to our content and stay updated with what's new in eCommerce and Magento.