The Importance of being Omnipresent for Retailers: In Conversation with Maxime Carey
There is so much going on in the eCommerce industry, and retailers are upgrading their games fast. The main focus of every business owner is to be omnipresent for greater success.
Thus, they are developing eCommerce stores or shopping cart apps where buyers can order products with a few taps. On the other hand, those who already have an online presence are investing in building physical stores to provide consumers with a 360-degree experience.
Let's get into this exciting interview and find out what the term omnipresent should mean for retailers and how they can scale in an era where commerce is going omnipresent.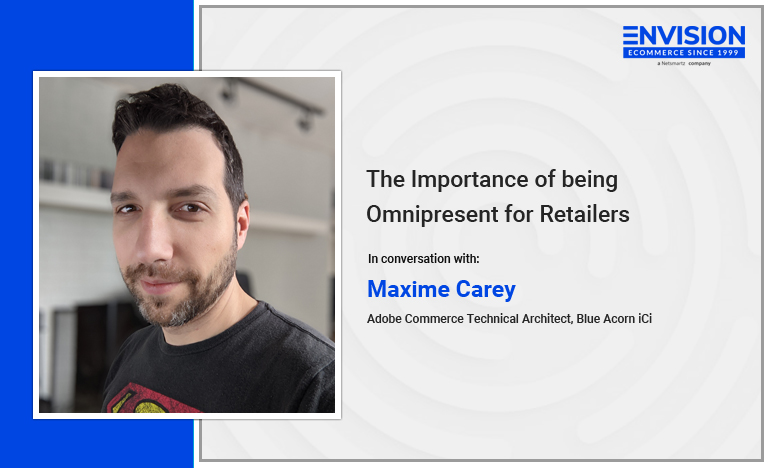 Who did we interview?
Maxime Carey is Adobe Commerce Technical Architect at Blue Acorn iCi. In 2015, he also started his own full-time web development company, mainly aiming at eCommerce, advanced CMS deployment, and high-performance requirements. Maxime is a fan of Agile teams and open-minded individuals who make innovation happen.
Q1: What exciting projects are you working on right now?
The eCommerce industry is becoming more exciting with every passing day, and we often get to see a new project and challenge. Though at present, I am working on a Walmart new Store fulfillment extension for Magento (BOPIS solution) as a Technical Architect.
Q2: What potential do you see for the eCommerce industry as a whole?
There is a renewed interest in eCommerce from merchants. While we see a cyclical uptick in eCommerce, this latest boom is most probably the biggest one since the dot com area. There have been tremendous technological changes in the last five years (ex: PWA, omnichannel), and merchants were not keen to jump on some of them that were seen as the current flavors.
Q3: What's the biggest change you've seen in post-pandemic eCommerce trends?
The pandemic has confirmed the trend we've been seeing in the last decade. eCommerce is becoming omnipresent and has become the main channel, stealing brick and mortar stores place. Online was just another retail point, whereas now the reflex is to check online, and then, if the customer needs the item right away, will walk into a store. And with the delays that shipment incurs, especially in the pandemic with a huge surge in deliveries, buy-online-pickup-in-store (BOPIS) and parcel lockers / drop-points are becoming a must-have.
Q4: What industries do you think will take the biggest piece of the pie due to this surge in eCommerce?
Previous sectors that had been reluctant to adopt eCommerce or where the customer base wasn't techno-friendly. I'm mostly thinking about grocery stores, restaurants, and some big brands of clothing and apparel. Merchants had to rethink their business model in a lot of areas, either because of the forced closure or because of the reduced business volume at their physical stores.
Q5: Any specific technology trend where store owners should consider investing?
Omni-platform / Omni-channel – Stores need to be reachable through mobile, desktop, tablet, and marketplaces. This requires reactive and functional frontends (thinking about PWA), good marketplace integrations, and even better omnichannel CRMs, because of the increased difficulty of qualifying leads/target customers.
Wrapping Up
So, that was all about today's expert Q&A session. We thank Maxime Carey for talking to us and sharing essential insights about the industry. We hope you find this session insightful! For more critical discussions and insights, subscribe to our content and stay updated with what's new in eCommerce and Magento.