The Importance of Site Search in eCommerce: In Conversation with Mateusz Kuczmiński
The eCommerce industry is booming. However, the fact is that if you want to scale in this industry and attract more consumers, you need to market your business well. There are many opportunities right now, but there is also a lot of competition.
Thus, if you are serious about growing an online business in 2022 or years beyond, you need to put a strategy in place by analyzing all the emerging trends and technologies. In today's expert Q&A session, we will look at how you can do that easily and effectively.
So let's get the talk started.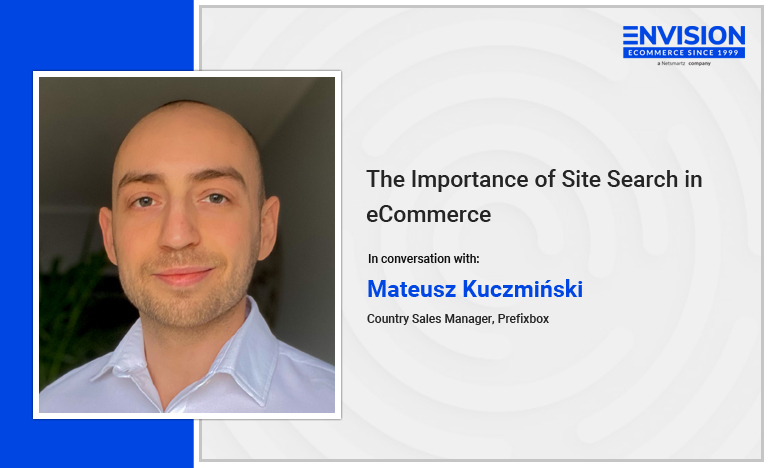 Who did we interview?
Mateusz Kuczmiński is Country Sales Manager at Prefixbox. Having around a decade of experience in the eCommerce world, he is passionate about helping retailers increase their conversions with eCommerce search.
Q1: What exciting projects are you working on right now?
We work with multinational eCommerce retailers across all different sectors to optimize their on-site search. This is a unique opportunity as search users often drive more than 70% of an online store's revenue, and search itself is a very complex topic that most people underestimate.
Last month, I also got the opportunity to talk with huge retailers like eObuwie, MediaMarkt, Carrefour, and Auchan about how fully leveraging the potential of search can make a massive difference in not only their KPIs and business goals but also in their customers' shopping journey.
Ending up on a no results page is one of the worst experiences shoppers can have, and we are on a mission to eradicate that. We aim to make online shopping much easier and faster for millions of people.
Q2: What potential do you see for the eCommerce industry as a whole?
This industry has been radically impacted by COVID as we all have heard many times. With the supply chain and logistic challenges, many consumers shifted to buying online and we've seen a huge rise in eCommerce popularity as it is a borderless solution.
Since this has now become many people's daily shopping habit, we don't think this trend will reverse any time soon; instead it will snowball and eventually become the primary means of shopping.
This means e-tailers need to have a stronger focus on UX (i.e., professional search solutions, easy payments, quick shipping) to guarantee the best shopping experience. Personalization is becoming even more important as shoppers expect results tailored to their needs.
Q3: What's the biggest change you've seen in post-pandemic eCommerce trends?
In terms of retail segments, we've seen a major rise in the popularity of online pharmacies. These companies are adapting their business model to regulations so that consumers can partially redeem prescriptions online.
In relation to business: we've seen a rise in the importance of search because so many physical stores are often sold-out of products; people are looking online first (or ultimately, purchasing online) before spending the time to go to a physical store to make sure they have the product in stock.
We're also seeing people purchasing more and more products online at a time. This is due to a myriad of factors – one of the primary reasons is that people want to limit close contact with others.
Tangentially, there have been big changes in shipping processes – same-day or next-day deliveries are increasingly popular. This is partially due to the fact that people are buying everyday items online, and they need them ASAP.
There are also new delivery means – in Europe, we have seen a rise in parcel lockers and experimentation with drone/robotic delivery.
These were big changes retailers had to make in a short period of time, but in the long run, they helped retailers become more profitable because their online channels are more successful and require less personnel now. It might become the case that we see fewer physical stores opening as shoppers turn to online purchasing more frequently.
Q4: What industries do you think will take the biggest piece of the pie due to this surge in eCommerce?
We have seen that online revenue has increased nearly in all segments. However, FMCG and online pharmacies have been the biggest change, as these sectors were impacted the most during COVID. Fashion has historically been one of the most popular segments and most likely will continue to be.
Q5: Any specific technology trend where store owners should consider investing?
Of course, we're biased, but the search is an especially important part of an eCommerce store that is very difficult to solve and often overlooked. Since online shopping is becoming even more common and there is increased competition among retailers to be the preferred choice, retailers have to focus more on user experience than ever before.
Shoppers often have specific products in mind that they're looking to buy online, which is why search is so critical and became even more prominent during the pandemic – when people were looking for targeted items that they needed quickly.
A state-of-the-art search solution streamlines a shoppers' journey and helps them find what they're looking for, which gives them a great experience, can create customer loyalty and increases a retailer's online revenue.
We are happy to share site search best practices with any retailer who wants to learn more, or you can find more information at prefixbox.com/blog.
Wrapping Up
So, that was all about today's session. We thank Mateusz Kuczmiński for talking to us and sharing essential insights about the industry. We hope you find this session insightful! For more critical discussions and insights, subscribe to our content and stay updated with what's new in eCommerce and Magento.