Digital Transformation All-Around: In Conversation with Justin Thomas
Selling on Amazon, eBay, or have your own eCommerce store? You must be looking for a way to sell more and increase profits. eCommerce is an industry full of potentials but you need to set the right plan to get maximum benefits.
That's where you need an expert's advice. And, don't worry! We got you covered! Envision eCommerce started this expert Q&A series to help budding entrepreneurs sell more profitably online. Our today's expert is Justin Thomas, an eCommerce expert with over 15 years of experience in the industry.
So, let's get started and gather some invaluable insights.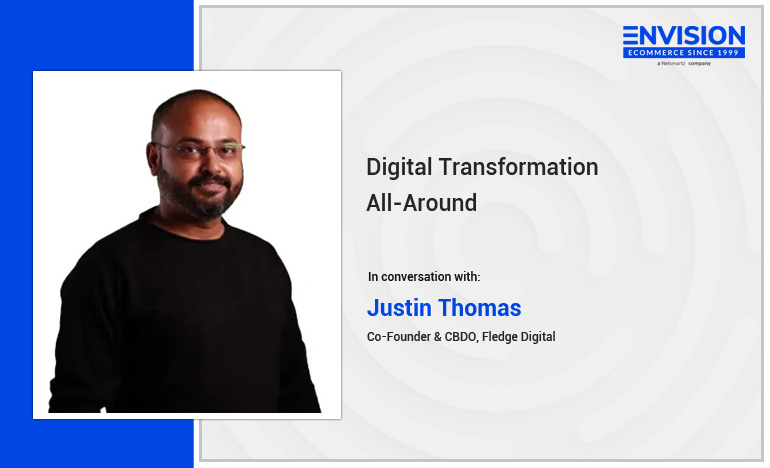 Who did we interview?
Justin Thomas is a Co-Founder & CBDO of Fledge Digital, an Adobe Bronze Solution Partner. Having more than 15 years of experience, he is passionate about bringing the much-needed positive change to the digital ecosystem using emerging technologies and innovation.
Q1: What exciting projects are you working on right now?
A lot of projects, I must say! After the pandemic, the eCommerce industry experienced a sudden push and we saw years of transformation in just three months. So, a lot of businesses are going online and the work pressure is more than ever right now.
Also, the nature of our client's commerce is complex and challenging and that's what we love. To name the nature of few, they are –
1st is marketplace operations to tap B2C & B2B consumer segments.
2nd one is enabling omnichannel experience with extensive loyalty programs for the end consumer wherein this brand has 32 retail outlets spread across the middle-east.
The 3rd one is the government entity of Qatar which holds integration with their ERP.
Q2: What potential do you see for the eCommerce industry as a whole?
I believe, it's never gonna settle, things were, will and forever evolve and so does the technology. There are many factors due to which eCommerce will never be out of fashion or to be revisited on the potential side, rather i would say ecommerce is part of everyone's life now, no matter the age group consumers belong.
So, I would suggest to all the budding entrepreneurs who ever planned to start selling online, now is the best time to accomplish your plans and win the market. Because, it is in full-swing at present.
Q3: What's the biggest change you've seen in post-pandemic eCommerce trends?
Many to be pointed out although one of those is that everyone wants to go online but especially I would like to highlight the change Gems & Jewelry industry brought in during and post pandemic "virtual buying". They have the provision for video call and showcase their products folio same as their executives do with walk-in consumers. Earlier for loyal customers (frequent buyers) these brands used to host the showcase of new collections at home.
Q4: What industries do you think will take the biggest piece of pie due to this surge in eCommerce?
According to me, all industries are in the race right now. Because, digital transformation occurred all around the world and for almost all industries. But, to name a few, I would say consumer goods & electronics, fashion & apparel, beauty & healthcare are going to get more advantages than others.
Q5: Any specific technology trend where store owners should consider investing?
Depends on their goals & vision, anything that helps to boost ROI, consumer experience, conversion ratio a store owner should consider. To name some, going headless, AI, Automation are some to watch out for. It's an investment which will be ready to reap fruits five years down the line considering the fact ecommerce is the heart of growth strategy for any industry out there.
Final Words
For this chapter, we interviewed Justin Thomas, Co-Founder & CBDO at Fledge Digital. He is an eCommerce enthusiast having more than a decade of experience in developing cutting-edge commerce strategies for growing eCommerce startups and mid-level businesses. We hope you find insight shared by him valuable!