Online Selling is Less About Technology and More About Approach: In Conversation with Jon Ivanco
What matters and what doesn't is a big discussion in eCommerce. What is working for your competitors may not work for you, or what is working for you at present may not work for you in the future. It is an ever-evolving industry, and you need to keep up with changing trends in order to grow your business and sales.
In today's session with experts, we will talk about what these changes are and what approach you should follow to meet the increasing demands of customers in the highly competitive eCommerce world. These insights will surely help you build a strong brand and profitable business. So, let's get started.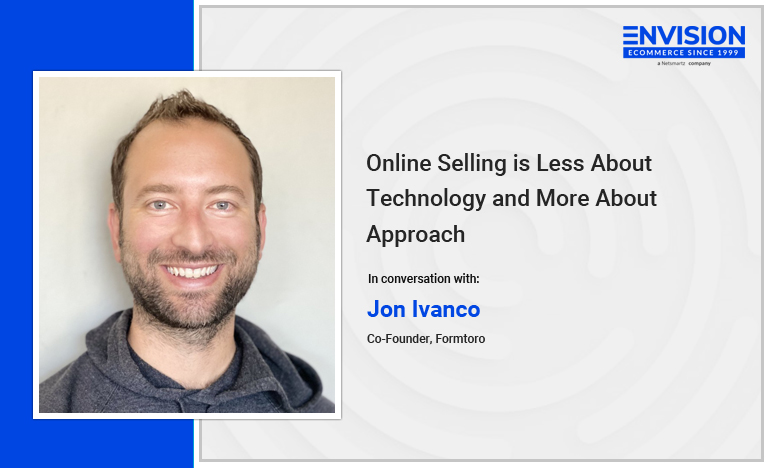 Who did we interview?
Jon Ivanco is a Co-Founder of Formtoro and a huge advocate for customer journey vs. company journey. Having more than a decade of experience working in the eCommerce industry, Jon believes in the power of data to transform businesses.
Q1: What exciting projects are you working on at present?
I'm currently working on Formtoro, a zero-party data collection platform with insights to help brands learn about their customers and apply those insights to make data-driven decisions.
We make annoying pop-ups into information gold mines. We use data to stop guessing and help improve touch points throughout the customer journey.
Q2: What do you think are the most important trends in eCommerce for 2022 to increase conversions and boost sales?
Customer experience will continue to be at the forefront of making any gains. eCommerce is about the customer's journey and how you craft something meaningful.
There's a lot of hype that seems to follow the industry with too many KPIs that are no longer super relevant, and privacy is a huge issue too. It's not about trends but about breaking out beyond trends to create value. Far too many companies do not think about collective building but individual competition.
The biggest trends aren't being talked about. eCommerce has a content-led problem. Product-led growth is all the rage in SaaS, but it doesn't usually work the same for eCommerce; instead, eCommerce would serve to be content-led.
Q3: Customer Experience is at the heart of eCommerce. What should a good eCommerce customer experience journey look like, according to you? Is it all about digital touchpoints, or do physical interactions matter as well?
Your one goal from a brand perspective is getting people to try a product. If people don't purchase it, they can't recommend it or know its value.
If you build a quality product, the one goal is to get it in as many hands as possible.Past that, build an experience that causes people to remember and or talk about your brand at all costs.
You have to stand out.
Q4: What technologies, platforms, or channels should marketers or brands use to excel in the digital commerce world and turn their businesses into brands?
It's not about technology but how you use it. It's not about channels but how you leverage them.
Place ads where your audience exists that's spending money with you. Use technology that helps your customers make better decisions that lead to purchases. The best technology to use is your voice and reading things out loud.
Too many websites just leave out necessary things that are required for people to make purchases. Do as much as you can to provide people with the relevant information for them to feel comfortable making a purchase.
Q5: What potential do you see for the eCommerce industry as a whole? And which industry verticals would take the biggest piece of the pie after the surge in eCommerce sales due to the pandemic?
There will be winners and losers in eCommerce with changing unit economics, ad prices, and other variables as we head into a recession and consumer purchasing power drops. The best verticals will be those that people don't stop buying. Anything revolving around low-cost activities will continue to grow.
Think board games, outdoor sports, cosmetics, anything that can be used and consumed, and purchased multiple times. An area that has a lot of growth but will struggle is Consumer Packaged Goods. Although hot in some spaces, the margins are low, and the approach to the market is too costly to make a dent.
Q6: Any specific tips that you would like to provide for brand owners, marketers, and others juggling to scale an eCommerce business?
Pay attention to what Amazon is doing with Buy with Prime. They have built an entire business around optimizing for the customer experience to the detriment of everything else.
As more and more products become commoditized, you will be competing against Kirkland Signatures, the Everyday 365s, and all other brands created based on real sales data from larger companies.
In many industries, there is no competitive advantage for a small brand vs. a large brand, as evidenced by the mass amounts of consolidation in the market.
In eCommerce, you don't go IPO; those days are gone. The exit path is acquisition so build up your portfolio of assets to create a lifestyle brand that combines different parts where you can grow them on a one-to-many basis.
Wrapping Up
So, that was all about today's session. We thank Jon Ivanco for talking to us and sharing essential insights about the industry. We hope you find this session insightful! For more critical discussions and insights, subscribe to our content and stay updated with what's new in eCommerce and Magento.