What the Future of eCommerce Looks Like: A Conversation with Jarmo Levo
If we can learn something from the pandemic, it is that change is the only constant. For example, behavior we thought our consumers would stick to forever or transformations we thought we had decades to prepare for, happened instantly and businesses were forced to evolve fast.
So, in the post-pandemic world, it makes great sense to talk about what the future holds for online businesses and how trends will change in the eCommerce world after this accelerated transformation. To gather some insights, we recently interviewed Jarmo Levo, an expert eCommerce consultant and influencer having years of experience working with eCommerce businesses. Let's tune into the conversation.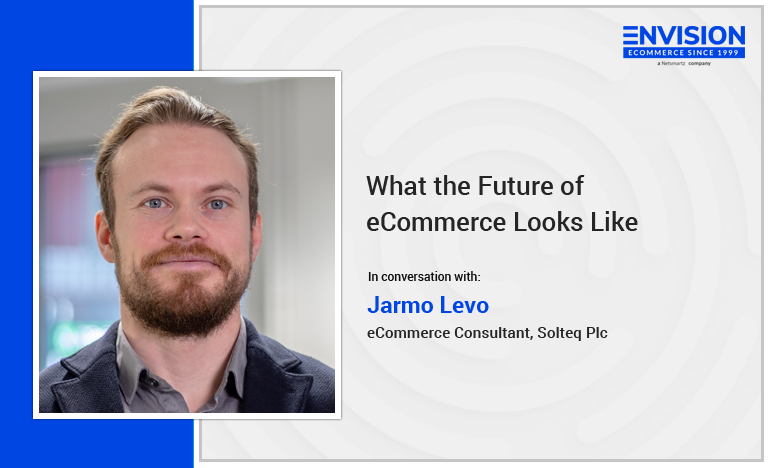 Who did we interview?
Jarmo Levo is an eCommerce consultant with proven expertise in helping businesses with planning, strategizing, and feature development to achieve their sales and growth targets. With a background in managing the business of a digital agency himself, he's well aware of the importance of people + technology to create success.
Let Us Quickly Get To Our Expert's Point Of View.
Question 1- What exciting projects are you working on right now?
Mostly I'm seeing that quite a lot of traditional B2B and B2C stores have either been made or the companies are still in consideration if they will start working on them. At the moment I'm working on projects where companies are considering how to start expanding their current business models with digital products and channels.
On a lot of these projects, the customers don't yet have a digital sales channel or they have a channel but the current solution does not have a business model they could actually elevate to increase their business.
Question 2: What potential do you see for the eCommerce industry as a whole?
I see a grand potential for the industry as the demand for technology development services and professional services are growing with every passing day. As most merchants have their first eCommerce store already up and running, the maturity in the field is increasing with the rest of the systems like PIM and ERP being updated also.
This enables the innovation of new digital services to be offered online and eventually accelerates the overall digital transformation of our communities further.
Question 3: What's the biggest change you've seen in post-pandemic eCommerce trends?
The biggest change I've seen is the need for cost-efficient eCommerce management from the client-side. From the user side, I'm seeing that the needs and expectations for accurate data whether that be for product availability, pricing, or product data have increased and are considered as a factor for trust users put on a store.
Question 4: What industries do you think will take the biggest piece of pie due to this surge in eCommerce?
I think the biggest piece of pie will go to groceries and consumer goods that haven't before seen such a good chance and demand to offer the products directly to consumers. What's still challenging is finding the level of optimal delivery service for these goods but the fact that now a lot of consumer brands can be found online will increase their sales since consumers are actually able to discover new brands and products a lot more easily than in the past.
Question 5: Any specific technology trend where store owners should consider investing?
I would definitely keep my eyes open on how the composable commerce idea develops further. At the moment a lot of companies that are able to invest into building a tailor-made solution for their business and future needs will do it but smaller more lightweight frameworks and platforms are currently missing for building just the right solution for your business.
What's also important to note is that the merchants need to understand the benefits of building a composable solution. Coming to technologies, I'd say PWAs + Static website frameworks are something to look out for. In payments and deliveries, there's a lot of interesting things happening all the time but I'd say that's an area to keep a keen eye on in general just to make sure you know what's driving the current demand for service level and features.
To Summarize
For this chapter, we interviewed Jarmo Levo, an expert eCommerce Consultant from Northern Finland. He believes that eCommerce businesses will require a well-planned business model and the right set of tools and technologies to stay competitive in the future and that can happen only if they evolve fast. He also mentioned that PWAs are going to become popular in the coming time. Hope you find this conversation insightful.