Set Your Objectives from Your Customers' Perspective: In Conversation with Jakob Bartholdy
The key to success in the eCommerce industry is happy customers. It is a win-win if people are happy about your offerings and the experience your brand provides. They will not only come back to purchase again but also become brand supporters who can help you scale your business efficiently.
Thus, you must set up your online experience and brand objectives, keeping your customers in mind. Let's now talk to today's expert, a firm believer in the power of CX in eCommerce, to know what it takes to build an eCommerce brand.
So, let's get started.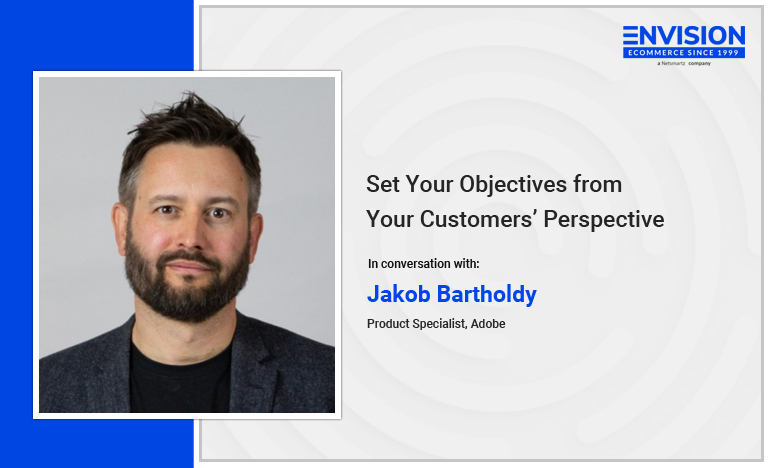 Who did we interview?
Jakob Bartholdy is a Product Specialist (Adobe Commerce) at Adobe. With an experience of 15+ years in the eCommerce industry, he is passionate about helping online businesses create excellent buying experiences. Jakob is also an engaging public speaker with a can-do attitude toward new challenges.
Q1: What exciting projects are you working on right now?
These days are usually busy in the world of digital experience, and I'm currently involved in projects across many verticals – B2C, B2B, Manufacturing, and more. We are experiencing many of our former customers doubling down on their digital efforts and focusing on how they can make those exceptional shoppable experiences.
Q2: What are the most critical trends in eCommerce for 2022 to increase conversions and boost sales?
One of the critical aspects to improve conversion is personalization, and companies being able to personalize at scale based on real-time data will also benefit at scale. Customers want to be seen as individuals, not as an audience segment. We have just released a study about this aspect called Make it Personal.
Q3: Customer Experience is at the heart of eCommerce. What should a good eCommerce customer experience journey look like, according to you? Is it all about digital touchpoints, or do physical interactions also matter?
As often, it depends, but if you have brick-and-mortar stores, you will need to create omnichannel journeys that work for your online presence as well as for your physical stores. For example, you should allow your customers the choice between online order and in-store pick-up or in-store order and home delivery.
Imagine you are in a fashion store and just found one piece that matches what you wanted, but your size is out of stock. In the old days, you would leave the store frustrated and turn to another store or, worse, another brand. No longer today because now your retailer can organize a home delivery for you in the right size and color – free shipping included. You will remain a customer of this store and brand, leaving with a smile because of a great experience.
Q4: What technologies, platforms, or channels should marketers or brands use to excel in the digital commerce world and turn their businesses into brands?
Meet your customers where they are, do not ask them to come to you but find them where they love to be. You can use the right technology to target them in real-time, engage on a personal level and surprise your customers with delightful experiences, whether on your website, on Instagram, TikTok, Facebook, or any other online channel.
With the right technology, they can make their purchase directly on any of the platforms they happen to interact with you on.
Q5: What potential do you see for the eCommerce industry as a whole? And which industry verticals would take the biggest piece of the pie after the surge in eCommerce sales due to the pandemic?
We have seen how many more customers who were hesitant in the past or more comfortable with their established routines have come to terms with online shopping. Many people have gotten used to the multiple benefits of online shopping.
And while now many people are going back into the stores, they always want the online alternative at their fingertips. And if their preferred store is unavailable online, the next one is just one click away. In essence, there is still considerable potential to make your online presence the best shoppable experience you can think of, embedded in a comprehensive customer journey for your consumers, on every channel, on every device, at any time.
And by the way, the demand for eCommerce is no longer limited to B2C brands. We are seeing how eCommerce is an essential offering for B2B brands as well, to power their marketplaces to empower their purchase departments, and there is a lot of movement in this.
Q6: Any specific tips that you would like to provide for brand owners, marketers, and others juggling to scale an eCommerce business?
Digital transformation is a holistic strategy, not just a tactical online store. Think about what you would like to get from your brand as a customer, what kind of interactions you want, what kind of content you'd like to see, and how you'd like to be engaged.
Step in your customers' shoes and set your objectives from their perspective, informing your strategy and how to plan and implement your technology. When done right, you can create outstanding, personalized customer experiences and react in real time to your customers' behaviors. This will help you standout and make your customers come back again and again.
Wrapping Up
So, that was all about today's session. We thank Jakob Bartholdy for talking to us and sharing essential insights about the industry. We hope you find this session insightful! For more critical discussions and insights, subscribe to our content and stay updated with what's new in eCommerce and Magento.