The eCommerce Industry is Still in Its Infancy: A Conversation with Greg Jameson
While there are many predictions and statistics about what the future of eCommerce will look like in the years to come, Greg Jameson, an eCommerce expert and best-selling author believes that the industry is still in its infancy and we are yet to see a lot coming.
As technology will continue to change the eCommerce industry, trends and strategies will differ from time to time. But, focus on customer experience will always be of utmost importance. Let's tune in to the conversation with Greg Jameson and find what he has to say about this dynamic industry.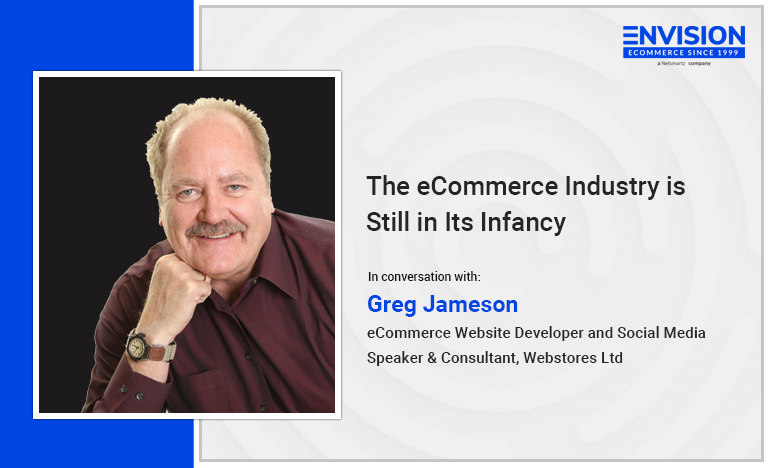 Who did we interview?
Greg Jameson is a globally recognized eCommerce expert with more than 20 years of experience in the eCommerce industry. He is also a dynamic speaker, marketer, and best-selling author having a keen interest in Virtual Trade Shows. Greg Jameson is often referred to as an Internet pioneer. He has been called "America's leading expert on marketing like Amazon". The #1 best-selling author of "The Influencer Effect", "Amazon's Dirty Little Secrets", "What Would Jeff Do?", "Grow Your Online Sales", and a host of other books, he is a sought-after consultant and speaker whose goal is to make you successful on the Internet. He has awards for international developer of the year, Colorado Small Business of the Year and is listed on the INC 500 of fastest growing companies in America.
Let Us Quickly Get To Our Expert's Point Of View.
Question 1- What exciting projects are you working on right now?
Well, right now we are working on creating virtual trade shows where visitors can place orders at the event. Basically, these shows are powered by a dynamic 3D environment and people can enjoy them from the comfort of their homes.
It is a complex but exciting project as we are working on eliminating old age problems like limited reach and poor audience turnout for businesses to stay profitable. We are yet to see what the future brings for the project but I am certain that it will result in reduced costs.
Question 2: What potential do you see for the eCommerce industry as a whole?
Despite a 20 plus year history, eCommerce in many ways is still in its infancy. As technologies such as augmented reality, virtual reality, and online trade shows continue to evolve, eCommerce will expand even more than it did during the pandemic.
I can clearly see the pace with which retailers are turning to digital channels to serve their consumers moving online fast and it depicts that the eCommerce industry is certain to grow by many folds in the years to come.
Question 3: What's the biggest change you've seen in post-pandemic eCommerce trends?
eCommerce is now commonplace so not being able to order online is actually considered as much of a detriment as not having a website. But, I believe that the pandemic introduced major changes in the way online brands deal with their customers. Because competition is cut-throat, they are more focused on setting up a great customer experience now than ever before.
The race is no more about who is online and who is not, it's about who attracts more customers and takes maximum profits home.
Question 4: What industries do you think will take the biggest piece of pie due to this surge in eCommerce?
Service industries – those specializing in experiences rather than physical objects. I believe eCommerce is not just about products now. With the penetration of e-services, I think businesses in several industries like education, banking, stock trading, and real estate are going to enjoy the benefits of eCommerce.
Question 5: Any specific technology trend where store owners should consider investing?
Live Video Chat. As I said it is all going to be about CX (customer experience) businesses provide, live chat features will help eCommerce brands assist customers at every point where they feel stuck.
To Summarize
In this chapter, we interviewed Greg Jameson, an expert in the field of eCommerce and technical marketing. He believes virtual trade shows are going to be the next big trend of the industry and entrepreneurs should focus more on providing a great customer experience to drive their businesses in the coming years. Hope you find this conversation insightful!