The Potential of the eCommerce Industry: In Conversation with Giancarlo Morales
The immense growth of online marketplaces and technological advancements have made selling and buying online easier than ever before. According to reports, the eCommerce industry is projected to grow by around $11 trillion between 2021 and 2015.
As a result, new online stores and shopping websites are popping up daily to secure the biggest piece of this pie. But, how can you stand out in such a crowded market? In the expert Q&A session, we will try to find out the answer to this question with the help of today's expert, Giancarlo Morales.
So, let's get started.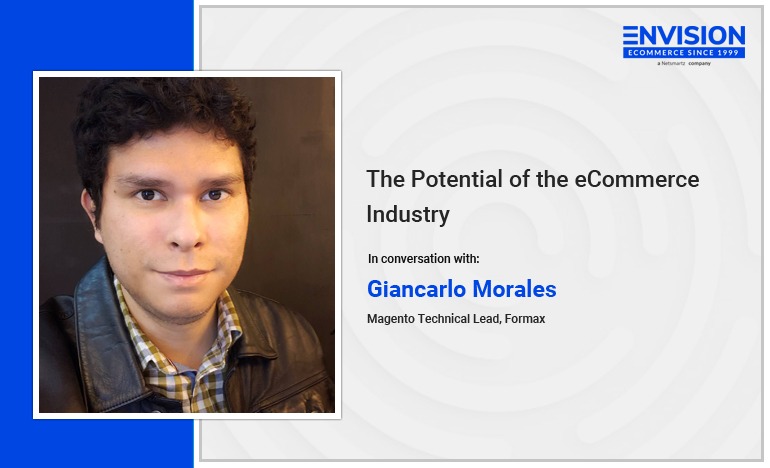 Who did we interview?
Having 15+ years of experience creating robust web solutions, Giancarlo Morales is a Magento Fullstack Developer. He holds expertise in helping budding entrepreneurs from different industry verticals, including retail, food, fashion, education, and others.
Q1: What exciting projects are you working on right now?
Currently, I am working on a personal eCommerce project for informal markets in Peru, but it is also replicable for other developing countries. The idea is basically to unify all the informal market stalls into a single "virtual supermarket" where they would compete with the big supermarket players.
This arises from the large number of markets that exist in Peru that can be called decentralized "Distribution centers," which would allow these small businesses to obtain the following advantages:
Be formalized as an issuer of payment receipts.

Compete with the big supermarket corporations.

Inventory management, since from the mobile, it would be possible to register in a basic inventory system that would be connected online to display on the eCommerce platform.
Q2: What potential do you see for the eCommerce industry as a whole?
I think eCommerce has the potential to lift people living in developing countries out of poverty. A great example can be the sale of vegetables, which are mostly peasants in a situation of poverty who work their land with little profitability. Through eCommerce, they could expose their products to other international markets.
The other potential I see is the Metaverse, which would allow anyone to enter and have an immersive shopping experience in a virtual projection of a physical store in another country without having to travel. The prettiest virtual store with the best shopping experience will prevail.
Imagine walking in the charming traditional markets of Marrakech (Morocco) through an immersive virtual experience and having the possibility to haggle prices as in the physical world.
Q3: What's the biggest change you've seen in post-pandemic eCommerce trends?
From my point of view, people prefer to combine physical and virtual experiences such as shopping online and picking up the products themselves. The confinement of so long has generated a high demand for physical experiences.
Q4: What industries do you think will take the biggest piece of the pie due to this surge in eCommerce?
I think Retail stores will take the biggest piece of the pie for a long time. According to statistics, more than 30% of all shoppers globally will be digital by the end of 2022. Also, Commerce is now more about merging offline and online experiences. Thus, I believe that retail brands that design seamless shopping experiences on both channels will take the biggest piece of the giant eCommerce pie.
Q5: Any specific technology trend where store owners should consider investing?
I think eCommerce platforms like Shopware, Sylius, and Salesforce Commerce are great platforms right now. Also, IoT devices, Data Analytics, AI, and finance tech for BNPL (Buy Now, Pay Later) will emerge for retailers.
Wrapping Up
So, that was all about today's session. We thank Giancarlo Morales for talking to us and sharing essential insights about the industry. We hope you find this session insightful! For more critical discussions and insights, subscribe to our content and stay updated with what's new in eCommerce and Magento.