The "Tomorrow Came Early" for eCommerce, says Eric Erway, Product Manager at Adobe
During the pandemic, several businesses experienced years of digital transformation in just three months because of consumers moving online fast. In such a scenario, it is tedious for entrepreneurs to keep the wheels going and stay in pace with the changing industry dynamics.
To help you gather some insights, we started this expert Q&A series where we talk to some of the well-known industry influencers who know the nitty-gritty of the eCommerce industry. This week, we are going to talk to Eric Erway, Group Product Manager for Adobe Commerce at Adobe and the conversation is going to be exciting and insightful. So, let's get started.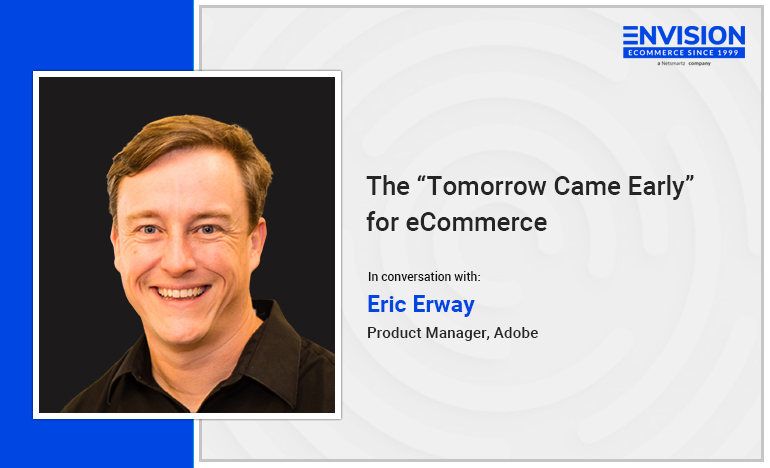 Who did we interview?
Having over 20 years of experience, Eric Erway is presently working as a Group Product Manager for Adobe Commerce at Adobe. He is responsible for key merchant and shopping experiences at Adobe Commerce and has a background in user experience and management. His areas of expertise are PWAs, mobile commerce, and eCommerce product management.
Let Us Quickly Get To Our Expert's Point Of View.
Question 1- What exciting projects are you working on right now?
I continue to be excited about our work with PWA and shopping experiences through PWA Studio and the Venia storefront. After several years in development, we're seeing some of our biggest Adobe customers use it and achieve significant business results, especially on smartphones. In addition, we're expanding into designer resources with Adobe XD to improve designer/developer workflows. Proud of the team, and we have an exciting product roadmap for 2022 planned.
Question 2: What potential do you see for the eCommerce industry as a whole?
Despite tremendous growth last year, we're only seeing the beginning of Commerce growth, especially across midmarket and enterprise customers — especially for smartphone experiences. Adobe recently shared that 27% of consumers in 2020 advised that shopping on a smartphone was "stressful," compared to 20% in 2019 and 23% in 2018, and there is a significant opportunity to improve checkout experiences.
Question 3: What's the biggest change you've seen in post-pandemic eCommerce trends?
The most significant changes I've seen during this time are the sharp rise of Buy Online Pickup In-Store (BOPIS) and smartphone usage, which is understandable. Smartphones drive the majority of visits at 59% now, and BOPIS will account for 40% of online orders this holiday based on new research from Adobe. So, I think these two are going to be the biggest changes the industry is experiencing after the pandemic.
Question 4: What industries do you think will take the biggest piece of pie due to this surge in eCommerce?
Retail continues to see a lot of growth during this time — especially B2B, which is more than half of the change we're seeing. That said, most industries are experiencing this type of sustained growth, including a few you would not expect. As we've said recently, "tomorrow came early," and digital transformation for many companies is happening now.
Question 5: Any specific technology trend where store owners should consider investing?
In general, store owners and customers should first focus on the experience and their business goals and then the technologies that support them. That said, having a composable, headless commerce platform like Adobe Commerce and Magento Open Source can unlock these business needs with our PWA-based storefront. As a result, customers can take an iterative approach based on a core set of modern capabilities.
To Summarize
For this chapter, we interviewed Eric Erway, who spent many precious years of his life seeing and contributing to the design, and development of world-class products and services. He believes features that add to the convenience of eCommerce consumers like BOPIS and mobile commerce are the future of eCommerce. Hope you find this conversation insightful.