The Era of Personalized eCommerce Journeys: In Conversation with Ed Kennedy
With the eCommerce industry becoming more competitive with every passing day, companies who unite and personalize their customer journeys will stay profitable in the future.
In today's expert Q&A session, we will talk about the approaches you can follow to make sure your eCommerce business thrives in the coming future by unifying and personalizing your customer journeys. Our guest today is Ed Kennedy, an eCommerce expert, and consultant.
So, let's dive into this insightful session.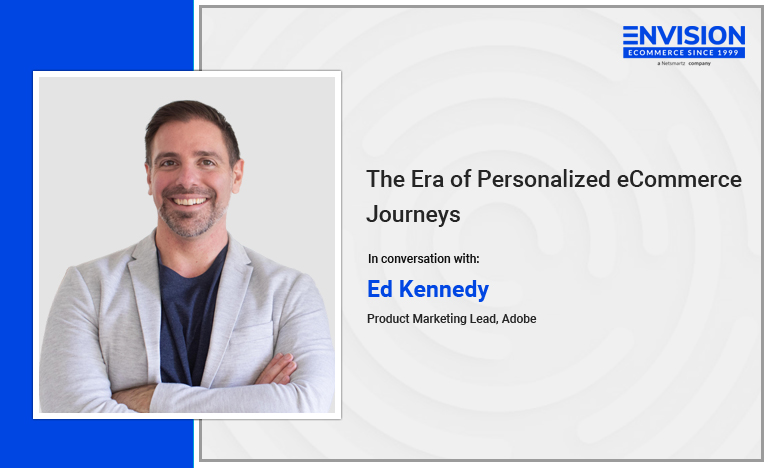 Who did we interview?
Ed Kennedy works as a Product Marketing Lead at Adobe. With more than ten years of experience in the eCommerce industry, he likes to share his vast knowledge about B2B eCommerce and B2B marketing to help companies leverage eCommerce to generate digital transformations.
Q1: What exciting projects are you working on right now?
 I'm working on projects to help manufacturers and wholesale distributors launch their first or second-generation B2B eCommerce portals. Some of the most exciting things I see our clients doing include:
SealedAir launching a combined eCommerce and service portal for their distributors

Watsco achieving $633 million in sales through their B2B2C digital sales platform for HVAC and air conditioning contractors – OnCall Air
Within our product team, I'm working on a project to leverage the rich data streams that come from an ecommerce website (like log-in, searches, and orders) in other marketing solutions like email marketing, SMS text, push notifications, and personalized ad campaigns. 
With Google set to deprecate 3rd party cookies in Chrome, companies need to invest in gathering more first-party data. eCommerce click streams are going to become more and more valuable in unifying customer journeys across channels and personalizing experiences to each shoppers need.
Q2: What potential do you see for the eCommerce industry as a whole?
eCommerce is becoming more and more embedded within non-eCommerce touchpoints like social media, native mobile apps, and entertainment apps. I see the potential for embedding eCommerce anywhere," utilizing advancements in headless commerce. We're already seeing it today. Consumers are placing orders directly on Instagram. B2B buyers are placing large orders within a service portal app instead of through their sales rep. This is only going to continue to the point where placing an order will become woven into the fabric of other tasks and experiences.
I also believe marketers and eCommerce leaders will collaborate more closely in the coming years to merge marketing, sales, and eCommerce experiences into unified journeys. Many Adobe customers are doing this today by utilizing Adobe Experience Manager and Adobe Commerce together.
Q3: What's the biggest change you've seen in post-pandemic eCommerce trends?
The speed at which companies are willing to invest and expect a solution to live has significantly increased. What used to take a company 2 years is now taking 6 months. And 6 month projects must be launched in 6 weeks. We're seeing an appetite to "get eCommerce right" and scale up quickly. It's an exciting time to help companies of all types modernize their eCommerce experiences and offerings.
Q4: What industries do you think will take the biggest piece of pie due to this surge in eCommerce?
I think brands and manufacturers are poised to take a larger share of eCommerce sales over retailers and wholesale distributors in the coming years. Brands continue to adopt retail strategies and integrate them into their go-to-market programs. B2B manufacturers are becoming more willing to go around their channel partners for some or all of their product catalog. Retailers and distributors will need to double-down on customer service, breadth of assortment, and speed of delivery as brands and manufacturers digitize their product catalog and provide direct eCommerce options.
Consumers and B2B buyers alike trust the information they receive from brands and manufacturers, and they will shop with them if they provide value up-front.
Q5: Any specific technology trend where store owners should consider investing?
A Customer Data Platform that centralizes marketing, content, and commerce journeys into a single profile, including between devices. CRMs are great, but modern eCommerce businesses need centralized marketing profiles so they can easily activate personalized campaigns and run artificial intelligence models to identify key trends. 
Wrapping Up
So, that was all about today's session. We thank Ed Kennedy for talking to us and sharing essential insights about the industry. We hope you find this session insightful! For more critical discussions and insights, subscribe to our content and stay updated with what's new in eCommerce and Adobe Commerce (formerly Magento).