How to Get a 20-Fold Increase in eCommerce ROI: In Conversation with David Swift
When a website visitor feels connected to a brand, loyalty and sales increase, and that connection can be built using eCommerce personalization.
Around 90% of eCommerce buyers say that they are influenced by personalization, and about 90% of marketers found that personalization has helped them increase their brand's revenue. A personalized eCommerce experience indeed provides plenty of benefits. Let's learn more from an eCommerce personalization expert himself.
So, let's get started.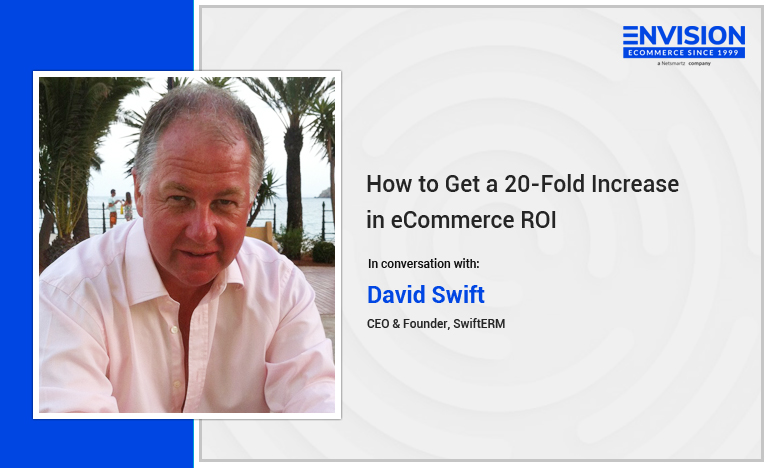 Who did we interview?
David Swift is the Founder and CEO of SwiftERM – a MarTech company based in London providing predictive personalization software for eCommerce marketing. Having more than 30 years of experience in eCommerce, he is an expert in helping companies offer personalization to increase conversions and sales.
Q1: What exciting projects are you working on right now?
We are the type of business that works on specific projects. SwiftERM is a software house that is purpose-built to run autonomously on any eCommerce website, ideally for those with high-frequency orders direct to the public. We continue to grow our clientele among Grocery, Fashion, Beauty, Cosmetic, Wine, Cycling, Chandlery, Saddlery, etc., all of which have the foresight to grasp viable new technology.
Q2: What are the most important trends in eCommerce for 2022 to increase conversions and boost sales?

The single greatest epiphany in eCommerce in the last 12 months is realizing how powerful personalization is. But more specifically, not only does it offer a verifiable leap from performance, but it is now appreciated that it delivers a 20-fold increase in ROI.
Many die-in-the-wool advocates for personalization don't realize what they tell people personalization is, and reality is now chasms apart. Gone are the days of name, geography, gender, and age. Instead, welcome data-captured buying history complemented by what people look at, how long for, and how often they return to build a perpetual and nan-second accurate prediction of products immensity to be purchased for each consumer. More fool the retailer who still relies on old tech.
Q3: Customer Experience is at the heart of eCommerce. What should a good eCommerce customer experience journey look like, according to you? Is it all about digital touchpoints, or do physical interactions also matter?
The union of customer touchpoints creates a customer journey. A customer journey is a process or a path your customer takes to interact with your brand. Shoppers interact with brands differently and take multiple paths along the road. These integrated marketing campaigns exist to address the needs of a diverse target audience.
In order to enhance the journey and the experiences of your target audience, it is crucial to understand various buyer journeys. Understanding Buyer Journey is also vital to appreciate eCommerce marketing. The entire procedure is known as customer journey mapping. It gives a comprehensive overview of all possible customer interactions with your brand. Customer Journey mapping covers how buyers:
Research the product/service/brand
Buy
Use the product
Seek customer service support
Express their displeasure
Recommend the product
and more
If you are still unhappy or think you can improve something, it is possible to research the process virtually and discover new solutions to enhance the customer journey.
Q4: What technologies, platforms, or channels should marketers or brands use to excel in the digital commerce world and turn their businesses into brands?
Every technology, platform, or channel is a company, organization, or person advocating their solution in the best way possible; naturally, they want the sale. However, their "best" is subjective and may be far behind your least expectation. However, it would be fair and reasonable to say that no single approach fits all.
Not least because you may already be doing exceptionally well in certain areas and would benefit most from this article by getting an appreciation of what else is out there that you should be looking at. On the top of your agenda should naturally be that which makes you the fastest. Therefore, naturally, personalization should be your top priority, quickly followed by omnichannel, AI/machine learning, order/warehouse processing, and my cut-off point finance solutions for payment. Many articles are written daily to support this order; take the time to review a few.
Q5: What potential do you see for the eCommerce industry as a whole? And which industry verticals would take the biggest piece of the pie after the surge in eCommerce sales due to the pandemic?
It might be risky to say this, but I believe most retailers believe the pandemic is behind them now, and while its legacy remains, nobody wants to be reminded of it, naturally because of the economic disaster it was. The world is an ever-changing beast, and you should never overlook the rise of China and India as economic powerhouses.
The fly in their respective ointments will be both political – especially in the case of China, with their woeful treatment of anyone who disagrees with them, and shipping and transportation costs.
It will see the return of localized labor/manufacturing growth, and even the biggest firms will drive to maintain control of their supply lines. I understand Next is looking to reestablish UK-based shirt manufacturing after an absence of 30 years!
Q6: Any specific tips that you would like to provide for brand owners, marketers, and others juggling to scale an eCommerce business?
There is no silver bullet that cures all ails in eCommerce. Likewise, there is no room for lack of hardwork applying intelligent cherry-picking of the right solutions, platforms, and channels for you. It remains the most surprising topic of discussion among successful people why others are not using the same solutions that deliver enormous success for them.
Wrapping Up
So, that was all about today's session. We thank David Swift for talking to us and sharing essential insights about the industry. We hope you find this session insightful! For critical discussions and insights, subscribe to our content and stay updated with what's new in eCommerce and Magento.